Health agenda going nowhere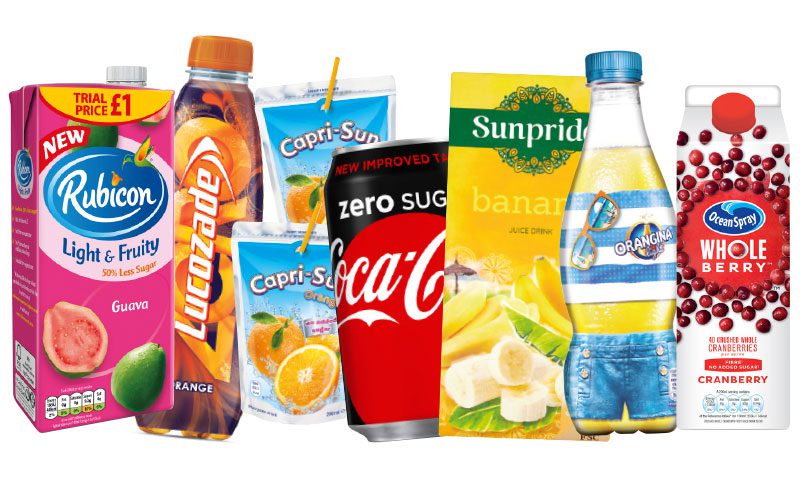 [box style="3″]
[half]
54%
Of consumers are looking for low sugar soft drinks options in their purchases.
[/half]
[half_last]
21%
No added sugar currently accounts for 21% of the soft drinks range stocked in most impulse stores.
[/half_last]
– Vimto Soft Drinks
[/box]
WITH a levy on added-sugar soft drinks set to come into force in 2018 and consumers increasingly concerned with their health, there's perhaps never been a better time to grow sales of healthier options in the chiller.
The firms behind some of the biggest soft drinks brands in Scottish stores seem to think so and, in addition to the raft of reformulations and NPD that's been rolled out in recent years, they've offered their assessment of just how fertile the ground is growing for sales of healthier options.
Trystan Farnworth, commercial director for convenience and impulse at Britvic, said the arrival of the sugar levy presents a "unique opportunity" for retailers to play an important role in improving the nation's health, provided they hit the ground running.
"Being one step ahead and ensuring your customers have everything they need to protect their profits through your product range, advice and support means that you will be able to look back and proudly say, 'I was part of that'," said Farnworth.
"Don't hesitate – the sugar levy is coming. By acting now, instead of minimizing the impact, you can maximise the sugar levy and turn this into a sweet sales opportunity."
Farnworth said that for retailers, the easiest way to avoid any losses from the sugar levy is to simply sell more low and no sugar soft drinks – a goal which the Britvic commercial director reckons is there for the taking.
"Figures show that drinkers who purchase low- and no-sugar drinks are willing to spend more than sugar drinkers as they value a healthy choice over price.
Consumer demands are changing, and retailers together with the soft drinks industry need to take notice.
"In order to maximise the opportunity presented by these valuable shoppers, make sure you're stocking the leading healthier product ranges from each segment," he said.
Offering a wide range of low and no-sugar soft drinks was also highlighted by Amy Burgess, trade communications manager at Coca-Cola European Partners (CCEP), as a means to maintain strong soft drinks sales.
"Especially important is keeping a wide selection of low or zero sugar drinks, and retailers should constantly review their soft drinks range as manufacturers innovate new lighter options to meet rising consumer demand for healthier options," she said.
"Since 2005, we have launched 29 new drinks with reduced sugar or calories and everything we sell has a lower or no-sugar option.

"This underlines our commitment to helping consumers enjoy as wide a choice as possible, whilst enabling retailers to increase their sales by offering more options for consumers."
Looking to the future, Burgess also promised more to come from CCEP in terms of lower and zero-calorie products.
NPD is all well and good if there's demand for it, but retailers may wonder if there's any proof in the low and no-sugar pudding – a question which Ed Jones of Vimto Soft Drinks was happy to answer, pointing to a gap between supply and demand when it comes to healthier soft drinks in convenience.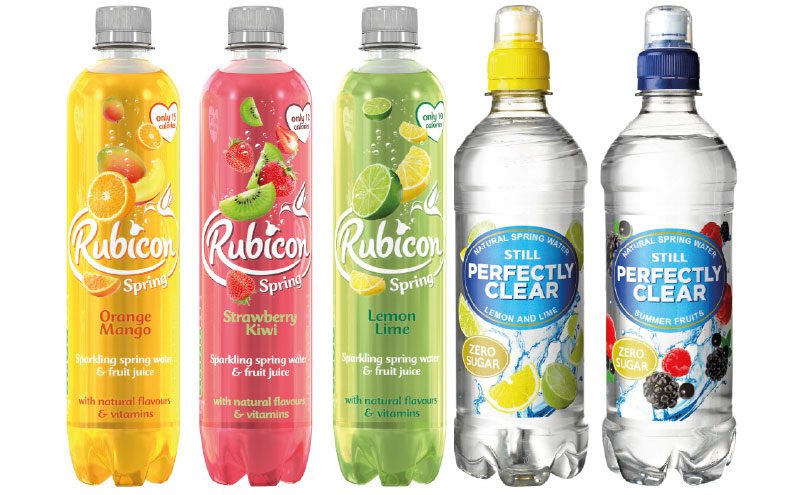 "We know that as many as 54% of consumers are currently looking for low sugar in their purchases. However, no added sugar currently only accounts for 21% of the soft drinks range stocked in most impulse stores," he said.
"This goes to show the scale of the opportunity."
Jones said there is still room for growth in the low and no-added sugar category, which he reckons will rise further while the health of the nation is in politicians' sights.
But it's not just demand for low and no sugar soft drinks that appears to be rising. James Logan, commercial director at Refresco reckons the quality on offer in the sub-category has also been ticking upwards over the years.
"The gap between mainstream and no-sugar profiled drinks is narrowing. So if the mouthfeel and taste isn't satisfying for consumers, they simply won't buy 'no sugar' products no matter how healthy or affordable," he said.
Stocking quality low and no-sugar soft drinks is key to success according to Logan, who said shoppers won't be satisfied by health claims alone.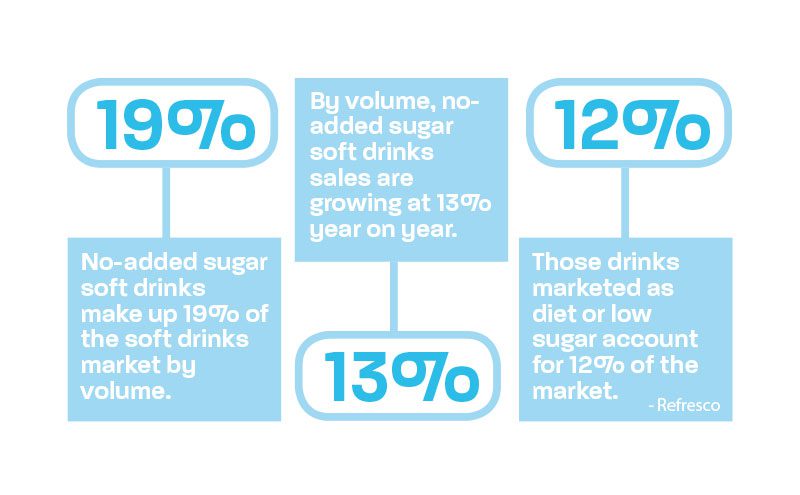 "Consumers are becoming more knowledgeable about sugar and sugar substitutes. They know that 'no sugar' means sweeteners. For some that isn't an issue. For others, they will only consider 'natural' drinks.
"Natural sweeteners such as stevia have improved over time, reducing the bitter aftertaste," he said.
And while the spotlight may have been fixed on sugar for a number of years, Logan reckons attention is shifting.
"The spotlight is now focussing on calories, not just sugar content, so retailers should look at positioning products as healthy rather than just low/sugar free," he said.
Adrian Troy, marketing director at AG Barr said consumers are increasingly considering calorie count when shopping the soft drinks category.
"In addition to this choice, they also want low-calorie options that can deliver on taste – featuring the full-on flavour they're used to but with fewer calories," he said.
Growth in low-calorie soft drinks means it's more important than ever for retailers to talk to their customers.
"The growth in popularity of low-calorie soft drinks means that it's more important than ever for retailers to talk to their customers and find out what they're looking for, to enable them to tailor their offering."
The push toward low and no sugar drinks, and the drop in calorie count that comes with reformulation, can certainly keep parents happy when purchasing for their children – but while Jamie Oliver's sugar campaign may have focused on kids' health, there's also a chance to snare some adults through low and no sugar.
"Low-sugar options are an important part of the premium adult soft drinks market too," said Mark Sterrat, market, strategy and planning director at Lucozade Ribena Suntory.
"Orangina Light, for example, offers adult drinkers a fresh and fruity flavour but with fewer calories and less sugar. Stocking fruit carbonates like Orangina is a great way for retailers to drive trade-up from cola and encourage shoppers to spend more in store," he said.