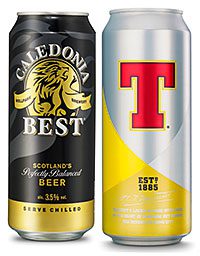 TENNENT'S lager was the standout performer in a difficult year for Dublin-owned cider and beer firm C&C.
Revenues increased by 12% in 2012 as C&C developed the Glasgow-produced lager as an upmarket brand in markets like Italy and North America. Home and international sales of Tennent's and growth of the beer operation's ale Caledonia Best helped the group offset "challenging" conditions in its core UK cider markets.
The company, which owns Magners, the Bulmer brand in the Republic of Ireland, and Gaymers, reported that revenues were down by 0.8%, to Eu476.9m (£404.83m). Pre-tax profits were up 2.7%, to Eu109m (£92.53m). Restructuring, IT costs and the acquisition of the Vermont Hard Cider Company and Irish distribution group Gleeson added costs and put pressure on profit.
There was no boost from last summer's big events, plus poor weather and tough competition in the UK market. C&C's cider volume was down 15%.
However its strategy for Tennent's – including work on developing it overseas – paid off.
Stephen Glancey, group chief executive, said: "We have had an excellent contribution from the Tennent's brand both in domestic and international markets providing some balance to the increased competition within UK cider.
"The Scottish heritage and authenticity of the brand is a marketable attribute that resonates in a range of international markets, suggesting that there could be reasonable growth potential for the next few years."
C&C also saw growth of Caledonia Best last year.
There was an improvement in operating margin which the firm said was largely attributable to overhead cost control and the decision to hold back on Magners marketing spend in the UK. The weak consumer market for cider combined with increased competition in the category suggested that heavy above-the-line-consumer marketing investment in Magners would not have been effective, it said.
Image – Tennent's Lager and Caledonia Best had a good year, balancing brand owner C&C's struggling cider sales.