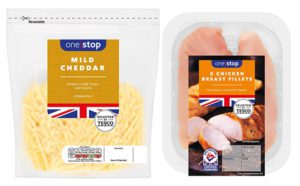 TESCO branded products are rolling out to One Stop convenience store chillers this month.
Approximately 160 One Stop own-label lines have had their packaging revamped to include Tesco branding. The new packs feature 'selected by Tesco' messaging in a bid to communicate the relationship between One Stop and Tesco to consumers.
Owned by Tesco, the One Stop fascia operates on a franchise model with business owners operating stores. The 'selected by Tesco' packaging can be found across chilled SKUS, including produce, meat, fish, poultry, dairy, ready meals and desserts.
The move to add Tesco's name to selected own-label SKUs follows the introduction of some Tesco products to One Stop stores during the pandemic. Tesco products first appeared on One Stop shelves as the supermarket giant supported its subsidiary during periods of supply chain disruption.
According to Tesco, its SKUs proved popular with One Stop consumers and its research revealed that customers associate the supermarket with "quality goods".
Launched in 2017, One Stop's range of own-label products comprises almost 500 products across categories.
Nigel Prendergast, head of customer and business support at One Stop, said: "Our own-label products have grown rapidly as customers search for better value.
"Buying habits have changed so much over the past couple of years and convenience retailing has exploded with more and more customers choosing to get what they need closer to home.
"For One Stop there is a huge opportunity for us to capitalise on these new shopping trends.
"However, as customers demand more, the quality and value must also be right Tesco is a brand that is well-known and trusted for producing quality products.
"Launching our new 'Selected by Tesco' range is a really exciting time for us as it allows us to challenge old perceptions of our brand and show how our products are the same quality as Tesco.
John Miller, head of franchise added: "Our franchisees do really well with our own-label products which have consistently driven sales and profitability across stores.
"Many of our customers don't realise that One Stop is owned by Tesco so as we move into our next phase of growth, it makes sense to make this message clearer. Customers can pop into their local One Stop store and pick up fantastic Tesco products for their dinner, at a great price.
"There are many reasons why franchisees want to partner with One Stop and this will be another compelling one, as we introduce the Tesco brand in store.
"By offering quality products at great value our franchises will continue to benefit from our range and the way we market our products to customers."