Our SG workSHOP special looks at how Diageo works with independent retailers like Faraz Iqbal of Linktown Local to maximise alcohol sales through the My Store Matters programme
USING the latest market insights, 'Inspire. Display. Sell' from Diageo presents retailers with a series of easy-to-follow and simple to activate principles, packaged under three key pillars.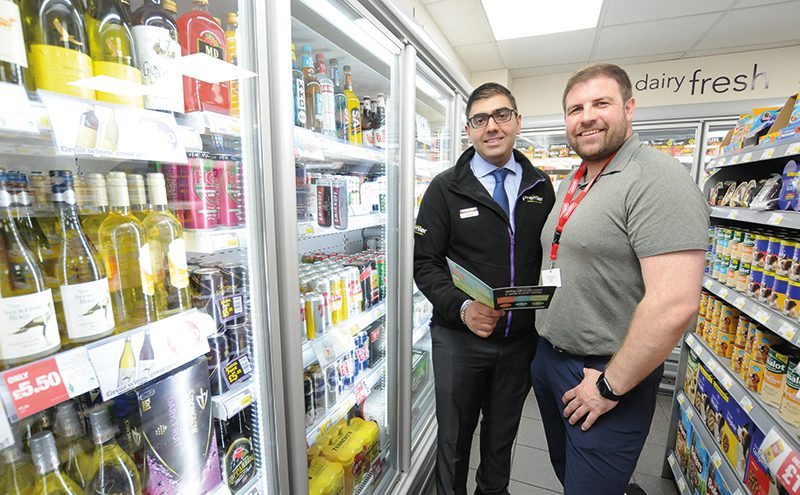 Through a combination of tactics, from stocking the best sellers to making the category easy to shop, convenience retailers can grow their alcohol sales by up to £9,000 (13%) per year.
Currently, 90% of UK households buy alcohol but only one in three buy it through convenience. Diageo estimates that by encouraging new adult alcohol shoppers to consider convenience and existing shoppers to spend more per shop, there is a huge incremental sales opportunity to be had.
Diageo's national field team have been taking 'Inspire. Display. Sell' to retailers across the UK since January as part of its 'My Store Matters' programme, and the firm has taken a full category approach that's as much about getting into the retailers' mind-sets as it is about selling Diageo brands.
"Gone are the days of sales reps visiting convenience stores to sell you as much stock as we can," said Diageo national sales manager for convenience, Kevin Ingham.
"We're looking to work more closely with retailers, so while we're making recommendations about premiumisation, about category and making sure it's visible, we also want to be helping retailers with EPOS data, reviewing data with them so we can make educated decisions on what product to go on shelf and where to put it."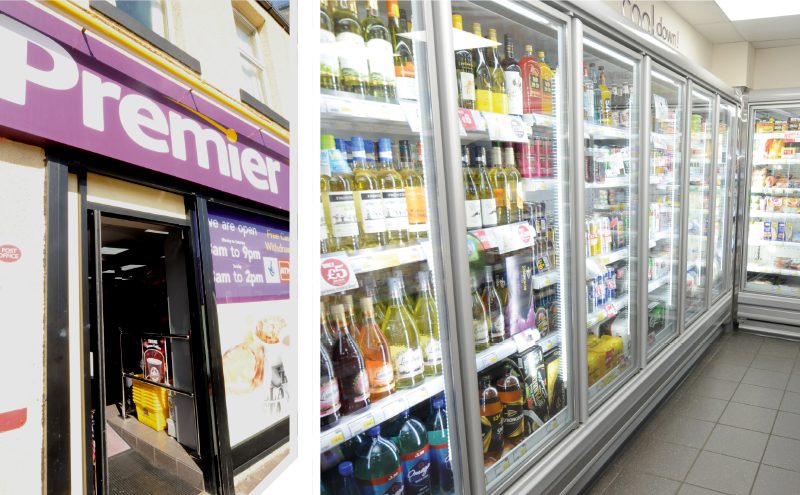 Kevin and Diageo sales rep Malcolm Welch recently paid a visit to Faraz Iqbal at his Linktown Local Premier store in Kirkcaldy.
Faraz was impressed with Diageo's approach, and agreed that working together using EPOS data was very important to driving sales.
"Very few people actually go through the data fully in the way that major stores do. I'm one of the guys that do it in great detail. Numbers talk," he said.
As part of 'My Store Matters', Diageo is keen to step beyo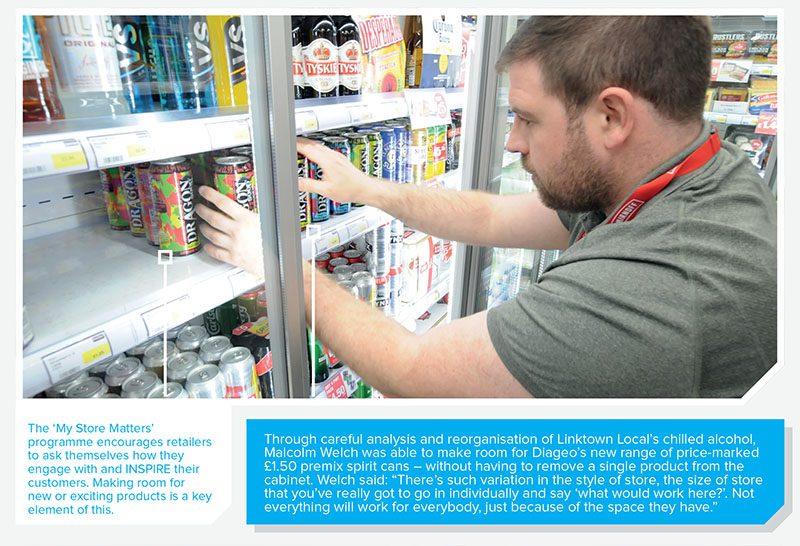 nd merely distributing planograms to customers, but instead wants to treat retailers as individuals.
For Faraz, this meant making some changes in his chiller, shifting some crates of beer around to make space for more pre-mix RTDs, and possibly creating a new opportunity to drive sales in this growing category.
Malcolm said treating each retailer as unique is key to maximising a store's sales potential. "We have to go in and treat them as individuals because each space is different, it can be a store that serves the local community and it's been there a long time," he said.
Kevin echoed Malcolm, adding that working with stores on an individual to individual basis benefits both retailers and the drinks firm – and that includes discussing competitor brands.
"We are advising stores what to stock, but that's regarding the total category, not just our products.
"So making sure that the number one beer in category has got the most space, the number one cider has got the most space and so on.
"Now don't get me wrong. We're not going to say 'now go out and buy that over ours', but we're going to say: 'if you want to maximise your sales, these are the products you need to be stocking'.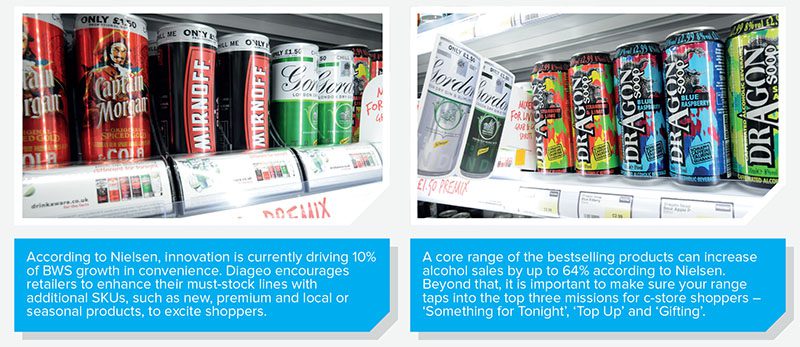 "Yes, we're the biggest alcohol supplier on the market, but we're not the biggest beer player, so we need to ensure that the likes of lager, Hop House 13, our new brand, is merchandised in with the top brands so it gains awareness and visibility. Smirnoff Cider, again, if they're stocking fruit cider, if they've already got Kopparberg, we're looking to make sure a fair share of space is there."
Faraz welcomed Diageo's approach as he reckons while planograms can have their place, they never quite match up to the reality on the ground.
"They don't do a lot for us. Maybe it shows what you should be stocking but it doesn't help us plan it. Everybody's got a different chiller, everybody's got different shelf space, so a personal approach does make a difference," he said.
Marketing support is also a key component of the 'My Store Matters' programme and Kevin said the drinks firm is more than happy to supply retailers with a host of point-of-sale materials to ensure top sellers stand out.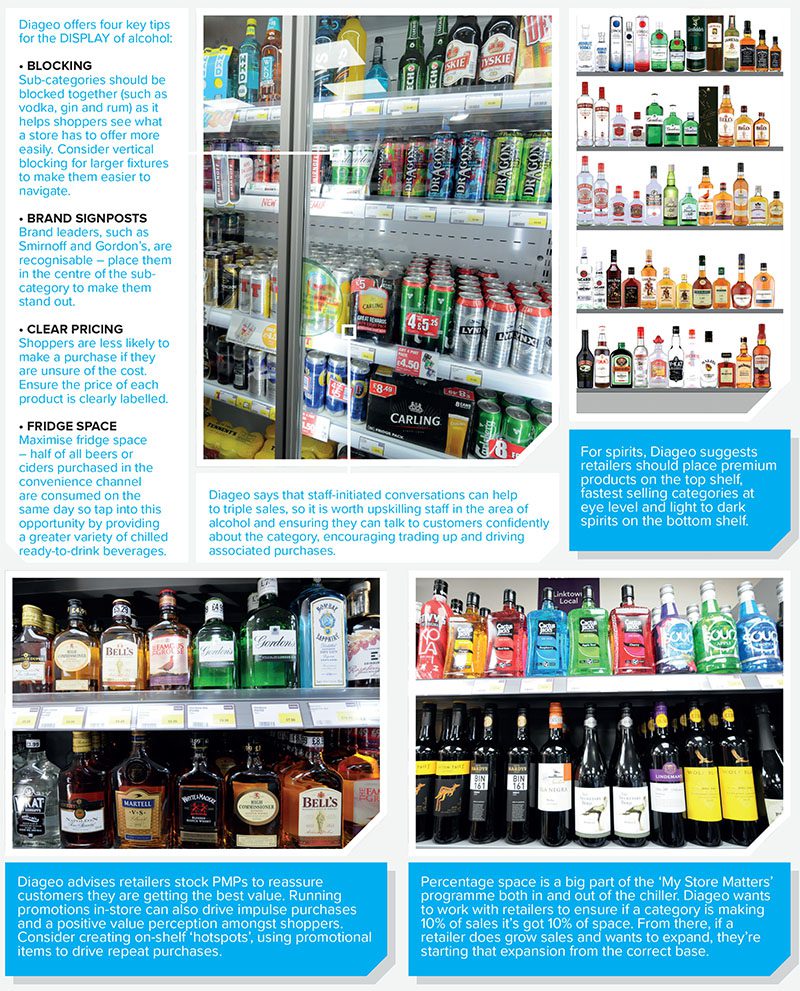 The Diageo national sales manager added that for retailers who request it, the firm can also create bespoke point-of-sale materials to help create hotspots, working in special offers and deals.
But what happens after that first visit from Diageo?
For Faraz, there will be a return visit to check in on how the changes have worked in his store, with the potential to make further modifications to his alcohol display.
As Kevin explained to Faraz: "I think we'll let Malcolm give you confidence with what's in your fridge and then next time he's in I think a conversation about ciders is one to have. I don't want you to miss out coming into summer.
"The great thing is that retailers are looking for ways to improve," he said. "These conversations are ultimately benefitting them and benefitting us as we increase our distribution."