In the face of declining footfall and with a new Aldi store about to open around the corner, the award-winning Broadway Premier convenience store in Oxgangs, Edinburgh, has undergone a tactical mini-makeover. Owners Dennis and Linda Williams led Scottish Grocer on a tour of the store to show off everything they have done to prepare for the coming challenge
It has been over two years since Edinburgh Council granted planning permission for a new Aldi to be built just a few yards from the store of award-winning retailers Dennis and Linda Williams' Premier Store.
Following several delays, the new Aldi is set to open in January. And Dennis and Linda have treated the intervening period as a precious head-start in which to get organised.
They have done thorough research into the discounter's offering, analysed every category within their store and, with Booker behind them, have embarked on a programme of improvement to boost footfall and offer customers what Aldi can't.
"We have to play to our own strengths, and focus on things they don't do," said Dennis.
As well as opening a new food-to-go counter and giving the exterior a lift with new black fascia, the couple have made tweaks in every category to optimise their offer and highlight everyday low prices to customers. Among the key changes:
• Chilled
Within chilled, more free-from items have been introduced to take advantage of growing interest, while the couple have made the most of Booker's revamp of its read-meal range and fresh meat has been heavily promoted to encourage trial.
"People expect to find a good range of fresh meat in their local convenience store," said Linda.
"While there are a lot of people who like ready-meals, there are just as many who like to cook from scratch and it's really important to have all the ingredients required to prepare a full meal – that gets your basket spend up."
Broadway Premier offers a wide variety of fresh fruit and veg, which has been key to their health-promoting activities with the SGF Healthy Living programme. Fresh produce is something Aldi has a good reputation for, but Linda and Dennis aren't looking at cutting back.
"While it's cheap, I don't think the quality is as good, so we're hoping customers will come back to us," said Linda.
• Protein
With encouragement from Premier, the store has introduced a new range of protein drinks, bars and other products, which Dennis said were doing phenomenally well.
"Protein is massive in the market now. It's driving footfall. The reason it's a must-stock is all different ages buy it," he said.
"We've had some very good promotions and if you go to the gym, you'll likely pay double the price there. That's why people come here."
• Medicine
Dennis and Linda found they had boosted sales of medicines by bringing them out from behind the counter.
"There's always a reluctance, because you worry about them being pinched, but we haven't had shoplifting and we have had an uplift in sales," said Linda.
"If you go to a supermarket, medicines are out on shelves and people are used to going round with their baskets and putting them in. It's a mainstream, everyday purchase and, sometimes, an impulse purchase. It's important to keep a good range, because you're likely to be open longer hours than the local chemist."
• Frozen
Inspired by a suggestion from retailer Robert Kirkwood, Premier introduced a meal deal on frozen products (e.g. frozen fish, chips and peas) that Dennis said had been doing well in Oxgangs.
"What's really good about that is Robert has come up with a good idea and Premier followed it up," he said. "It shows Premier listens to its retailers."
• Crisps and snacks
Linda said: "If you think about it, you go into an Aldi, there's very little branding on confectionery and very little on snacks, so this is a really crucial category for us. We've got to make sure people keep coming into the store for this category."
The store has been running a couple of initiatives, including a trial with Walkers of their 55p range, with two for a £1.
"Standard packs have suffered a bit compared to sharing packs," said Linda. "The take-up rate on this has been very successful and people do tend to buy two packs rather than one. On our bigger packs, we try to stick to £1. If we do that, people buy two or three. But if a pack is £1.29 they'll just buy one."
• Confectionery
It's a similar story in confectionery, where customers have been treating countlines as poor relations, because of the poor value perception.
"We wanted to give more space to £1 bars and come away from multi-facing standards," said Linda.
"We did that and got 30% increase in sales. But to boost sales of standard bars we're doing two for £1 across the board and that has been phenomenal. We've even doubled the sales on our 50p bar of chocolate by offering them at two for a £1. I kid you not."
• E-cigarettes
Although Dennis and Linda haven't had much experience of e-cigarettes, this is something Aldi doesn't offer, so it was important that they did.
They consulted Martyn Parkinson, at Premier, who suggested they try Edge.
"We put the display in on the counter and to be honest, it was pretty slow to begin with, but now it's phenomenal," said Linda.
"People buy two or three at a time. Nobody buys just one. It's £2.50 a pop, they can mix and match the flavours, try different combinations, you get good margin and it takes up very little space."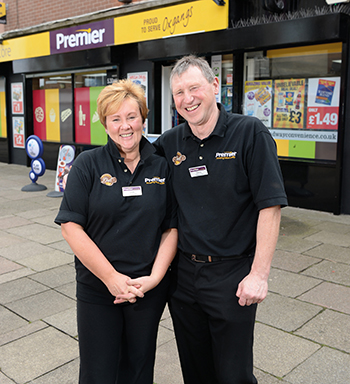 • BWS
Alongside e-liquids on the counter is a new cabinet displaying miniatures, part of an expanded, premiumised range of spirits.
"We're putting a big focus on spirits because that's something Aldi don't do very well," said Linda. "With miniatures, what we've found is, the fancier the bottle the better they sell. Prices range from £2.99 to £7.99 and they all sell.
"We've brought in more premium products behind the counter, which don't necessarily sell all the time, but if people know they're there, they'll come back. They'll remember at birthdays or Christmas and come back and pick them up."
• Mega deals
The store has boosted its number of mega deal promotional bays from two to six, with one entirely devoted to 'Scottish Favourites'.
"Aldi focus very heavily on Scottish products," said Linda. "We need to do that too, because there are loads of Scottish products we sell, but we don't talk about it enough."
• Food to go
Undoubtedly star of the show is the Premier Deli, the new food-to-go offering.
Designed and fitted by Nabco, it incorporates a preparation area and three serve-over counters, allowing for the sale of a wide range of fresh meals and snacks from a very tight space.
"Nabco played a blinder," said Linda. "It's very compact and there's only space for one person, but they got everything in and it's a good working space."
Almost overnight, Premier Broadway's food-to-go range went from a few bought-in sandwiches to full cooked breakfasts, freshly prepared salads and baguettes, pies, pastries, cakes and more.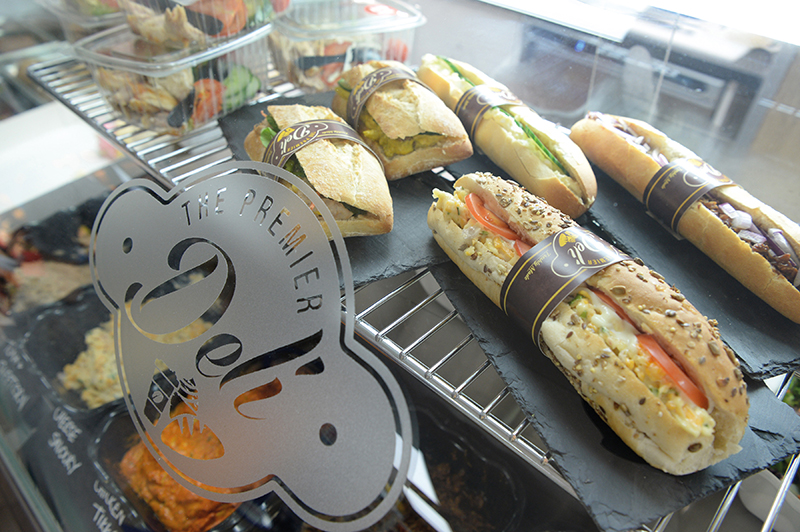 "We really didn't know what to expect from sales, but it's doing much better than we hoped. We started with a very basic offering and built it up each week. " said Linda.
"On Friday, the kids have a half-day from school, so I do pizza, chips and chicken nuggets. We can get £6 back from a £1 bag of chips.
"Our breakfast rolls use meat from the local butcher and our cakes come from Fords the Bakers. A few years ago, every high street like ours had a local bakery and now they're gone. But these are the cakes you used to get in those shops. Domino cakes, strawberry tarts, trifles, there's a real nostalgic quality, and the sales have been beyond our widest dreams. Our bill from the baker has gone from £90 a week to £372 in four weeks. I can only see it going up."
Though the store has attempted food to go before, and it hasn't worked, both Dennis and Linda are confident this bigger package and broader offering is an entirely different proposition that will get their footfall up and help protect them against whatever challenge Aldi may bring.
Dennis said: "All the good retailers are doing food to go, now. That's the bottom line."