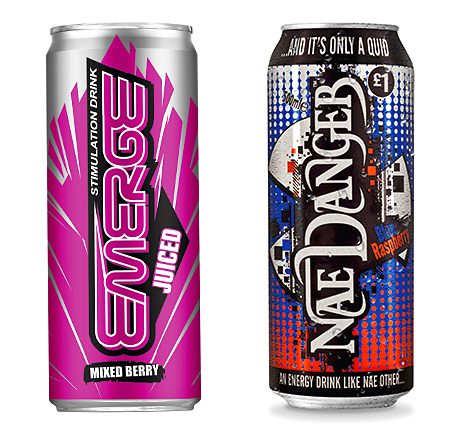 WHEN Scottish energy drink brand Nae Danger launched it was designed to stand out as much by its irreverent nature (an urban cheeky Scottishness) as its blue raspberry flavoured liquid.
But the brand, envisioned by Ross Gourlay managing director of Scottish distributor Glencrest, also caught important waves in the energy drinks market. It was launched in a large can from the start and it came in a PMP which offered the 500ml size for a round £1.
And it took off. Pre-sell conversations he had with wholesalers and retailers had told him he was likely to have a successful brand on his hands, and so it proved with distribution widening steadily and sales following through.
Now, just over a year later, Nae Danger is no longer the new kid on the block. And while the Scottish angle is still important the brand has addressed other issues so that it's ready to compete in all the energy drinks scene's sub-categories.
The original Blue Raspberry 500ml can version gained a sister flavour in Red Blueberry and range development continued with the Nae Danger Sports drinks, a Nae Sugar version and a Nae Danger original energy flavour variant, which was released in a 250ml size in a 69p PMP.
• Emerge – the competitively priced stimulation, glucose, flavoured energy and sports drinks range – has also seen significant activity this year.
New flavour Emerge Citrus was launched, joining Mixed Berry and Tropical in the flavoured range, and the brand also released its first TV advertising campaign.