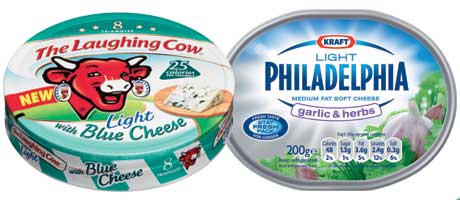 THE cheese market is in good health, according to Stephen Gregory, head of category management at Bel UK. But PMPs, depth of range, cross-merchandising and an easy-to-navigate fixture can all help increase sales in store, he says.
Bel UK products include Mini Babybel, The Laughing Cow, Leerdammer, Boursin and Port Salut.
• Kraft recently introduced a Philadelphia with Cadbury snack pack – Philadelphia and Cadbury chocolate with mini oat bites for dipping. Its portfolio also includes Dairylea.
• Shoppers are looking for quick and simple meal solutions, and providing them with recipe ideas using cheese can help sales, says Craig Brooks, marketing director, Kavli Ltd, brand owner of Primula Cheese.
Brooks suggests stocking plain, chive and ham flavours.
• Known brands are becoming more important in the cheese category and consumers expect to see names they know and trust, according to Dairy Crest.
Stocking a variety of sizes, tastes and brands is key, it argues. A range of strengths is important too.