Retailers attract global attention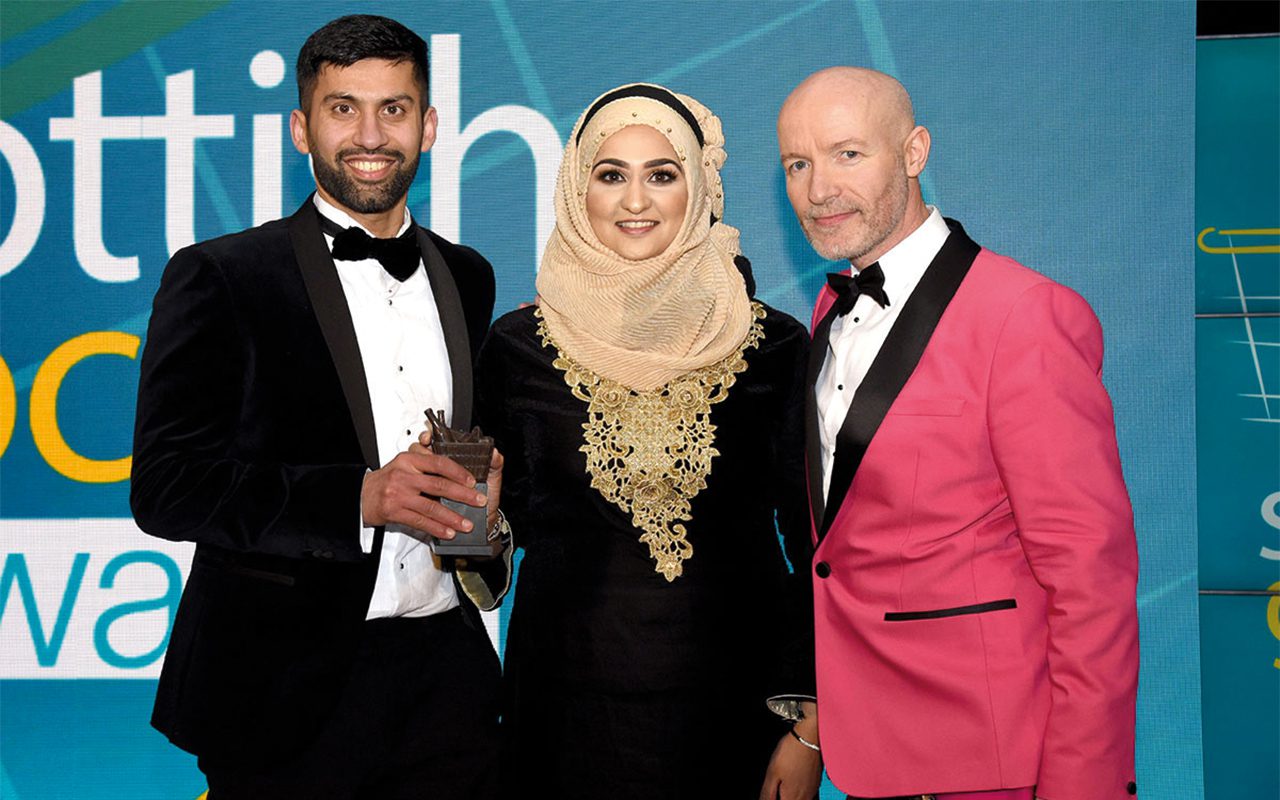 RETAILERS Asiyah and Jawad Javed of Day-Today in Stenhousemuir have been inspiring TV viewers on both sides of the Atlantic through their contribution to the local community during the Covid-19 pandemic.
In December, the pair were crowned winners of the Community Award at the Good Morning Britain (GMB) 1 Million Minutes Awards in December 2020 – a moment which Asiyah said came as a major surprise.
She said: "We didn't know about the award at all. GMB phoned us and said that we were in the top five for the Community Award. We never thought we'd actually win the award.
"That day they told us to go on air. We were in the shop at the time and we heard a bell ring and the presenters – Kate Garraway and Ben Shephard – told us there were people outside, so we went to look. Turns out the camera crew were actually standing outside the house so we went home in 15 minutes and that's when they presented us with the award. It was a really special moment.
"We were buzzing for two days afterwards. It's a really big thing and you don't expect it to happen to a wee shop like us. We were the only Scottish people nominated for the award."
Since the beginning of the pandemic, Asiyah and Jawad have distributed free hand sanitiser packs to the elderly, NHS workers and care workers. They also provide baby milk and baby food for struggling families and food packages.
The couple have donated £35,000 of their personal savings to the cause so far.
"When the pandemic started we didn't know what was going to happen and who was going to live so we started helping people where we could. That's how it started off and it just kept going and going", Asiyah said.
"We've spent £35,000 so far and the money all came from our savings and profit that we've made from the shop. You feel great after doing it because you know you're really helping people.
"Our kids have donated money too from their savings. They see what we're doing and want to help too. They're great."
On Covid-19 hand sanitiser packs, Asiyah said: "Hand sanitiser is really expensive and we were giving bottles out for free to the NHS, the elderly and carers back in February last year. Everywhere put their prices up so that's when people started to appreciate what we were doing because they were so expensive to buy."
The inspirational work of Asiyah and Jawad has been picked up by major media outlets across the world, including the Huffington Post, the BBC and American talk-show host Ellen DeGeneres. The couple were also nominated for a Pride of Britain Award.
Asiyah said: "We won the confectionery award at the Scottish Grocer Awards in March last year and that was our first ever award for confectionery. Then, the same day, we became famous with our care packages and we were all over the news. That entire week I didn't sleep at all.
"We were the first to help at the beginning of the pandemic because it still seemed far away to everyone at the time, that's why what we were doing went viral. Ellen DeGeneres shared a post on her Instagram page of our hand gel packages as part of her 'Favourite People of the Week'. I didn't know who she was at first but she has millions of followers. It was crazy.
"So many people come and say thanks to us for what we're doing and we've had messages saying well done for the award win.
"We've had a round of applause twice from NHS workers and the fire departments. Normally you wouldn't see a shop getting a round of applause from the NHS or the emergency services, it's the other way around."