Paterson's Jammy new sweet treat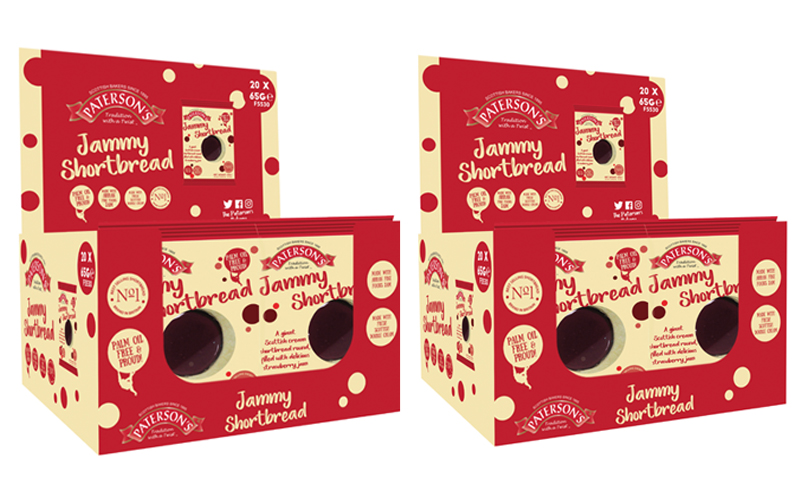 SHORTBREAD brand Paterson's has released a new Jammy Shortbread that it hopes will shine with food to go shoppers.
With a base of Paterson's traditional shortbread, the new range adds fresh Scottish cream and Isle of Arran strawberry jam to create an indulgent sweet treat.
Paterson's said the range was developed to meet increased consumer demand for biscuits with rich fillings, as shoppers continue to seek out treats.
The 65g Jammy Shortbread joins Paterson's existing range of Giant Cookies with Triple Chocolate, Fruit & Oat and Chocolate Fudge variants.
Jonathan Guild, brand manager at Paterson's said: "At Paterson's, we are all about offering delicious treats for all occasions, in-home and out-of-home.
"Consumers are increasingly looking for indulgence, fillings and provenance in their biscuit choice, and our Giant Jammy Shortbread delivers exactly that – offering Paterson's unique taste and rich melt in the mouth texture, crafted using the best local cream, with an extra, exciting twist with the addition of Arran strawberry jam to deliver a uniquely Scottish treat."
Paterson's has also paid attention to consumers' growing environmental concerns, making sure its range of 'Giants' biscuits are free from any palm oil.
A major contributor to greenhouse gas emissions, palm oil is considered by many to be harmful to the planet.
Producing palm oil also leads to the destruction of forests that are home to endangered species like elephants, tigers and orangutans.
Paterson's said that by keeping its range palm oil-free, the producer was proud to be playing a role in helping to sustain both the environment and the orangutan.
The new Jammy Shortbread is sold in cases of 20 x 65g rounds in shelf ready packaging.