IT'S a busy time at Spar Euro Garages Lomondgate, located on the main road from Glasgow to Balloch, as tourists flock to the shores of Loch Lomond and elsewhere to enjoy the summer sun.
If ever there was a forecourt equipped to handle the influx, it's Spar Euro Garages, which picked up the Forecourt Retailer of the Year prize at the 2017 Scottish Grocer Awards, with judges recognising the site for its broad offer and smart aesthetics, as well as switched on staff.

At the helm of the forecourt business is Adam Swan, duty manager since December. He had something of a baptism of fire in his first week, when an HGV very nearly uprooted one of the petrol station's 14 fuel pumps. Things at the site have thankfully been a bit less dramatic since then.
For Adam, the task at hand is less about lecturing lorry drivers who have taken their eye off the ball and more about extracting all he can from a forecourt in what he knows is an enviable location.
"It's a brilliant build for Euro Garages because it's such a good location for commuters and for tourism, they've kind of struck gold by putting it here," he said.
"About half the year, from mid to late April all the way through to September you get a lot of tourism traffic, a lot of it, and the rest of the year there's a lot of local businesses that use the place, a lot of commuters.
"Obviously it's on the main road that goes from Balloch to Glasgow so it's probably about 50/50 use for commuters and tourism."
Adam may be operating from a stellar location, but he is yet to lift his foot off the gas since starting, and the whole team at Euro Garages is incentivised to extract as much from the site as possible.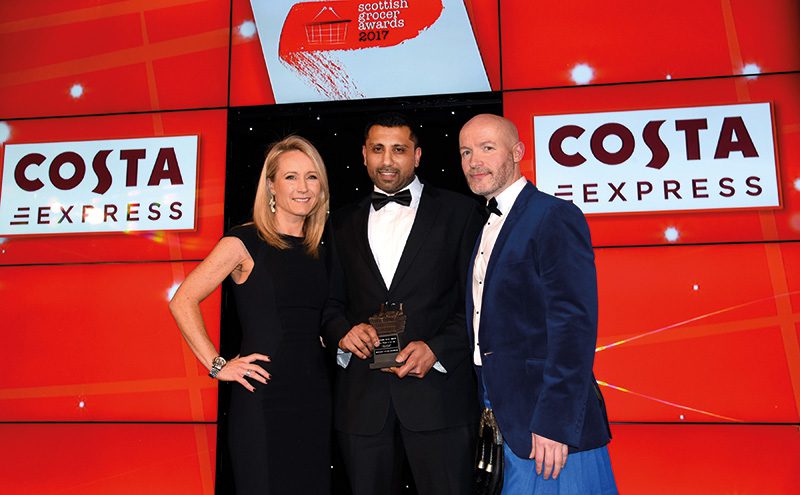 Working with a team of 12 staff, Adam is intent on driving incremental sales at the forecourt, which also benefits from having both a Greggs and Subway franchise on site, another handy footfall driver.
"Greggs and Subway basically operate as independent businesses. They're franchises of Euro Garages, but with regard to the site as a whole all three of us try and chip in as much as we can," he said.
For forecourt employees, a big part of chipping in under Adam is upselling, and staff are incentivised to go the extra mile in this regard.
"We do have weekly targets, monthly tagets and quarterly targets," he said.
"We're actually pretty much on target every single week. It is good. I'm trying to squeeze a wee bit more out of the business just by getting staff to do more upselling or suggesting something different from what the customer is asking for.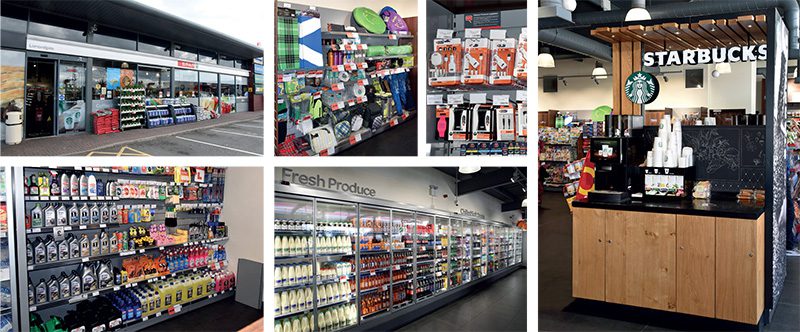 "We do have opportunities for staff like quarterly bonuses, it all feeds into everything. We've got mystery shoppers as well, staff need to be showing they're dealing with queues properly. I've got no fault with any staff, they're generally quite good."
When it comes time to upsell, there are plenty of options on site for staff to play with, including a Starbucks coffee-to-go machine which has been a roaring success, according to Adam.
"It's incredibly popular, but we do have an incentive on at the moment. It's for our staff to upsell it so we get a boost, it's kind of a competition to see if we can boost our sales to past where we are actually targeted.
"We're on a high threshold so we're trying to sell more than 80 cups a day and we're doing probably about 120," he said.
The Starbucks coffee machine is a low maintenance high value proposition for Eurogarage Lomondgate. The self service machine allows customers to select from two bean choices and a variety of hot and cold beverages and is maintained by the night-shift team in the wee hours when footfall is lighter.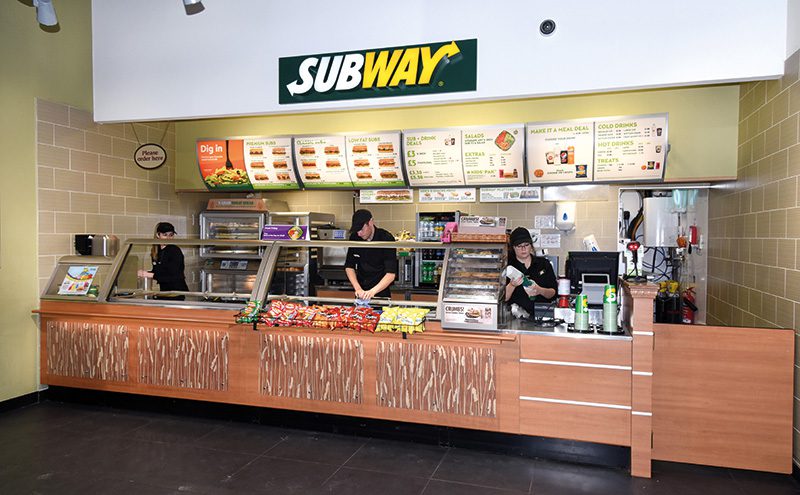 Food and coffee to go are big business at Lomondgate, with Greggs and Subway proving particularly popular during lunch hours. However, Adam said that this hasn't overly eaten into the forecourt's own food-to-go offer.
"Our meal deal section flies out, we've actually just extended it. It was only one bay before, but about three months ago we switched into two bays. Since that happened we've got more sandwiches out and they're going even quicker now.
"I think food-to-go sales are generally commuters. It's easier to store. If they're travelling to say Glasgow or up a bit further it's easier to have a bottle of juice, a sandwich and a packet of crisps rather than having a sub next to you. It's a good selection we've got, you're getting a side, a main, and a drink for £3.50. It's quite good."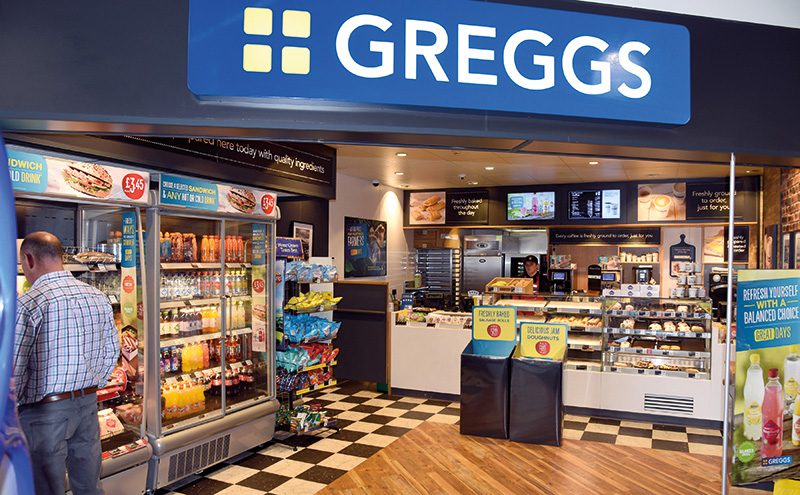 Expanding the food-to-go offer is just one of many tweaks that have been made to the Lomondgate business since it picked up its Scottish Grocer award in March, with more in the pipeline.
In late April, Euro Garages created an outdoor dining area on a patch of grass which is far away enough from the fuel pumps to also function as a smoking area – a move which Adam reckons mostly benefits Subway and Greggs but could also be good for his food to go.
Adam has also rejigged the drinks chiller for the summer, reducing soft drinks facings by one bay to further expand bottled water in time for the warmer weather hitting.
Electrical equipment, sourced from Spot Promotions, has also taken up a more prominent position at the forecourt, with phone chargers shifting to a shelf spot behind the tills, a move that Adam said has gone well.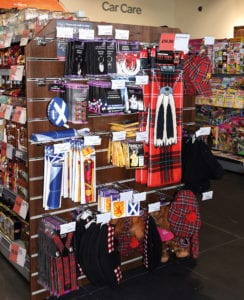 The free-from category has also been given a bigger share of shelf space in store, with the new range introduced in May generating a positive response from customers.
Tourists are also well catered for, thanks to a beefed-up souvenir and gift range from Thistle Products, and facings of local produce supplied by Glencarse Foods, which Adam reckons is popular with tourists and locals alike.
For the future, Adam said the next thing he wants to get sorted at the forecourt store is the camping and outdoor equipment range, and to discuss the best way forward for this section of the store with area manager Imran Ali.
And while the Greggs and Subway franchises operate under the Euro Garages umbrella, but independently of the forecourt store, plans are afoot that should give each business more flexibility with staffing in the future.
"We're actually in the middle of getting a programme set up where we can have staff double trained on site," said Adam.
"There are two members of staff in the garage that can do stuff in Greggs and we have one at the moment who can do stuff in Subway.
"We are in the middle of that so if there are busier times, Friday and Saturday nights tend to be when we need it most, we can help."
With a lot going on and plenty in the pipeline, it wouldn't be hard for anyone to get slightly overwhelmed during the busy period currently being enjoyed at Lomondgate, but Adam reckons staying on top of things all falls down to the teamwork on display in his store.
"I always go by '5% more'. If everyone puts 5% more in everybody has 5% less to do.
"It's kind of a strange way to look at it but I think quite a lot of the team bought into it and realised if everybody makes the job easier for everybody else it becomes easier for themselves. In turn you become happier," he said.