There aren't too many sleeps left till Christmas now. If you haven't already done so it's time to get your holiday season activity well and truly moving.
What should you stock and how should you approach the festive season?
AS this edition [November 2013] of Scottish Grocer goes through the front doors of Scotland's food and drink retailers there are around 49 shopping days left till Christmas.
Many retailers will have laid plans for the holiday season already but, on the other hand, some operators have found that the Christmas season has become 'later' in recent years.
Money has been tight of course. But there have been signs that the tough economic times have seen consumers determined to make Christmas and New Year and the other mid-winter holidays a special case, a time for fun and family that has become even more important when folks face austerity through the rest of the year.
Last month's Scottish Grocer saw our in-depth festive retailing coverage begin with our analysis of Christmas confectionery and Christmas gifting. And this edition also sees the first of our important Christmas Drinks features published.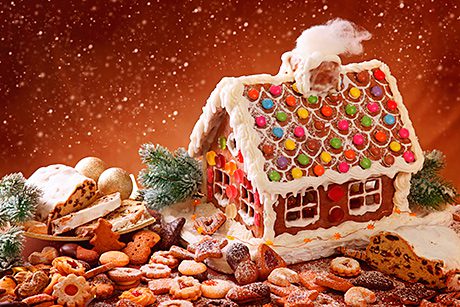 And here in Stocking up for Christmas we recap some of the angles of Christmas confectionery, consider several of the other product categories that can traditionally bring retailers a winter holiday period boost including the specials on biscuits and cakes, indulgent ice cream and desserts, crisps and snacks, seasonal specials in food to go, festive home-baking goods, treats for pets and more.
We also make some suggestions on festive season business strategy and highlight key points that retailers should consider in our Christmas checklists.
And this year we take a look, from a couple of months out, at some of the methods the grocery giants use to get the best from Christmas.
[hr]
FESTIVE CHECKLIST
Check the calendar. Christmas Day, Boxing Day, New Year's Day and 2 January are on Wednesdays and Thursdays this time round. In effect it means four weekends in a row. Decide on any changes to opening hours and staff rotas well ahead of the period.
Check for big events ahead of the holiday period too. If the TV schedules follow the pattern of last year the final of X Factor is likely to be 7/8 December and the final of Strictly Come Dancing is likely to be 21 December.
With the four weekends in a row style of this year's holiday period in mind, think carefully about stock, storage and replenishment. Make sure you are aware of your wholesaler's delivery schedule over the period. If you use cash & carry depots make sure you know the opening hours.
Analyse your store's trading results over the Christmas lead-in and the holiday period last year. Look especially at those product categories with a reputation for seeing a substantial Christmas boost, such as batteries, and figure out whether that actually happened last Christmas.

Click here for more CHRISTMAS ARTICLES