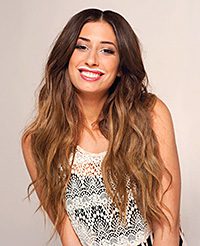 SINGER and TV presenter Stacey Solomon is the latest celebrity to support the 'make mine Milk' campaign and the charity BeatBullying.
She will be working with the two organisations on a competition that teaches children to celebrate diversity and how to make milk a fun part of their diet.
The competition is open to primary school age children and encourages them to express themselves by creating a milkshake that personifies them, with 'ingredients' ranging from their favourite flavours to their hobbies and interests.
Sandy Wilkie, chairman of the Milk Marketing Forum – which funds 'make mine Milk' – said: "As someone who appeals to both a young audience and parents, Stacey is a great celebrity to work with on this competition and we're delighted to see her wearing her milk tache."
Market data from Kantar shows that there have been increases in milk volume consumed since the launch of the campaign – with a 2.0% increase in the 52-week period ending December 2010, followed by 2.1% for the same period ending December 2011, and a 0.9% rise for the year ending December 2012.