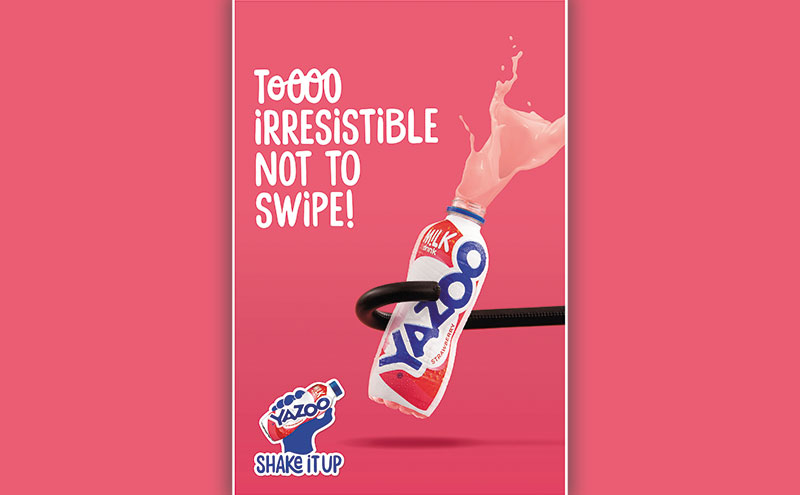 YAZOO is the subject of a new marketing push, with the milk drink brand appearing across social media platforms until the end of summer.
The new 'SoooOO Tasty ' campaign, which runs until September, sees the brand being stolen by comical items, including BBQ tongs, an umbrella and a drone.
The artwork from the campaign will appear across outdoor advertising sites and digital via YouTube, Facebook and Instagram.
It will also be supported further by shopper and sampling activity.
The digital campaign is estimated to reach 5m young adults and the outdoor advertising will be showcased across 1,450 sites nationwide.
Richard Duplock, Yazoo marketing manager at Friesland-Campina said: "Flavoured milk is a taste-driven category and the new Yazoo campaign puts taste at the very forefront of the creative, with the objective of enticing new consumers into the growing flavoured milk drink category."
Friesland-Campina claims Yazoo is currently outgrowing the market, with growth of 16% (vs 3%), and the firm hopes the new campaign will drive this further, particularly among 16-24 year olds.
Earlier this year the flavoured milk brand launched a new variant, Choc Mint, which has already been successful across the convenience channel.
It joined Strawberry, Vanilla, Banana and Chocolate in the Yazoo milk drinks range.
Yazoo is currently exempt from the Soft Drinks Industry Levy, as a milk based drink containing at least 75% milk.