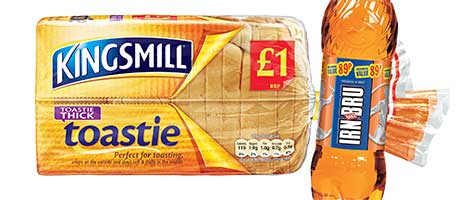 IT seems hard to imagine but there was a time when price-marked packs were few and far between in c-stores. In the days before the recession many retailers liked to maintain maximum flexibility, often using tight pricing on essential items and taking margin on impulse lines and some top-up and distress purchases.
The crucial argument for PMPs is that they give the consumer confidence that he or she isn't being 'ripped off'.
But, on the other hand, there are concerns, one team of very experienced c-store owners recently told SG that when they crunched their most recent trading period's numbers they found turnover up but profit down. They figured much of that could be down to the growing influence of PMPs. "Watch your margins," they say.
What is clear is that suppliers and brand owners love PMPs. We asked brands in different sectors to give us their take on PMPs, what they mean for their product categories and how they use them.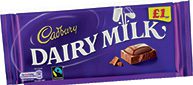 • United Biscuits (UB) puts price-marking at the heart of its marketing strategy. Hena Chandarana, shopper marketing controller at UBUK explained: "Price perception is key for shoppers and they need confidence that they are getting value for money. PMPs enable retailers to deliver this visible value for money on shelf, allowing them to demonstrate that they're listening to the needs of their customers. Retailers that don't stock a range of PMPs risk losing their customers as they seek the visible value they desire elsewhere."
An internal UB trial found that PMPs generated a 13% increase in retail sales value. "PMPs are also proven to drive rate of sale," Chandarana added, "which means less product out the back and better cash flow for retailers.
"They are particularly successful at the till point. McVitie's Medley cereal bars and go ahead! are available in counter display units price-marked at 55p, allowing retailers to take advantage of unplanned purchases while customers wait to pay at the till."
Another biscuit firm, Burton's, has doubled its sales of PMPs across Maryland Cookies, Wagon Wheels, Dodgers and Cadbury Fingers.
According to the company's internal sales analysis, some lines have risen by as much as 90% over the last two years in outlets that have switched from plain packs to PMPs.
Burton's David Costello said that PMPs help retailers and customers in the current price-sensitive times.
"Our price-marked packs, which benefit from sustained brand investment and support, not only provide accessible price points to many of Britain's best-loved biscuit brands, they attract new customers and encourage both brand loyalists and occasional impulse buyers to purchase."
• For AG Barr, PMPs are also central to sales strategy. "Some 48% of overall soft drinks growth has been driven by price-marked packs," said head of marketing Adrian Troy quoting Nielsen. "The biggest growth is from flavoured carbonates, up 67%."
Across Barr's brands, Troy claims PMPs have delivered year on year increases of 14% for Rubicon, 15% for Ka, 7% for Irn-Bru and 75% for Rockstar.
• Lucozade's new flavour, Energy Caribbean Crush, has been specifically developed for the impulse channel in a 95p PMP.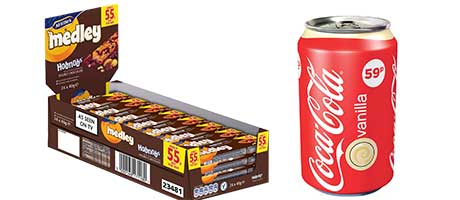 • Coca-Cola Enterprises is expanding its range of PMPs beyond the drink-now sizes. This year's bigger PMPs include Coca-Cola, Diet Coke, Coke Zero and Cherry Coke in a 500ml PET, price-marked at two for £2; Fanta, Fanta Fruit Twist, Sprite, Dr Pepper, Powerade Sport and Oasis in a 500ml £1 PMP. Four-can packs of Coca-Cola, Diet Coke and Coke Zero are also price-marked at £1.99.
• Golden Casket's bags of sweets have been price-marked since the brand launched in 1991. Last year the original name, Halfpounders, was changed to to One Pounders to emphasis the attractive price point.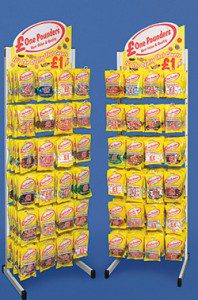 • Mondelez continues to price-mark its sharing bags of Cadbury Eclairs, Cadbury Dairy Milk Giant Buttons, Bassetts Jelly Babies and Bassetts Liquorice Allsorts as well as key bars of chocolate.
• Kepack finds its hot snacks sell strongly in price-marked packs. Many of its best-selling lines such as the Rustlers range (Quarter Pounder, Chicken Sandwich and BBQ Rib) are permanently price-marked at £1.99.
The company also price-marks new products to encourage shoppers to give them a try. Rustlers Hot Subs and Rustlers Hot Wraps, both price-marked at £1.99, have sold £37.9m since launch.
Angela Daulby, Kepak convenience foods channel director said: "It's important for retailers to recognise that standard price-marked packs deliver higher cash margins than launch or promotional offers."
• Kingsmill has launched a PMP for its Kingsmill Toastie. The 800g loaf is available in a £1 price-marked bag.
[hr_dotted]
27% Share of value sales in sweet biscuits category taken by products displayed in price-marked packs
Source: Burton's Biscuit Co.
76% of consumers buy PMPs some or most of the time and most of them perceive PMPs as a promotion, says Mondelez International quoting HIM research
Over the last two years sales of some Burton's Biscuits lines have risen by 90% in outlets that have switched from plain packs to PMPs
[hr_dotted]