CHEERING news for retailers: HIM research shows 90% of consumers would consider buying price-marked spirits. With that in mind, last year Diageo introduced PMPs in spirits, beer and RTDs including Smirnoff, Bell's and Captain Morgan's Spiced. The PMP availability has continued into 2013.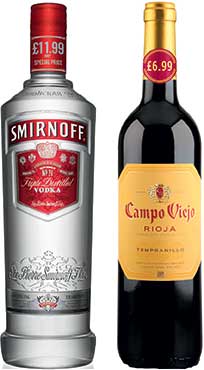 The company has also introduced promotional price-marked four-packs of Guinness and Red Stripe as well as PMPs on premixed cans of Gordon's gin and tonic, Captain Morgan's Spiced and cola, Smirnoff vodka and cola and Smirnoff vodka and cranberry.
After last year's 35cl PMP, Malibu is producing a £12.99 price-marked 70cl bottle this spring.
It's not just spirits that can benefit; HIM also found that 60% of shoppers would not consider buying beer from a convenience store unless it was price-marked and 65% would buy premixed cans if price-marked.
Scotland's top-selling RTD brand, WKD, has extended last year's PMP activity. Its shrink-wrapped four-bottle packs of top-selling Blue, Iron Brew and Purple flavours feature the flash: "ONLY £4.99 RESULT!".
Budweiser's standard four-can (£5.49) and six-bottle (£6.49) packs come price-marked and the company has recently released a new six-pack of 440ml cans as a £6.99 PMP in time for summer.
Not to be left out, Merrydown's medium dry ciders are available in £2.49 price-marked promotional 75cl bottles. Normal RRP is £2.55.
Special promotional six-bottle cases are flashed with a recommended £9.35 ex-VAT price. The cases offer cash margins of 37.75%.
Pernod Ricard has launched a £6.99 PMP of Campo Viejo, the UK's top-selling Rioja according to Nielsen.

[hr_dotted]
YOUR VIEW:
Are PMPs a clever way to deal with recessionary times or are they here to stay? Are PMP margins fair to retailers?
contact SG: patrick.duffy@ peeblesmedia.com
[hr_dotted]