Symington's pushes exotic NPD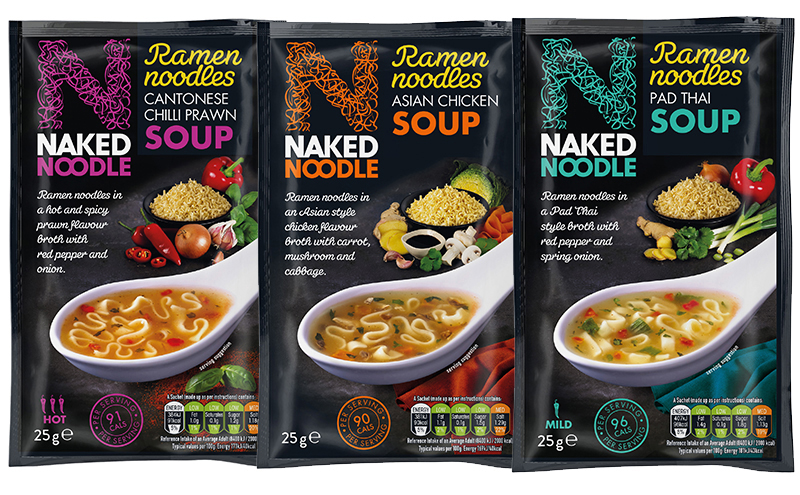 HOT snack producer Symington's has been ramping up investment across its food to go friendly brands in a bid to keep customers engaged and stand out from the crowd.
The firm has been rolling out waves of NPD for its Naked Noodle pot-snack brand as well as investing £1m in a marketing campaign for its Mug Shot brand.
Mike Benton, head of snacking at Symington's explained: "Brands must stay relevant and exciting in order to stand out so we've invested heavily in NPD for Naked Noodle. Our new Big Eat Noodle Pots are now available in four varieties: Singapore, Green Thai, Mee Goreng and Chicken Penang. They are 33% bigger than our standard pots and RRP is £1.49.
"We've also launched a range of noodle based meal soups which replicate the noodle bar experience at home or on the go in two varieties: Hot & Sour and Laksa."
Symington's range expansion isn't limited to new noodle flavours, the firm has also expanded its range of Ramen Soup Sachets with the launch of four new flavours, Vegetable Pho, Asian Chicken, Chilli Prawn and Pad Thai – as well as a limited edition Szechuan Hot & Sour noodle pot.
Marrying trends together, Symington's is also looking to tap into demand for free-from options through its gluten-free pot snack brand Ilumi.
"Many consumers are looking for gluten free products. The category is now worth over £1.3bn and growing at nearly 40% year on year," said Benton.
"Ilumi is a dedicated free from brand which is naturally dairy and gluten free. The brand has seen the biggest growth in ambient pot snacks, a new subcategory in free from."