Convenience retail trade groups say don't play politics with our sector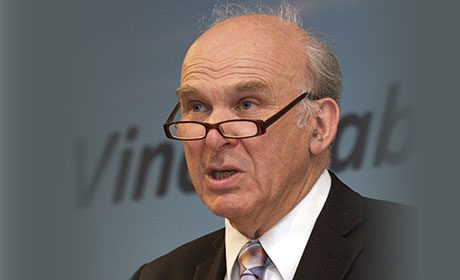 POLITICIANS should keep their hands off the National Minimum Wage. That's the message from retail trade representative groups following Vince Cable's demand for the Low Pay Commission to restore the real-terms value of NMW.
Cable, the coalition government's business secretary, told the Liberal Democrat UK conference in Glasgow last month that the NMW had fallen in real terms by 10-12% since 2008 and that he fears that the recovery will leave low-paid workers behind.
He's asking the Low Pay Commission, which sets the NMW, to consider how the rates could be increased above the norm.
The move was interpreted as a pre-election marker from the Lib Dems, putting living standards in a growing economy at the heart of the coalition partner's strategy.
Cable said: "The national minimum wage is a vital safety net in protecting the low paid. However, as signs of an economic recovery start to emerge, we need to do more to make sure that the benefits of growth are shared fairly across the board.
"The Low Pay Commission carries out valuable, detailed work looking at labour conditions across the economy. I am asking them to extend this expertise to look at what economic conditions would be needed to allow the NMW to rise by more than current conditions allow."
But his views met with fierce resistance from organisations representing Britain's convenience stores.
The Scottish Grocers' Federation said the move was political meddling. Public affairs adviser John Lee said: "The Low Pay Commission should be allowed to get on with its job without interference from politicians grand-standing at party conferences.
"We want to protect jobs and encourage investment.
"The NMW has risen strongly over time, outpacing inflation, average earnings and even GDP growth since its introduction. Politicians have to realise that the impact on an employers' overall wage bill varies substantially by industry sector. Firms in finance or construction see their wage bills rise by only around 1% while retailers can see their wage bills rise by five or six times as much."
He added that c-stores are "a valuable source of job for young people and parents who need part-time flexible employment. There is evidence that it's those groups who are most affected by rises in the NMW; often finding their hours reduced, he said.
The Association of Convenience Stores argues that the NMW had already hit retailers hard.
"As the NMW has increased, we have seen pay structures squeezed, investment decisions delayed and independent retailers taking on more hours themselves," an ACS statement said.
• The minimum wage is currently set at £6.31 for workers aged over 21, with a rate of £5.03 for 18 to 20-year-olds and £3.72 for under-18s.