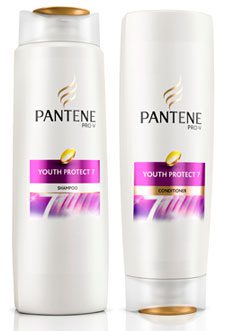 P&G has identified ageing hair as a beauty issue for women. Its newest Pantene Pro-V range, unveiled next month, is designed to tackle the issue, it says.
The Youth Protect 7 Anti-Ageing range is P&G's first "preventative anti-ageing range". It includes Pantene's first BB Crème for Hair. BB (it stands for beauty balm) creams have been a huge success in skincare since 2012, says P&G, and Pantene Pro-V aims to extend the effect to hair care.
The new range has been line-priced with the existing Pantene range and includes shampoo, conditioner, shampoo and serum, a Rejuvenation Mask, an Intense Rejuvenating Conditioner and a Fibro-Reinforcing Spray.
TV personality Cat Deeley will front a multimedia marketing campaign for the new range this month.