With consumers increasingly looking for value PMPs are found in more aisles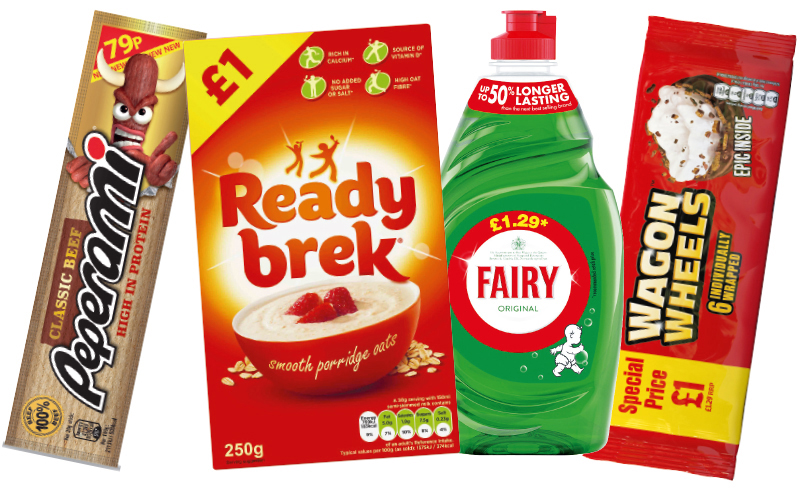 PRICE-marked packs have become a familiar sight in most c-stores and the range of products available in this format appears to be growing in every aisle.
Recent additions range from household cleaning products to biscuits, touching all points in between.
Breakfast brand Weetabix is among those displaying the price prominently on many of its products.
Head of brand, Kevin Verbruggen, said: "As with many grocery categories, breakfast cereals have had a tough time over the past few years.
"However, 95% of UK households still buy breakfast cereals each year, on average every fortnight, and spend £1.5bn each year."
In order to get a share of these sales, Weetabix says retailers should give shoppers value by using PMPs and promotional offers, sited in prominent locations in-store to maximise sales.
It also advises grouping products by PMP and standard for ease of navigation and the use of shelf barkers to catch the consumer's attention.
P&G has a wide range of products available in price-marked packs including cleaning brands Flash and Fairy Liquid.
95% of UK households still buy breakfast cereals, on average every fortnight. Weetabix says retailers should give shoppers value by using PMPs and promotional offers.
Mariela Mariotti, senior marketing manager at Fairy UK & Ireland said: "Fairy's been at the heart of our kitchens for over a century now, helping ordinary people achieve shiny, clean dishes at an affordable price.
"The same principles that applied 100 years ago apply today: which is why we're helping retailers communicate just how economical Fairy Liquid is, with £1.29 price-marked packs."
P&G Tampon brand, Tampax has launched a PMP of its Tampax Compak and has launched a two for £4 multibuy PMP.
It has also introduced a £2.29 PMP for its Always brand.
Brand manager, Sabrina Gutsche, said: "We're urging all stores to review which femcare products are currently on offer and ensure a wide range is available to break the autopilot of a woman's purchasing routine."
Peperami says PMPs are becoming very popular in the meat snacks category.
Marketing manager, Pavan Chandra, said: "Categories that regularly use PMPs include confectionary and crisps.
"These are both high rate of sale categories and play a strong role in impulse purchasing as they are often viewed as convenient snacks that can be eaten on the go.
"Meat snacks are proving increasingly popular as we see a move towards better-for-you snacking."
Chandra added that Peperami's essential PMPs are the single sticks in Original, Hot, Firestick and Tex-Mex flavours and the new protein format, Classic Beef, priced at 79p.
Many shoppers look to PMPs as a source of value, and PMPs of bestselling brands provide them with quality assurance, said Burton's Biscuit Company.
The firm added that with biscuits being an impulse buy, using PMPs is a great way to boost profits.
The Burton's PMP range includes Jammie Dodgers at 89p, Wagon Wheels Original at £1, Maryland Big & Chunky Milk & Dark at £1.39 and the savoury Fish 'n' Chips Salt & Vinegar grab bag at 50p.