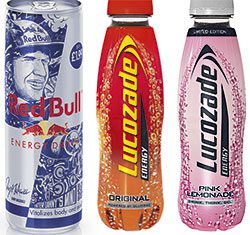 THE sports and energy drinks category is fizzing this summer, with new product launches and flavours designed to keep the fastest growing segment in soft drinks afloat. Nielsen figures show sales of what it calls "glucose and stimulant drinks" growing almost 12% in volume and value last year, outselling chocolate.
And the most recent edition in the Britvic Soft Drinks Market Review annual series, the 2013 issue which analysed figures from 2012, showed that energy drinks were once again massively important to convenience stores and impulse outlets.
In 2012 energy and sports drinks soared ahead of colas in value terms in impulse stores. The Review put the 2012 UK impulse-channel value of energy-drinks sales at £459m compared to cola's £435m.
It meant £1 in every £4 spent on soft drinks in impulse outlets was spent on glucose or stimulation drinks. And almost one litre in every six of soft drinks sold through impulse outlets was in that same glucose and stimulation sub-category.
Not surprisingly there has been almost unbridled new product development. Nowadays we have energy and stimulation drinks with a Scottish character. We have sugar-free versions. As we report in this issue Vimto Soft Drinks has entered the market with a street-sports-influenced brand. There are new flavours launched by different brands on a very regular basis. There is a plethora of own-label lines. And there are some very successful value brands in the market too.
Does that mean there are too many?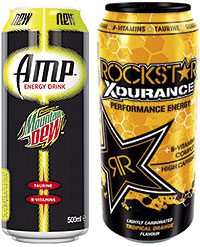 Well some of the very biggest brands have been, for some time, suggesting that the market is very crowded and suggest that might not be a good thing. On the other hand many of the other brands point to their own resilience as proof that it's a market where consumers vary, and many are willing to try something different … especially if it is available at an attractive price.
• GlaxoSmithKline, maker of brand-leading glucose energy drink Lucozade, has suggested that the huge choice on offer, in energy drinks in particular and in soft drinks in general, can confuse consumers.
If retailers do wish to stock a wide range of drinks they should ensure it is very rigorously merchandised, the firm argues.
"Shoppers find it challenging to locate the products they are looking for on shelf due to the category's complex nature," Lucozade brand director Simon Freedman said.
"At any one time, a shopper can come face-to-face with 120 products on fixture. It is essential that products are merchandised in line with segment performance. Sports and energy drinks, with 33% market share, deserve the biggest allocation of fridge space."
On the other hand Freedman added that it's essential for retailers to keep backing the efforts of the various companies' new product development programmes.
"Without NPD, the soft drinks category would be flat," he claimed.
"NPD is the lifeblood of the category, with 24% of sales coming from new products according to Nielsen."
He said Lucozade Energy Pink Lemonade was the best-selling example of new product development in the category last year, and is now the third-best-selling Lucozade Energy flavour.
GSK has also added Lucozade Sport Caribbean Burst and Lucozade Energy Caribbean Crush this year, in response to what it sees as clear demand for exotic flavours from soft drinks consumers.
The Lucozade Energy range's current marketing programme includes a £2.3m on-pack promotion, called "the yes project", offering shoppers the chance to win festival and pop-up gig tickets, UK breaks and the latest over-ear headphones.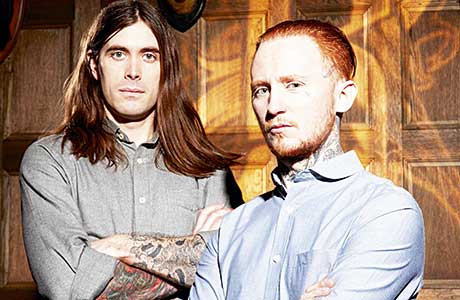 • The other huge brand in the energy drinks scene is Red Bull. It is also concerned about what it sees as the danger of potential consumer confusion. On the other hand it does recognise a place for drinks at different price points and in recent times has been playing its own part in widening the number of products, pack sizes and price points on offer with its own new product development activity, which has seen it introduce different sizes and different flavours as well as limited-edition and price-marked packs.
Earlier this year, the company's trade communications manager Tom Smith told Scottish Grocer that energy drinks were being used by a increasing number of consumers but there were still many more to attract to the product category.
What the marketers call penetration had reached almost 41%, he said – so roughly four out of 10 of those people who could use the drinks now do so, at least some of the time.
The increase in penetration was occurring at the fastest rate in soft drinks. That suggests energy drinks sales growth has momentum. But there are still many people – roughly six out of 10 who could still be persuaded to try them out; so, good growth now and high potential for further growth.
"In fact, sports and energy is expected to deliver 50% of soft drinks growth – an additional £338m by 2017," he said.
"Red Bull is leading the way worth £28.1m in Scottish impulse, growing ahead of the category as a whole at 7.6%."
But the Red Bull opinion is that in an increasingly busy soft drinks sub-category retailers should be careful not to complicate displays.
"Within sports and energy in impulse, the top twenty SKUs deliver a massive 72% of value sales which means retailers should have a focused range and not give space to products which add little or no value," Smith argued.
"It's important to look at the return that each SKU is delivering back to the business in order to rationalise the amount of shelf space per SKU. It's the market-leading, branded products that deliver higher profitability," he claimed.
"Customers should ensure the split of shelf space is shared between premium (35%) mainstream (30%) and value (35%) based on the split of sales and also the growth areas.
"Taking on simple merchandising principles can help increase spend and maximise sales.
"Use key brands as signposts for shopping the category by placing at eye level. Locate signpost brands in the centre of the planogram, with multiple facings and blocked with similar products. Vertical sub-category blocking makes it easy for consumers to locate their product and shop the fixture. Using the stair-step approach, merchandising products in order of can size, encourages shoppers to upweight their spend in store."
In a significant development, 2013 has seen the launch of Red Bull Editions – three new Red Bull flavours. The Red Edition (Cranberry), Silver Edition (Lime) and Blue Edition (Blueberry). In part the Red Bull NPD is designed to address that issue of market penetration. They appear designed, in part at least, to offer options to consumers who don't like the taste of established energy drinks.
• There has been new product development also from Mountain Dew the energy drink handled by Britvic Soft Drinks in the UK. It has always been caffeinated but now there's a new product in the range, AMP Energy powered by Mountain Dew.
The new line is said to taste the same as the original but contains more caffeine, plus B vitamins and taurine. The 500ml can, RRP £1.39, is being launched in a PMP at 99p. It's available in cases of 12.
AMP Energy, which is aimed at 18-24 year-olds, will be promoted in convenience stores and in gaming retailers – supported by a digital advertising campaign as well as by POS material for use in stores – including posters, wobblers and hanging spinners.
Jonathan Gatward, marketing director at Mountain Dew distributor Britvic, said: "AMP energy powered by Mountain Dew is the perfect product to unlock the energy opportunity further, as it breaks down perceived barriers in the stimulant sub-category by being tasty, refreshing and yet effective."
• AG Barr's energy product, Rockstar, is adding a new flavour to its Xdurance variety. Rockstar Xdurance Tropical Orange joins the first variety, Blue.
"The energy market is an exciting place to be at the moment," said Adrian Troy, head of marketing for Barr. Quoting Nielsen figures he said: "The category is growing at 5% with big-can energy formats performing particularly well, growing at an impressive 15% year on year. Within that, it is the flavoured variants which are delivering the sales increase – growing six times faster than the original variants."
Barr claims that Rockstar's constant NPD is driving growth, with seven out of the top 10 fastest-selling big cans in c-stores from Rockstar. Troy cited SuperSours, launched in February, which has already chalked up sales of £4m. The original Xdurance is said to have sold £16m since it launched in August 2011. He added that Tropical Orange had done well in trials and in consumer taste tests, where 80% of tasters aged 16-30 said they would buy the product. "Orange flavoured drinks have proven success on shelf," he said. "Orange is the biggest flavour in sports and energy (excluding original), accounting for nearly 25% of all sales."
• Coca-Cola Enterprises's Relentless energy drink has enlisted Radio 1's Zane Lowe, rapper Professor Green and rockers Pure Love as brand ambassadors for 2013. A TV ad, featuring all three, is running this summer, and an in-store promotion on garage forecourts and independent stores will give customers the chance to see the acts in concert later in the year. Other promotional activity includes sponsoring the Kerrang! Awards and the brand's first ever on-pack competition later in the year.
Other developments include the launch of a 250ml pack of Relentless Origin in a £1 PMP. The new 250ml size is also available in a four-pack for take-home customers. Its latest flavour, Lemon Ice, was introduced earlier this year.
CCE's other energy product, Monster, has an on-pack competition to win the branded kit usually worn by Monster's sponsored pro sports riders and athletes. Earlier in the year it introduced two new Monster Rehab flavours, Green Tea and Orangeade.
• Glasgow-based drinks, confectionery and snacks distributor Glencrest is continuing its development of its specially Scottish take on the energy drink revolution with the Nae Danger range.
What started as a joking discussion with friends has turned into a successful soft drinks phenomenon, complete with a diet version, range extensions and a variety of sizes.
The launch product and pitch – a Blue Raspberry flavour energy drink in a 500ml can for £1 is still going strong. But Nae Danger is now well on its way to becoming a comprehensive sports and energy brand with a full range of products and packs.
Nae Danger stablemates for the original product now include Nae Danger Sport, its Nae Sugar version and an original energy flavour variant.
The original price promise – "500ml and it's only a quid" is maintained but now there's also the Nae Danger Original Energy style in 250ml size with a 69p PMP.
• At buying group Landmark Wholesale, its own-brand LSV is the top-selling energy drink range. Of its top 10 best-selling energy drinks, seven are LSV. Those 10 lines account for more than 80% of energy drinks turnover, the firm says.
A Landmark spokesperson commented: "Within sports and energy, the main trend has been a continued shift in terms of overall value spend, meaning that many consumers are switching their brands into, for example, LSV."