Posh snackers 'buy British', Top 26 lines take half of all sales
THE recession-driven trend towards entertaining and socialising at home is still great news for sales of nibbles. Kantar data from 2012 showed the crisps and snacks market growing at a rate of 8.4% year on year. The indications appear to be that, despite the absence of the Olympics and the Jubilee celebrations, sharing and premium products will continue to do well 2013.
Nick Hurst, founder director of privately-owned manufacturer Burt's Chips is working those trends. "Despite consumers cutting back in a bid to save the pennies, they still look for affordable luxuries," he said. "They seek 'posh' snacks that retain their natural and authentic characteristics, come in exciting flavours and offer reassurance of quality by listing manufacturer credentials."
Burts, he argued, recognises that if consumers are going to treat themselves they want brands to go above and beyond, to offer great quality and a point of difference, whether this is a new style of snack, packaging, quirky flavours or unusual branding.
"We're also witnessing a trend for 'best of British', with consumers valuing provenance and seeking goods with authentic artisan credentials that use locally sourced ingredients. This is certainly where Burts Chips positions itself and it is an integral part of Burts' rebrand that has seen a new look rolled out across the range," he said.
The rebranded packs feature an apron with the updated Burts logo in the middle. Badges highlighting the brand's free-from messages – from artificial flavours, colourings, gluten and MSG – are pinned to the apron's front.
To keep things fresh for 2013, Burts has tweaked its seven-strong range: Sea Salt, Vintage Cheddar and Spring Onion, Sea Salt and Malted Vinegar, Sea Salt and Crushed Peppercorns, Pesto, Firecracker Lobster and Thai Sweet Chilli. Last year's new flavour, Guinness, comes in a special black bag intended to appeal to male consumers and those planning a big night in around a sporting event.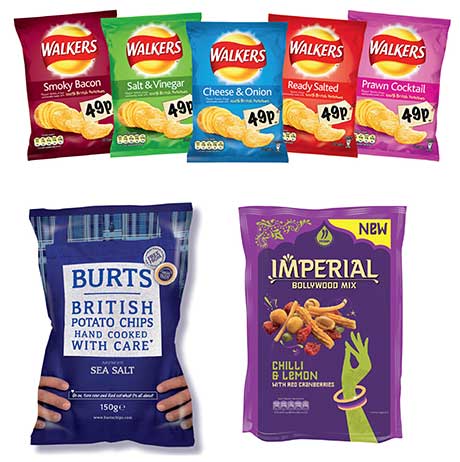 • Intersnack – which produces Penn State baked pretzels and corn goods, Pom-Bear potato-shaped teddies and the Imperial Bollywood Mix range of Indian nibbles – reckons that different kinds of big nights require different types of snack. "Entertaining at home can be a cost-effective way to share quality time with family and friends and the concept is developing rapidly with new technologies and in-home entertainment options" said head of marketing David Wilson.
"Snacks are a key element of any big night in, from adult entertaining to a family movie at home with the kids. Most consumers now seem to think that – with the right combination of drinks, snacks and entertainment – a big night in can be every bit as enjoyable as a big night out."
He urges retailers to use cross-category displays to take advantage of the trend, displaying snacks alongside soft drinks, chilled pizza, DVDs, games or confectionery.
• For brand leader Walkers, one key to selling more snacks is to wrap them into lunchtime meal deals. The deals are, said a company spokesperson: "an effective way of offering shoppers value, while increasing basket spend through driving linked purchase. Two thirds of shoppers claim they would buy a three-part meal deal (crisps, drink and sandwich) if it were available."
Stocking a strong core range of best sellers is also vital, the firm argues. "Of the 800 lines in the crisps, snacks and nuts category, the top 26 lines account for 50% of sales and 73% of growth.
"Price-marked ranges reassure consumers of a fair price while avoiding deep discounts. Some 44% of consumers are more likely to purchase an item on impulse when price-marked."
Walkers' core range is now available with an on-pack 49p price tag while sharing brands Doritos and Extra Crunchy come with a £1 price mark. Value brands Frazzles, Chipsticks and Snaps are price-marked at 39p.
Display is also important, as are current TV advertising campaigns such as Walkers Deep Ridged, on screen now, the firm said. "Our research shows that off-shelf displays can drive incremental sales. Siting a crisp unit at till point can increase a retailer's sales by 24%, adding to category sales by 16%, while siting a unit at front of store can increase sales within the unit by 80%."