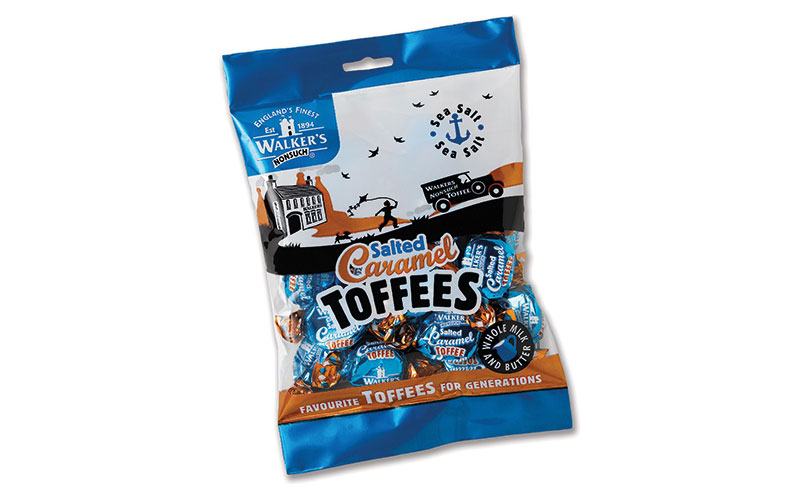 A CONFECTIONERY brand founded under the reign of Queen Victoria has been heaping praises on its latest NPD, which taps into contemporary demand for salted caramel products while boasting some impressive provenance.
Walker's Nonsuch Salted Caramel Toffees offers consumers a pack of individually wrapped toffee made with Anglesey sea salt.
Anglesey sea salt is sourced from seawater in a designated area of the Menai Straits – a narrow stretch of water 25 km long, between mainland Wales and the island Anglesey.
The salt is extracted in accordance with its protected designation of origin (PDO) status, the European Commission designation which also protects the geographic heritage of Scotch whisky, Parmesan cheese and Champagne.
Walkers said the toffees were developed by Jonathan Rae, grandson of Ian Walker, the former chairman of Walkers Nonsuch who passed away in 2017 having worked with the producer for sixty-two years.
Salted Caramel Toffees is available in 150g and 2.5kg bulk bags and 1.25kg gift jars.
Emma Walker, director at Walkers Nonsuch commented: "Salted Caramel has become one of the nation's favourite tastes over the last twelve months. Combined with our creamy toffees it gives a taste and chew second to none."
• Walker's Nonsuch was founded in 1894. Today, the firm offers an extensive range of confectionery including toffee bars, slabs and bag formats.