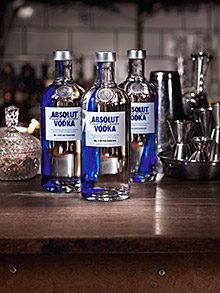 A strictly limited collection of cobalt-blue-streaked bottles forms part of the latest work designed to make vodka brand Absolut stand out.
The brand owner Pernod Ricard says each limited-edition bottle is "a one-of-a-kind work of art" and it calls the edition Absolut Originality.
The blue streak is created by adding a drop of the cobalt blue that's part of the Absolut brand's design to the glass bottle at 1100ºC. At that temperature the colour is invisible, but as the glass cools off, a randomly shaped blue streak appears as part of each bottle.
Pernod Ricard UK, is supporting the Originality launch with digital activity on new website www.addyourdrop.com and the Absolut channels. It has also collaborated with fashion designer Kitty Joseph on a three-piece capsule collection and accessories inspired by the new bottle.
For the off-trade, there is a "win your dream holiday" neck tag promotion, inviting consumers to add their own drop of originality to a special trip.
There is also in-store sampling for the grocery channel, posters for impulse, and POS kits for the independent channel.
Originality follows on from last year's special edition, Absolut Unique. The RRP is £18.35.