Barr Soft Drinks boosts up energy sales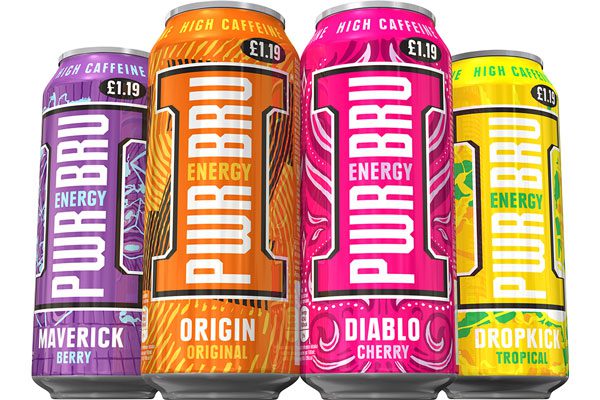 THE energy market is the biggest and most profitable drink-now segment for retailers, now worth £1.8billion and growing at +13% in a year, according to IRI.
One in three soft drinks sold in convenience stores is an energy drink, with the big-can format driving the category growth at +17%, the data giant's research shows.
The current economic landscape has resulted in almost 30% of consumers looking for lower-cost alternatives, with demand for own-label products at record levels across many categories.
However, energy is bucking the trend as 97% of sales are from brands, showing that branded energy drinks remain the clear choice for shoppers, says IRI.
Barr Soft Drinks recently powered up the Scottish energy market with the launch of PWR-BRU – a distinctive new energy brand from the home of Irn-Bru.
AG Barr commercial director Jonathan Kemp said: "PWR-BRU is, without a doubt, the biggest launch of the year for the energy market.
"The energy market in Scotland is a fast-growing sector, delivering a third of total soft drinks category growth. 
"However, only 25% of shoppers currently buy energy brands, so there is still huge growth potential. Irn-Bru Energy delivered £8.5million in category growth, and all our research was telling us that shoppers loved the unique Bru essence in an energy format.
"But they wanted us to go one step further with flavour and appearance. PWR-BRU is the brand to unlock incremental growth by offering something truly different, delivering an energy drink like no other brand can."
The PWR-BRU range consists of the Original Irn-Bru flavour as well as three fruity flavours with distinctive names – Diablo Cherry, Maverick Berry and Dropkick Tropical. 
Non-HFSS and levy-free, PWR-BRU will be available in plain 500ml cans with an RRP of £1.40 and £1.19 PMPs. 
Meanwhile, Rubicon RAW has established itself as a must-stock energy brand within the category. 
It has become the third-largest flavoured big-can energy label and it is seeing almost double the growth of the total energy category, according to IRI.
Rubicon RAW has sold more than 25million cans in less than two years, claims AG Barr.
Kemp said: "The brand has been driving incremental sales for retailers and bringing more shoppers into the category. 
"A third of Rubicon RAW sales are from new entrants to energy, while 70% of RAW shoppers are making it a repeat purchase. 
"In November, we announced a major, four-year national partnership for Rubicon RAW as The Official Energy Drink of GB Snowsport, which has a fan base of 11.8million people in the UK."
The levy-free, HFSS-compliant range includes five 500ml Big Can Energy Drinks – Raspberry & Blueberry, Orange & Mango, Cherry & Pomegranate, Apple & Guava and the latest addition, Pineapple and Passionfruit, which launched as an exclusive to Tesco stores in the UK in March.
Since launching in May last year, Apple & Guava has exceeded all sales expectations, selling over 1.1million cans, says AG Barr, and quickly establishing itself as the No.1 apple flavoured energy drink in the market, according to IRI.
A 4x500ml multipack was also launched last year, which met the needs of those consumers who adapted their shopping behaviour post-pandemic. The format continued to perform well as restrictions eased and has grown by over £1.5million within the last year alone.
Kemp concluded: "Growth in flavoured energy is linked to consumer needs changing, and shoppers are looking to the category to be exciting and varied to keep them engaged.
"Rubicon RAW delivers on taste and exciting, interesting flavours, allowing retailers to invigorate their energy fixture and drive incremental sales."