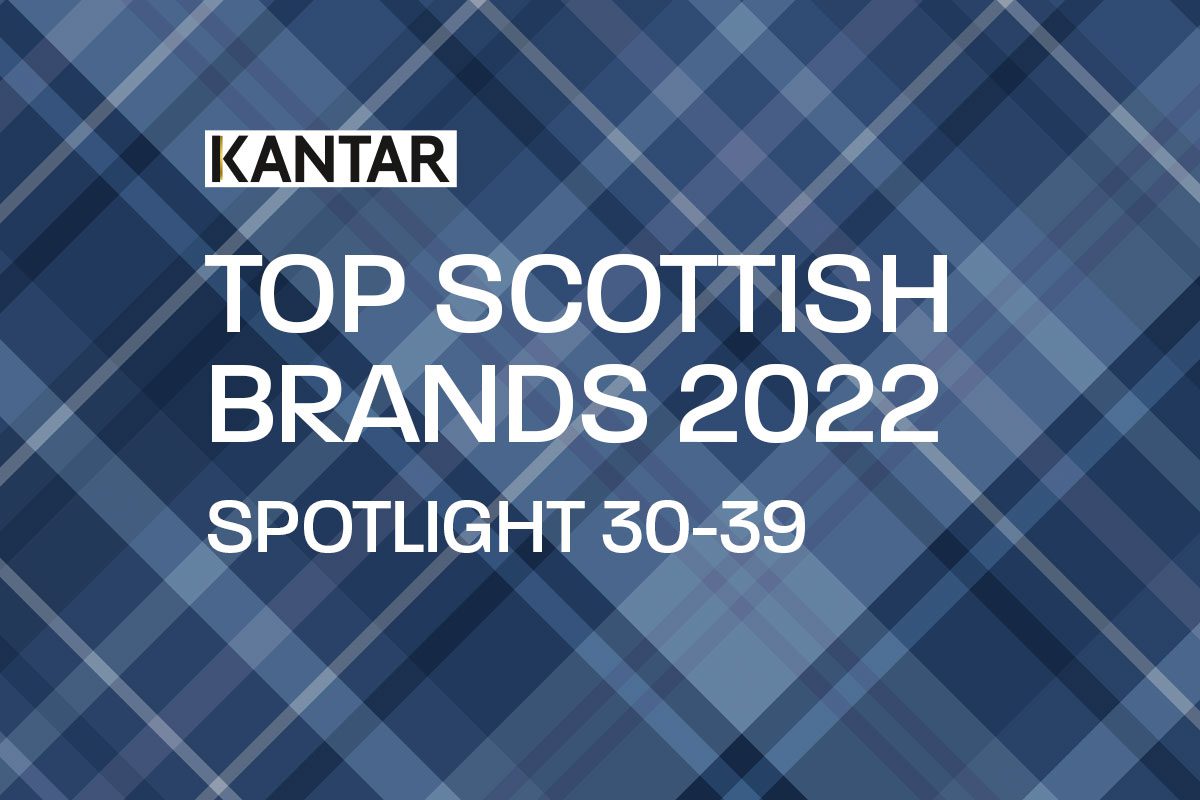 Spotlight on the top Scottish food and drink brands of 2022 (excluding alcohol) from 30-39
30. Highland Game
Highland Game continues to remain a strong choice for Scottish consumers' tables throughout the year.
Founded in 1997 by Danish entrepreneur Christian Nissen, the vision was to give venison a more mainstream appeal across retail markets.
Since then, the Dundee-based brand has been supplying to Aldi, Asda, Tesco, Co-op, Lidl, Morrisons and Waitrose stores across the entire UK.
Highland Game now considers itself a market leader as well as an influencer across the category.
Quality of product comes packed in with Highland Game, as the company has an AA Food Safety Standard Grade certification from the British Retail Consortium and a host of award wins across its entire venison range.
The brand also highlighted the fact that it is a member of Scottish Quality Wild Venison, which is the industry's safeguard in ensuring that the meat is handled with the highest standards at every step of the way – "from hill to plate".
31. Mackays
Remaining Scottish consumers' top choice in Scottish jams, Mackays hit spot number 31 for this year.
Operating from its factory in Arbroath, Mackays continues to use its traditional methods of bringing fruiit and sugar slowly to the boil in copper pans, which the firm said allows the flavours to be released before it gradually sets into preserves.
Mackays sources all its strawberries, raspberries and blackcurrants from berry fields in eastern Scotland while the bitter oranges for its marmalades come from Seville.
The firm also includes a range of chutneys and curds, with baking recipes using the range found on their website.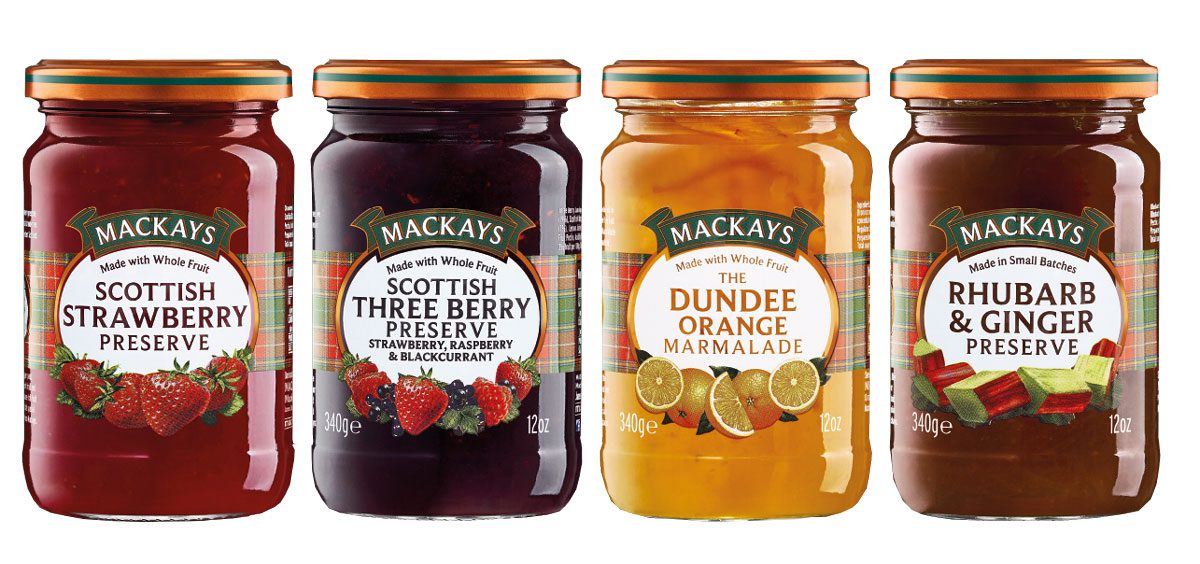 31. Marshalls
Joint for spot 31 in this year's list comes Scottish pasta brand Marshalls.
Despite a turbulent time in the pasta category due to wheat shortages, consumers continue to remain loyal to the Marshalls brand, picking up from the firm's Macaroni, Spirali, Penne, Spaghetti and Lasagne variants.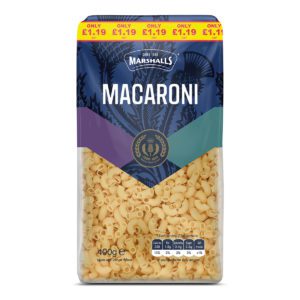 Marshalls launched its first PMP pack this year for its Macaroni variant, noting more consumer demand for value seen on pack.
And this loyalty has been reflected across Marshalls – including its Cheesy brand – which has seen double digit growth over the past year, according to James Palmer, commercial director at Marshalls Foods.
He said: "Availability remains key. Having our UK production and distribution facilities really helps set us apart. It's why our availability is always so strong and helps us maintain our unique position in the market, and ensures our customers can keep their fixture full at all times."
32. Genius
Genius Foods was founded by chef, entrepreneur and mother Lucinda Bruce-Gardyne out of a need to create gluten-free dishes for her son, who had been diagnosed as gluten intolerant.
The brand first hit shelves in 2009 and in the years since, it has grown rapidly as demand for gluten-free options soared.
The brand isn't just for those adopting a lifestyle choice diet, certain SKUs have been made available on prescription.
Genius Gluten-Free Soft Brown Sandwich Bread, Soft White Sandwich Bread and Seeded Brown Farmhouse Bread are all available through the NHS.
The brand also includes a Handcrafted Tiger Bloomer, as well as Soft White Rolls and Brioche Buns.
33. Macsween
Founded in 1953, Macsween is a third-generation family firm, which continues to make its haggis products using recipes that it claims hasn't changed for 60 years.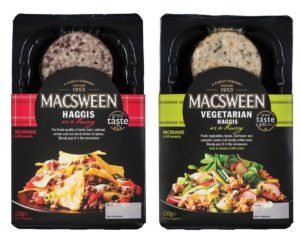 The brand is beloved by meat eaters and vegetarians alike, thanks to its popular veggie variant of Scotland's national dish and it has also added a gluten-free version.
Macsween's Haggis range can be found in Tesco, Sainsbury's, Morrisons, Co-op and Waitrose.
As well as the haggis it is most known for, the family firm also offers Black Pudding, Chocolate & Chilli Black Pudding and Whisky Cream Sauce.
34. Orkney Cheddar
Leading seven places to occupy number 34 on this year's list, Orkney Cheddar is the biggest climber in this year's Top 50.
Having first appeared on this list in 2021, the Lactalis McLelland brand draws on centuries of tradition.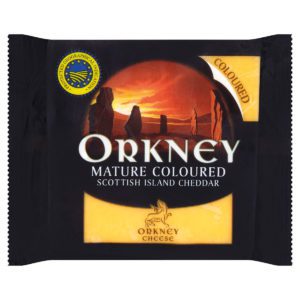 Made using fresh milk from island cows, Orkney cheddar has a heritage and provenance that many shoppers look for.
And like Champagne and Scotch Whisky, Orkney cheese has geographical indication protected status. If it says Orkney in the name of a cheese, it must be made there.
During World War II, the population of Orkney swelled with the arrival of 60,000 service men and women and 500 Italian prisoners of war.
When the troops went home at the end of the war, they left behind an over-supply of milk, creating the opportunity to ramp up the production of cheese that had been made the same way for centuries.
The original creamery for the brand was set up as part of an RAF camp just outside Kirkwall, which was then converted for cheese production in 1946.
Tasting notes for the island cheddar describe it as a firm and dense-bodied cheese with a rounded mellow flavour.
The Orkney Cheddar range is curently made up of Medium Coloured Orkney Cheddar, White & Coloured Mature Orkney Cheddar and the Extra Mature Orkney Cheddar.
35. Scott's Porage Oats
The shot-put-throwing, kilted Highlander on the box makes Scott's Porage Oats one of the most recognisable brands on a store's shelves.
The oats have always been milled in Scotland and are rolled thicker than other porridges.
The current focus on health and fitness among trend setters has helped boost porridge's popularity and Scott's has continued to rise up the top 50 list, moving up another place from last year's table.
36. Mrs Unis
The bosses at Mrs Unis Spicy Foods reckon what appeals to Scottish consumers is the authentic taste and quality of its products.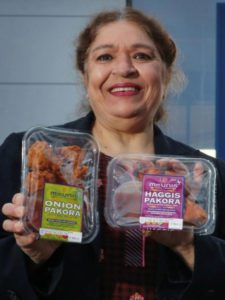 And while many people don't realise there is a real person behind the company name, general manager Samuel Ceolin believes Scots customers appreciate the hard work that Mrs Unis puts into her brand.
When Mrs Unis came to Scotland many years ago, she immediately fell in love with the country and recognized that the Scottish people have an appetite for good food.
In the 1980s, Mrs Unis brought her family culinary heritage – which is heavily influenced by Pakistan's and India's food traditions – to the Edinburgh food scene.
She began a one-person operation producing, packing and distributing pakoras around Edinburgh to various chip shops and deli stores.
The demand for her products grew to the point that she expanded her business into a restaurant and then into a small manufacturing site in the heart of Edinburgh, and further growth brought the business into the current premises in Peffermill Industrial Estate.
She is to this day overseeing production and ensuring that each pakora is produced to her high standards. Her recipes have been mastered by years of experience, which allowed her to carefully calibrate spices with locally sourced ingredients.
Ceolin said: "I ultimately think that the consumer can see the passion that Mrs Unis has for food, as well as her experience, translated into the fresh taste of the products, and I strongly believe that this is what they buy into and why they are so loyal to our business."
37. Punjab Pakora
Entering the list for the first time last year, Punjab Pakora has jumped five places from 42 on this year's table.
The brand got its start servicing its local Asda store in 2012 and, steadily growing, opened its 7,000 square foot factory in 2017.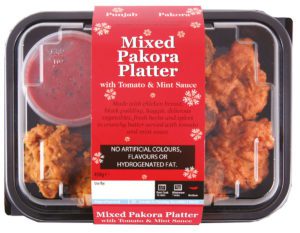 Its range covers a selection of pakoras, including Red Chicken, Traditional Chicken, Vegetable, Onion and, Scottish favourite, Haggis Pakora.
In addition to this, the firm produces a selection of curries such as Chicken Jalfrezi, Chicken Tikka Masala and Chicken Tikka Korma.
The Ayrshire brand started its year off the back of picking up the award for Indian Food Brand of the Year for 2021 from the Prestige Awards.
While Punjab has only been running for 10 years now, it has cemented itself as a popular and well-established Scottish brand in this shot time.
During these 10 years, Punjab has secured listings for its products across Asda, Co-op, Aldi and Sainsbury's stores and its founder, Vinita Duggal, has been invited to the UK Parliament buildings to meet key ministers and allow them to sample Punjab, with the firm seen as a leading UK business.
38. Big and Scottish
It might be a ronseal moment but it's clear that plenty of Scottish consumers remain big on Big and Scottish eggs.
Sitting in spot 38 for this year, this egg brand shows how provenance of a brand can play a key part in driving sales across any category.
Big and Scottish's range of hen eggs come in Fresh, Free Range and Barn variants across a dozen or a half-dozen pack formats.
Big and Scottish makes up one of the many egg brands coming from Glenrath farmers.
39. Glenrath
First established in 1959 by John and Cathy Campbell, Glenrath Farms continues to produce a range of eggs coming from the Scottish Borders that remain popular.
Three generations have all worked to develop the firm's range of eggs and it now offers Free Range, Organic, Barn and Enriched Colony eggs, which are all compliant with UK and EU assurance schemes such as Lion Quality, British Retail Consoritum and RSPCA Assured.
Glenrath has climbed up one place from last year to sit at spot number 39 in 2022 as the firm said it continues to respond to its ongoing customer demands.
This has included "significant investment" across its farming infrastructure to reach its cage-free commitments goal by 2025.