Winner details
Symbol: Scotmid
Staff: 15 (full and part time)
Suppliers: Auld's and Allied for bakery, Stuart's for butchers, Costa Coffee and Rollover Hot Dogs.
Scotmid Clarkston is situated in an affluent area of Glasgow's south side, meaning that the team are able to experiment with stocking premium speciality breads.

The c-store has been open for 20 years, but was taken over by Scotmid around seven years ago. Prior to that, the space was used for an American-themed shop.

Manager David Dick only started in the store in November 2018, but he has worked with the company for 30 years. He previously managed Scotmid New Stevenston, near Motherwell.

The store also has an impressive food to go offer, with a slushy machine, fresh cakes, and a self-serve Costa coffee machine.
IT'S a retail philosophy as old as they come: put your bread at the back and you will encourage customers to pick up more shopping on their way to get it.
But Scotmid Clarkston – winner of the 2019 Scottish Grocer Bakery Retailer Award (managed store), supported by Warburtons – is turning that philosophy on its head.
As soon as you walk in the door you are met with an artisan, continental-style table, piled high with an array of fresh bread and pastries.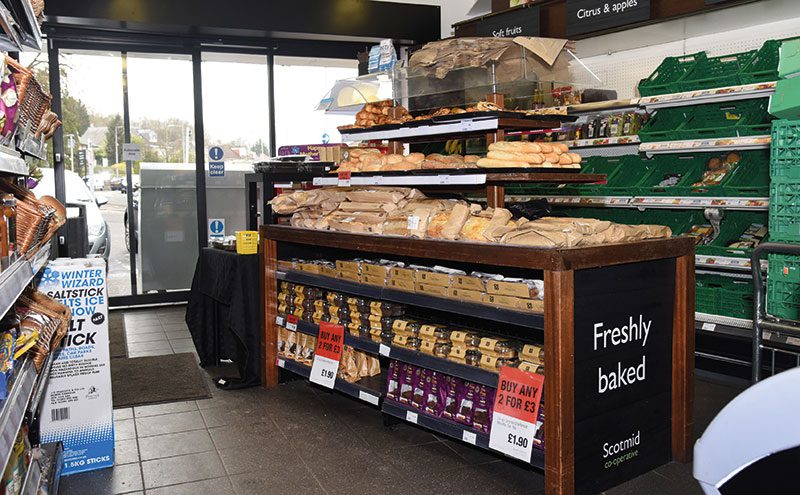 Store manager David Dick said the decision to move bread to the front of the store was a "gamble", but one that he believes has paid off.
"To me, if you want your wrapped bread then you know where you are going, if you want your milk then you know it is there in the chiller.
"But with specialist bread, you have to do something different. If I didn't move it to the front then I think you would walk by it without thinking about it. But where it is sitting, as soon as you walk in the door you can't miss it.
"Its an impulse buy, a lot of people won't come in to buy it, but when they walk past they will think 'oh- batons, they are only 95p', and then pick them up.
"I think putting it at the front has been the right thing, and so far I have proved myself right and the company are quite happy with it. I think people buy with their eyes."
Separate from his range of wrapped bread, the bread on display on the table involves more premium and unusual varieties.
"I've brought in a lot of different products, like apple and beetroot bread.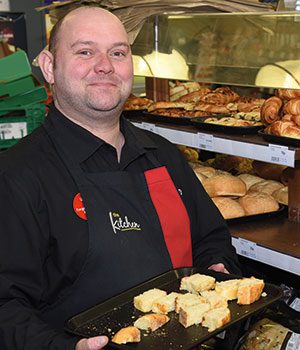 "You wouldn't think that was nice, but it's tremendous," said David, "and we've got cinnamon bread, three-cheese bread, sourdough bread."
Aware that these kind of products wouldn't be popular everywhere, David is happy to admit that his customer demographic helps him to shift more premium breads.
Clarkston is in an affluent suburb of Glasgow's south side, where the customers are probably more tempted to spend their money trying out something new.
"The money is there, so we know we can do it. We can go through 164 croissants on a single Saturday, and a Sunday is the same. We are in the right area to have it.
"I suppose if you put it in another area, that didn't have as much money, I don't know if it would work. Probably you would have to go for different breads, and come down a couple of brands. But here we do really well."
Yet despite benefitting from an affluent customer base, David stressed that shoppers can still need a bit of convincing to buy his flavoured bread.
I think local stores like us are getting more business through the door.
To help drive sales – and push a bit of in-store excitement – David has introduced in-store taste tests, inviting customers to sample new and unusual bakery products.
David's methods seem to be paying off. With a plan to reach £50,000 in sales per week, he is already up 3% on last year's figures and has seen weekly footfall hitting 7,000 – up from 6,000 in 2018.
He reckons that his popular bakery offer has contributed to that footfall jump, with several customers asking for bread to be kept to one side for their next visit.
"We do that because we know you are guaranteed that they will come back. That's your footfall."
But at Scotmid Clarkston it isn't all about speciality bread. The store has an extensive range of wrapped bread that covers old favourites and popular brands.
There is also a separate section for loose rolls – McGhee's and Auld's – as well as a display cabinet full of fresh cakes.
David insists that his cakes are recording "fantastic" sales, despite talk of health concerns among consumers.
"Everybody needs a treat. Whether you are on a diet or not, I don't believe that you won't have a bit of chocolate.
"You can't deprive yourself of that. If you want the treat, take it, and then if you go out running then the next day you can just go a bit harder and add a couple of miles on to your run."
Yet, focusing on fresh doesn't just apply to the bakery section. In a bid to encourage customers to carry out a bigger shop in the store, David has increased his range of fresh meat, and the retailer sees potential for his store to pinch customers from the supermarkets.
"People can come here and buy everything from us, they don't need to go to Asda. I've noticed a lot of repeat customers – people coming in twice a day even.
"We've got the stuff that people need. If you come in here for mince to make spag bol then I believe you will buy your mince, your spaghetti, your mushrooms – even Parmesan cheese to go on top.
"If you can get everything here then why would you need to go somewhere else?"
And although he isn't far from a Tesco Express – and a handful of supermarkets – David isn't worried about his local competition.
"I think that local stores like us are getting more business through the door. I don't worry about any of the big supermarkets.
"From November I have watched my footfall going up, and I think we have taken people back from Tesco.
"Where we are is lucky, we have a one way street going up and a one way street going back, as well as our own car park. But where Tesco is it's hard to park at the front of the store."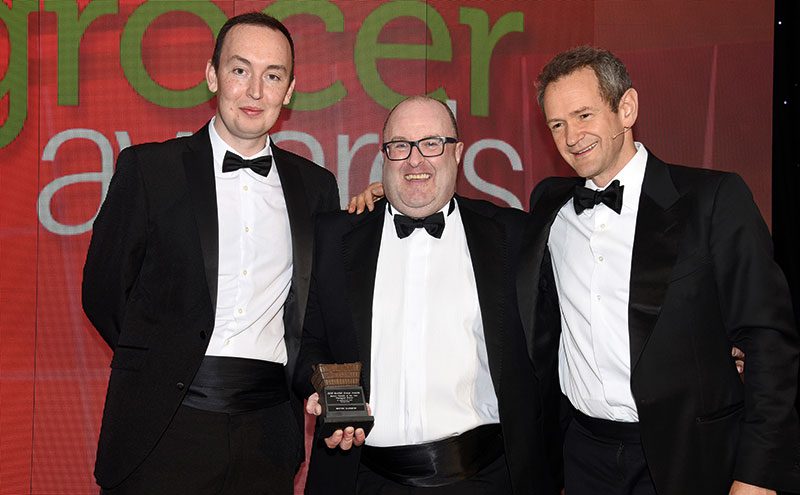 With sales on the up and no shortage of ambition from David and his team, the future seems bright for Scotmid Clarkston.
The only problem? David reckons he could boost growth even more if he had a larger shop floor to play with.
"I would love a bigger space. There's a bit at the back we could maybe build on, I think we need more room here.
"It would be fantastic if we could, because I think it would be a big benefit to here, especially with the size of the store. Even an extra thousand square foot would make a huge difference here.
"But I have a nice, tidy store, and bright, happy staff. It's all word of mouth. If I'm doing well for one person then they will tell two or three others, and two or three tell three or four, that's made a big difference to us."