Dennis and Linda Williams welcome guests for launch of 12-week DRS pilot scheme across three c-stores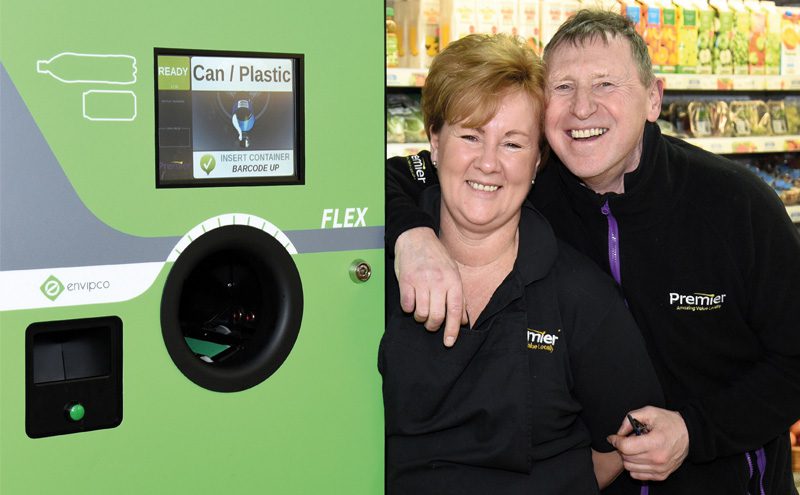 A MAJOR deposit return trial is underway across three convenience stores, as Scottish retailers take a hands on approach to figuring out how to make DRS workable.
The trial, which sees reverse vending machine manufacturer Envipco team up with the SGF and three Central Belt retailers, is scheduled to run for 12 weeks.
As part of the pilot scheme, the three participating stores – Nisa Local and Post Office, Bellshill; Premier Broadway in Oxgangs; and KeyStore Moredun, Midlothian – will offer customers 10p for every plastic drinks container or aluminium can returned until the end of April.
Last month, Scottish Grocer caught up with Dennis and Linda Williams at Premier Broadway for the launch of the trial, as they welcomed local school kids and politicians to try their new reverse vending machine (RVM).
Premier Broadway took delivery of its Envipco RVM on 11 February and the machine seems to have proved popular with the local community from the get go, according to Dennis.
"We've filled it in four days," he said, "People have been very positive and if you look at our social media, it's been fantastic on the Facebook page. People have been very supportive."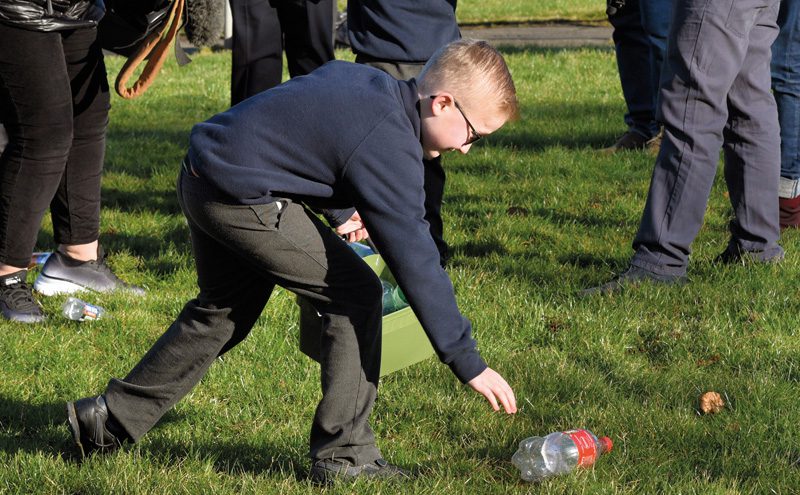 One aspect of the RVM trial at Premier Broadway that has been met with approval from the community is an option to donate the deposit value to the local school – rather than claim it back for money off in the shop.
Dennis said that when he first approached the school to see if they would like to be involved in the DRS trial, teachers were over the moon.
"We do a lot of work with the school but what we did was go down and have a meeting with the head teacher, deputy head and two eco-teachers and put on a small presentation. They were thrilled," he said.
Helping out the local community, while commendable, isn't the only reason for the trial however – and both Dennis and Linda expect to gain some valuable insight from their 12 week DRS pilot.
"I think it's going to be a great learning curve and I think the facts and figures are going to be really interesting.
"It's going to be learning for us all and then what we can do is take this back to the Scottish Parliament Cross Party Group for Independent Convenience Stores and go over everything.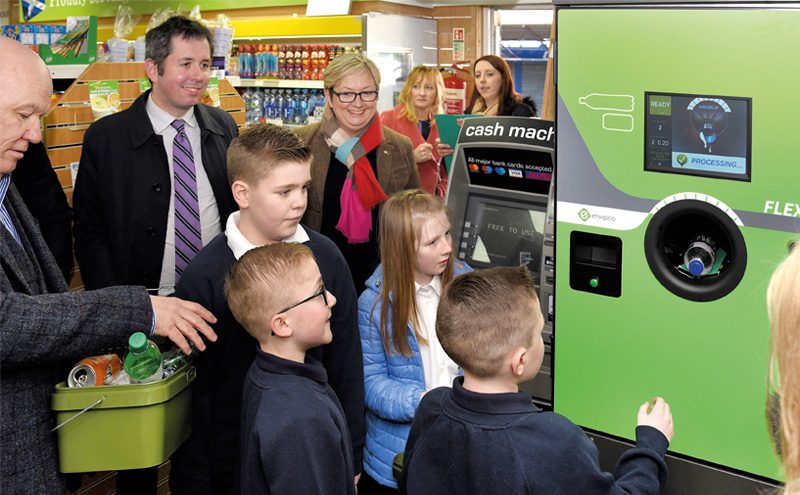 "It takes things to the next level because then we have facts and figures to sit down and discuss," he said.
One key piece of information that all retailers will be keen to uncover from the ongoing trial, is the cost to business of running DRS in store.
It's an issue which Linda Williams reckons is critical, particularly in the context of rising costs for convenience stores.
"Hopefully we'll have greater footfall from this, but ultimately it has to be cost neutral. If it was profit generating that would be wonderful, but I can't see that happening.
"It does have to be as near to cost neutral as is possible to get, especially with rising costs. The costs that we face at the moment are astronomical," she said.
For the DRS trial, Dennis and Linda have had a good bit of support, with the SGF covering some of the cost of deposits, and Booker providing marketing support in the shape of leaflets and fridge magnets promoting the pilot scheme.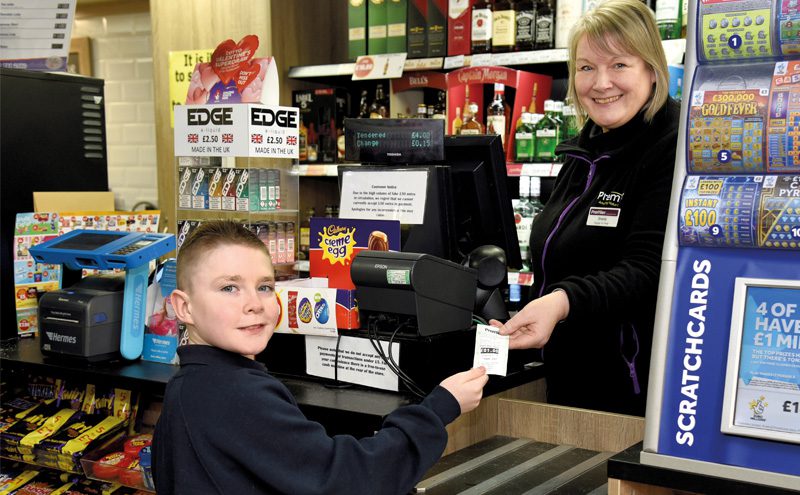 However, the question of cost to retailers when DRS finally arrives is still open.
Gordon MacDonald MSP – convener of the Scottish Parliament Cross Party Group for Independent Convenience Stores – was in attendance at Premier Broadway, and he said he recognised the challenges facing retailers.
"We've heard that reverse vending machines could cost up to £30,000 so obviously finding a financial solution that works for everybody is going to be key for this getting rolled out.
"It may well be that the plastic that's collected will help pay for the machine itself in the long run, but if we want to encourage retailers to take this machine you're asking them to take a financial hit already by giving up floor space which they could have sales produce on.
"Would you really want to be asking retailers to pay for the equipment?
"I don't think that works, you can't have a double hit, in my view anyway. We've got to find a solution, there's obviously a value in the recycled goods, so that could be a way to fund the machines," he said.
Another burning question around deposit return in Scotland is that of glass, with analysis of the Scottish Government's consultation on DRS revealing public support for including as broad a range of materials.
The public may wish to see glass included in DRS, but it's a proposal with little support among retailers and is not included as part of the trial at Premier Broadway.
Ministers have yet to settle on a final scheme proposal, but MacDonald said he recognises the challenges that including glass would present to smaller retailers.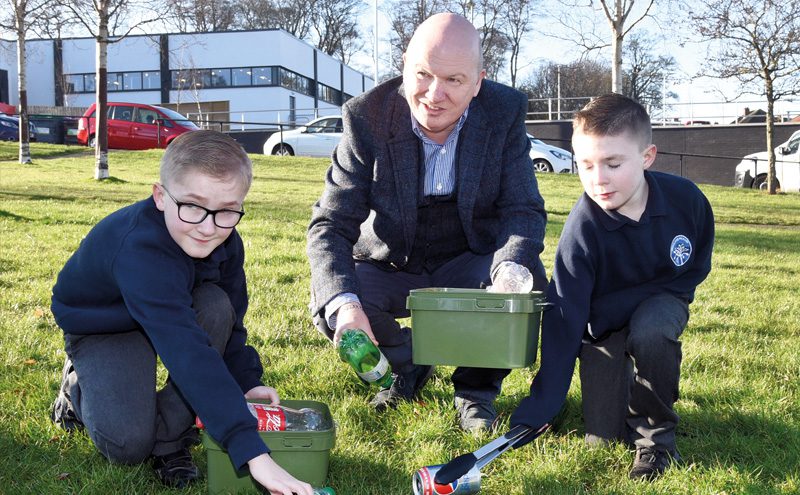 "My view about glass is that the vending machines that were demonstrated to us in the Scottish Parliament were substantially bigger than what we've seen in Dennis's Premier shop.
"My concern is that a lot of small stores are going to have to give up their floor space in order to accommodate a bigger machine which would include glass," he said.
SGF policy head John Lee agreed with MacDonald on the issue of glass, and said the association will continue to provide feedback to the Scottish Government based on the experiences of retailers participating in the trial.
"We're speaking to MPs and MSPs on the issues and we're hoping that we can use their influence to advise the Scottish Government on what's the best thing to do. There's still opportunities to influence key issues," he said.
For retailers looking to have their say in shaping DRS, lobbying politicians at Holyrood may be the way to go, but once the scheme comes into force it could be local authorities that see the biggest impact on their day-to-day operations.
One Edinburgh councillor who knows a thing or two about DRS is Scott Arthur, professor at the institute for infrastructure and environment at Heriot Watt University, which has its own RVM on campus.
Arthur said he was impressed that – as small business owners – Dennis and Linda's had decided to trial DRS at their store and suggested the scheme has already captured the public imagination.
"I'm not saying people are awake at night thinking about it, but people do see this as an opportunity to reduce litter in the area. It's a really positive step that Dennis and Linda have taken," he said.