Nichols extends Levi Roots range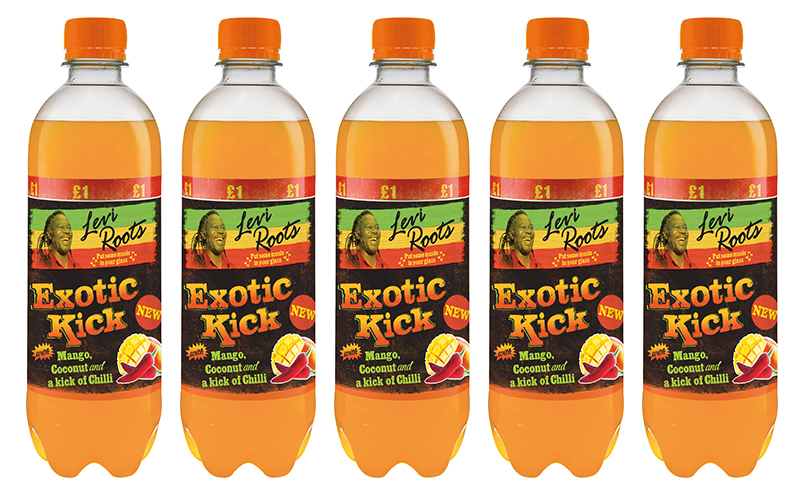 JAMAICAN jerk sauce sensation Levi Roots, who rocketed to fame after wooing investors on BBC business entertainment programme Dragon's Den is looking to spice up the soft drinks category this summer with the launch of a new carbonate with some kick.
The latest addition to the Levi Roots soft drinks range, Exotic Kick is a mango and coconut flavoured carbonate with a kick of chilli.
Nichols PLC, the firm behind the Levi Roots range, reckons the new flavour will appeal to spice loving men aged 16-25.
Levi Roots Exotic Kick was developed exclusively for the convenience sector and is available in a 500ml PET £1 PMP format.
Consumer research carried out by Nichols PLC came to the conclusion that spicy drinks will be a major trend in 2018 as younger consumers experiment and look for more interesting flavour combinations from around the world.
Ed Jones, senior customer marketing manager for Nichols PLC said: "Shoppers are increasingly looking for more variety and exciting taste sensations within soft drinks chillers, so this is the perfect time to introduce Exotic Kick.
"We're predicting an explosion of brands tapping into the spice trend in 2018 as we've already seen these flavours crossing into categories outside of food, such as alcoholic drinks.
"Retailers can get ahead of the trend by stocking this exclusive flavour alongside the best-selling Levi Roots Soft Drinks 500ml range, which is growing at 32% currently, and is outperforming the total flavoured carbonates market in the impulse market."
Exotic Kick joins Caribbean Crush and Jamaican Sunset in the Levi Roots soft drinks range.