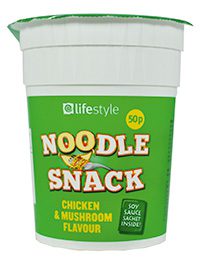 LANDMARK Wholesale has announced a new BOGOF offer this month on its recently launched Lifestyle Noodle Snack pots.
The company unveiled its initial Chicken & Mushroom and Spicy Curry flavours in late September and says the cartoon-style packaging has been designed with a fun, cool and young style in a bid to attract noodle lovers everywhere.
Price-marked at 50p each, the BOGOF offer on Lifestyle Noodle Snack pots will run from December.