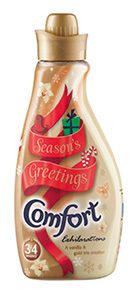 LAST month Unilever launched a new limited edition pack design for its Comfort Exhilarations Vanilla & Gold Iris product in time for the festive season.
Described by the company as its most festive fragrance, the new pack features a Christmas theme complete with big red bow and 'Seasons Greetings' message.
Fernanda Tubini-Roberts, brand manager for Comfort at Unilever UK said: "We anticipate the festive packaging to encourage both new and existing shoppers to engage with the product in store, presenting retailers with incremental sales opportunities, and driving value to the laundry category. Consumers have more guests to stay over the Christmas period, resulting in more washes, so we expect an increase in impulse purchases too."
Unilever says the Comfort Exhilarations range has been a huge success since its launch in 2009 and is currently the fastest-growing range among premium fabric conditioners.