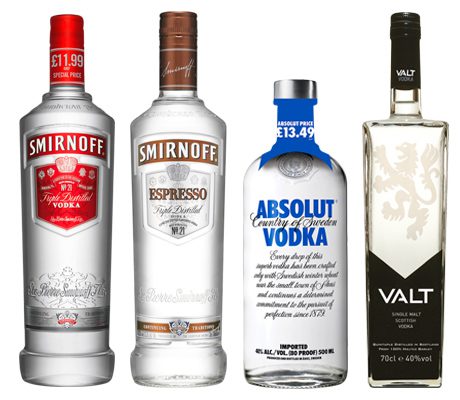 HOW do you give Britain's biggest-selling vodka a boost? Earlier this year drinks giant Diageo ensured its massive brand Smirnoff stayed full of beans when it introduced its latest in the vodka's flavoured range with new Espresso Smirnoff.
It became available across Britain in all channels in April. Diageo says flavours have been proved to increase sales in the vodka category and argues that it already lead in flavoured vodkas with Lime Smirnoff, Green Apple Smirnoff, Vanilla Smirnoff and Blueberry Smirnoff.
Espresso Smirnoff blends Smirnoff Red with natural flavour of espresso coffee, extracted from coffee beans.
Karen O'Shea, marketing manager for Smirnoff western Europe at Diageo, said: "There is a significant opportunity to grow flavoured vodka sales in the UK, as we can learn from the US where flavoured vodka accounts for 18% of the total vodka category.
"In the UK, flavoured vodka is worth £88m in the on-trade and £28m in the off-trade and the launch of Smirnoff Espresso is set to attract a wider audience into the segment by offering new and existing Smirnoff consumers an inventive twist on their usual spirit and mixer combination."
Other Smirnoff activity included its inclusion, along with other Diageo spirits brands, in the firm's new countertop display unit for 20cl bottles in c-stores. Use in Scotland will be limited to the designated alcohol areas in each store, of course.
• Absolut is launching a £13.49 price-marked park for its 50cl bottle aimed at the independent off-trade, following what brand owner Pernod Ricard UK says was the successful introduction of both Malibu and Campo Viejo price-marked packs earlier this year.
PRUK reckons the move will help independent convenience retailers increase sales, by offering consumers premium vodka at an accessible price point while maintaining profit margins. The pack incorporates a neck tag and is available through wholesalers from this month.
Chris Shead, off-trade channel director for spirits at PRUK said: "The introduction of our Absolut price-marked pack demonstrates our continued commitment to the independent off-trade to provide solutions that will drive profit for the channel through increased rates of sale."
• The Scottish company that produces what it says is the world's first single malt Scottish vodka Valt and the new gin Gilt, has won a major contract with supermarket giant Sainsbury's.
Valt Vodka, based in Dumbarton, is produced from 100% malt barley, which is quintuple distilled and then charcoal and chill filtered.
The company, which was founded by Ricky Christie, will supply its vodka and gin to Sainsbury's across Scotland.
The deal comes after investments that saw the company set up its first dedicated distillery and increase production to 10,000 cases a year.