Kits and accessories aim to bring the cup cake revolution to every home and store
THE image of the domestic goddess in her frilly pinny knocking up a tray of luscious chocolate brownies or a perfect Victoria sponge without smudging her lipstick is an attractive one.
With the home baking market worth £144.7m and growing at 21.9% a year, it looks as if everyone in the UK is beating, creaming and folding in on a regular basis.
Back in the real world, however, many consumers rely on ready mixes to help them produced those home-baked goodies.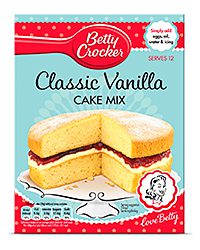 Betty Crocker, which claims to be the market leader in the sweet mixes sector, has been working to keep its range up to date with current baking trends. It says three products launched in the last year are showing strong growth: Classic Vanilla Cake Mix, Red Velvet Cake Mix and Cream Cheese Style Icing.
Other options include Devil's Food Cake, Carrot Cake, Chocolate and Orange Swirl Cake and Cookies and Cream Muffins.
Ed Culf, marketing director at brand owner General Mills said: "Programmes like the Great British Bake Off continue to keep home baking on the consumer agenda. Shoppers are looking for more creative solutions and modern twists on household classics. We've seen greater demand for variety in flavours and versatility in style."
He suggests merchandising baking kits and ingredients together and displaying complementary products including utensils, tins, grease-proof paper and Betty Crocker Ready To Spread Icing, nearby.
Culf continued: "Our home-baking range is hugely popular with retailers and consumers alike, especially for at-home get togethers and parties."
Home-baking brand Dr Oetker is already getting in the mood for Halloween, which it describes as "the perfect time for retailers to drive home-baking sales".
Marketing director Gill Davies explained: "This is a key time for home baking and, as the winter months approach, October traditionally sees a spike in the sale of home-baking products."
She recommends new products such as Gel Food Colours (available in black and orange for Halloween) and Easy Swirl Cupcake Icing, which can be sprayed onto the cake straight from the can. (This will appeal to anyone has had to wash a traditional icing bag.)
Other Halloween-friendly products include Shimmer Spray, which can be applied directly for a sparkly finish and Soft Gold and Silver Pearls for those who like a less lurid cupcake.