Be very careful who you discuss pricing with. It will soon become easier for authorities to prosecute on price fixing.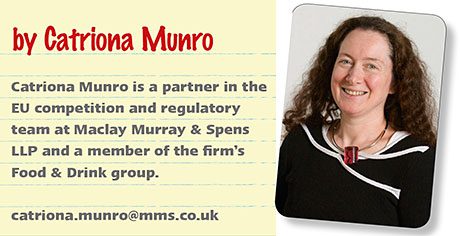 By Catriona Munro
COMPETITION in food markets remains a key focus for regulators, with a recent EU-wide survey shining further light on a sector under scrutiny.
In the last few years regulators tasked with investigating anti-competitive conduct and mergers in the food industry have been busier than ever. In the period 2004-2011, a record-number of 180 antitrust investigations were carried out by member states – nearly 1,300 merger reviews and more than a hundred market-monitoring actions, across all levels of the supply chain. This included the Competition Commission's groceries market investigation, the results of which continue to be felt by the UK's largest multiple retailers, as well as many smaller players.
With such intense scrutiny, in an interconnected environment where information is more readily available than ever before, there are heightened risks when sharing insight with competitors. Price fixing, for example, can include not just an agreement between competitors but can also cover instances where confidential business information is being shared – directly or indirectly – with an anti-competitive intention or effect. Under the rules prohibiting cartels or similar arrangements, any agreement or practice relating to the sharing of information that may distort competition is outlawed.
The potential penalties for individuals and organisations are significant. And the regulations will be tightened further next year. New rules will mean that the behaviour of individuals will become much easier to prosecute.
Currently only 'dishonest' conduct is deemed criminal. That requirement is set to be replaced by a 'concealment' test from 2014, which will make it easier to prosecute alleged wrongdoing.
The financial penalties for an organisation found guilty of exchanging information with a competitor are significant, with up to 10% of group worldwide turnover on the line. Individuals involved can also be disqualified as directors or, even worse, sentenced to time in jail.
As retailers recently found to their cost, indirect exchanges of information can also contravene competition law. In the view of the Competition Appeal Tribunal (CAT): "indirect contact between competitors via their common supplier is no different in substance from two competing retailers sitting across the table and telling each other what their prices will be next week." The retailers were fined nearly £40m for their involvement in indirectly exchanging information via common suppliers.
Although communications between supplier and retailer regarding pricing are an integral part of ordinary commercial negotiations, it is important that any information exchanged in such settings should be limited to what is necessary. In particular, all parties involved should remain focused and not discuss issues not relating to the transaction in question, such as future retail price increases or products not currently supplied by that producer.
Even unilateral disclosures of information can be enough for the authorities to find that there has been a breach of competition rules. For example, a UK bank was fined £28.6m by the OFT for disclosing confidential and commercially sensitive future-pricing information to a competitor, which took place over five months during various social and client events. The exchanges were regarded as 'unilateral' disclosures, with no reciprocation, as the receiving party did not disclose any of its own pricing information. However, the receiving bank circulated the information internally, and it was also discussed at sales meetings. While there was a presumption that the information provided by the competitor was taken into account when formulating its subsequent pricing, the bank at the receiving end was not fined, as it co-operated with the OFT.
Competition law is not the preserve of big supermarkets. Businesses of all sizes, across the entire supply chain, must be aware of the basics.
It is possible to minimise risk by developing and enforcing a compliance policy, which must have firm, senior-level backing. A clear set of dos and don'ts is a good starting point, which will also help raise awareness of an important issue.
• Catriona Munro is a partner in the EU competition and regulatory team at Maclay Murray & Spens LLP and a member of the firm's Food & Drink group.
Got a legal query or another business question? Get in touch with Scottish Grocer and we'll ask one of our expert contributors. Contact patrick.duffy@peeblesmedia.com 0141 567 6074