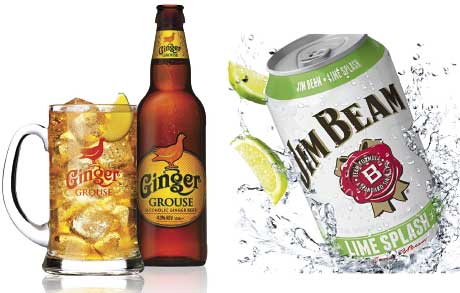 LONG, refreshing alcoholic drinks, versatile spirits and innovative ready-to-drink mixes are the keys to summer stocking according to premium spirits distributor Maxxium UK. And, as fuel prices drive shoppers away from out-of-town supermarkets, c-stores can cash in on shoppers looking for supplies for impromptu parties, and for smaller bottles of their favourite spirits.
Maxxium's Ali Brown quoted Nielsen Scantrack and said: "As the number one non-cream liqueur Sourz is a must-stock brand. It can be enjoyed as a shot, with a mixer or as a cocktail ingredient. This summer sees the launch of Sourz Mango, the first permanent new flavour in the range for two years. It was created as part of our on-going range, chosen by over half of the Sourz Facebook community."
To promote the big-selling Famous Grouse Scotch whisky, a new TV ad campaign will poke fun at the unpredictability of the famous British summer. A limited-edition summer gift pack, including competitions and giveaways, will coincide with the ads.
Aimed at younger drinkers there is Ginger Grouse, an alcoholic ginger beer in a 500ml bottle at 4.0% ABV.
"Ideal for summer, it's all about keeping the brand relevant for a new and a younger demographic and adjusting to the drinking occasion," said Brown.
Another new Maxxium product, Jim Beam Lime Splash, was launched in Asda in April. Aimed at 18-24-year-olds it's a 330ml pre-mix, combining Jim Beam bourbon with lime-lemonade at a strength of 4.6% ABV.
Jim Beam Lime Splash will be available to multiples first and then to the wider off-trade later in the year.
With fractional-size bottles accounting for approximately 30% of spirits sold in the convenience channel according to Nielsen, compared to 14% across the total off-trade market, Maxxium is investing heavily in the smaller sizes in 2013. Brown suggests displaying sizes of 50cl and below to mark a point of difference with supermarkets.

• Scotch whisky-based liqueur Drambuie will have a strong presence at this year's Edinburgh Festival.
To tie in with its summer activity it reckons retailers should highlight the appeal of pitchers of drinks such as white sangria, which combines Drambuie with white wine and triple sec.