Smoothies buck the downward trend to grow 6.9% in value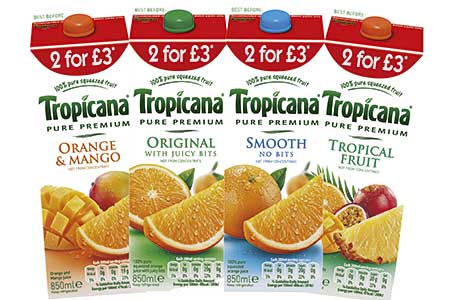 JUICE, juice drinks and fruit squashes traditionally do well in summer compared to the rest of the year. It seems to be part of consumer desire to eat and drink products that are seen to be healthy during the warmer months.
But it looks as if pure juice products and juice drinks didn't have their problems to seek in 2012. In the early years of the recession many still soft drinks, especially those seen as premium-priced products, such as pure fruit juice and smoothies, took a hit.
In the intervening period juice and juice drinks bounced back to a degree.
But research findings by Nielsen quoted in the latest Britvic Soft Drinks Market Review showed that while smoothies had a good year last year (up a very significant 6.9% in value sales in impulse outlets and up even more, 7.3%, in volume terms) juices dropped more than 9% in volume, while juice drinks volumes were down by almost 6%. The value performance was slightly better but still fell.
But a number of juice and juice drinks suppliers are busy making the most of what customers there are.
Tropicana has a new 850ml pack, designed for top-up shoppers at c-stores. As more than 19m households in the UK every year buy chilled juice and half of homes run out during the week, an easy-to-carry option makes sense, it argues.
The new size will be available in Smooth, Original, Tropical Fruit and Orange and Mango, with an RRP of two packs for £3.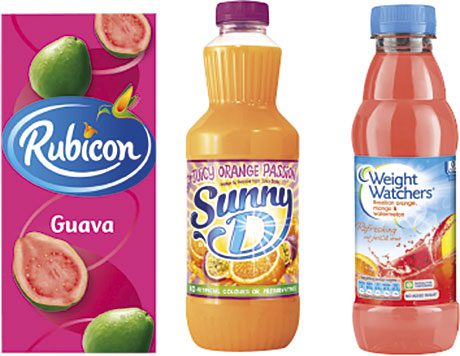 Rubicon, the UK's number one exotic juice drink brand according to Nielsen, is investing £2m in a UK-wide TV ad campaign targeting both ethnic and mainstream shoppers. The mainstream TV activity complements ads across 10 ethnic TV channels covering Pakistani, Indian, Sri Lankan and Bangladeshi audiences. The two 30-second Love the Exotic adverts highlight the brand's exotic style.
And Rubicon owner AG Barr will continue its sampling campaign. This summer 500,000 samples will be distributed to consumers at Mela events, festivals and high streets.
"During 2012, 11,000 new consumers started drinking Rubicon every day" said Adrian Troy, head of marketing for AG Barr, quoting figures from TNS Omnibus/Ethnibus. "The brand represents a continually growing profit opportunity for retailers.
"The ethnic population has doubled since 1991 and now stands at 9m," he continued. "The ethnic shopper base is now significant right across the country. By 2021, ethnic shoppers will make up nearly a quarter of the population."
Outwith its core ethnic market, Barr claims, Rubicon is growing among mainstream shoppers seeking authentic, exciting flavours.
"As a result, Rubicon is not only a core ethnic brand, but also a fast growing mainstream national brand," said Troy. "Retailers need to redefine their ranges to ensure that they reflect changing populations and tastes."
◆ Exotic flavours continue to attract new customers
◆ Rubicon adds lychee to its Stills range
◆ Weight Watchers tries mango and watermelon
This summer Rubicon is also adding a new lychee variety to the 500ml Stills range.
• Sunny D has two summery new flavours: Orange and Raspberry and Orange and Passion Fruit. The product range now contains vitamins A, C, D and E and has no artificial colours, preservatives or sweeteners. It's the fifth largest chilled brand in the chilled juice category, according to IRI figures.
The 200ml carton was recently named "best children's drink" at the Product of the Year Awards 2013.
• Pure Heaven's pure juice and high-juice drinks are exported to over 100 countries and are the top-sellers in Africa. Brand owner, distribution company Sunmark, puts that down to the high proportion of real fruit in its products. "Our Mango juice is made from 23% juice," a company spokesperson said. "The juice content on our Cranberry and Tropical flavours is over 25% and the remaining varieties have over 40%. The result is a near-juice quality product at a price you can't believe."
• Weight Watchers has a new range of low-calorie options for consumers on the move. Flavours include Brazilian Orange, Mango and Watermelon. The drinks have no added sugar and zero ProPoints per 250ml serving.
A spokesperson from Vimto Soft Drinks, which produces the range, said: "The Weight Watchers ready-to-drink range has seen phenomenal market growth of 111.6% over the last quarter.
"It attracts both male and female shoppers who want to grab a great tasting low calorie refreshing drink to enjoy on the go or with their lunch."
Image – Rubicon plans a £2m nationwide ad campaign to promote its exotic drinks to the mainstream market as well as ethnic consumers. Sunny D adds raspberry and passion fruit to its orange juices. Weight Watchers joins the tropical flavour trend with watermelon and mango-flavoured drinks.