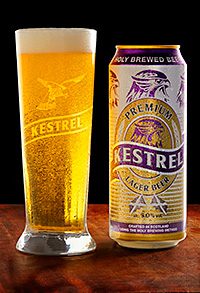 LAGER brand Kestrel, which appeared on shelves and in bars across the UK in the 1980s and 90s relaunched last month with a full range of lagers promised, and a new Scottish connection.
The brand was recently purchased by Nigel McNally, former managing director of brewer Wells and Young's and he has done a deal with Glasgow's Tennent Caledonian Breweries to have a collection of Kestrel beers brewed at its Wellpark brewery.
The existing superstrength lager continues but last month's brand relaunch saw the release of new 5% Kestrel Premium Lager, designed to be the heart of a re-established range that will also include Kestrel Pilsner at 3.8% ABV, a 2.8% ABV lager and a no-alcohol variant. New packs will also include a 330ml bottle. And the brand has a sponsorship deal with the RSPB.