INTERNATIONAL development charity Oxfam has examined the ethical performance of some of the world's leading food brand-owning companies and found them lacking.
As part of its Behind the Brands report, part of what it intends to be an ongoing campaign on food production and distribution, the charity compiled an online scorecard, rating 10 major food and grocery brand-owners' performance on seven social and environmental factors.
There is some praise and significant criticism of food and drinks groups that include Mars, Coca-Cola, Kellogg, Danone, Unilever, General Mills, Mondlelez and Pepsico.
Nestlé was the highest scoring company with 38 out of 70 points and Associated British Foods (ABF) was given the lowest score with 13 out of 70.
Oxfam looked at: the transparency of supply chains and operations; workers' rights; women's rights; water and land use; climate change policies; and farmers' rights.
The charity claimed none of the companies had adequate policies to protect local communities from land and water grabs. And while all 10 had worked to reduce direct greenhouse gas emissions, only Mondelez, Danone, Unilever, Coca-Cola and Mars publicly report on agricultural emissions.
In the treatment of land, women and climate-change categories Oxfam gave ABF – which owns Kingsmill, Ryvita and Silverspoon Sugar – just one out 10. The company, said the report, was "bad for assessing impact on producers, communities and the planet" and "worse on supporting women and land rights". It was, however, "making progress on transparency and workers' rights".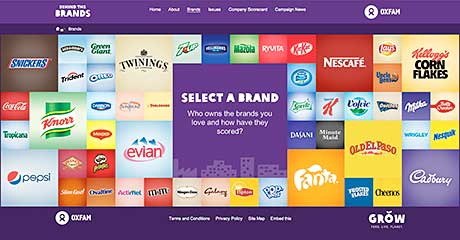 The charity also criticised ABF's supply chain saying that apart from Twinings, few of its brands were able to demonstrate how they do business with suppliers or enforce ethical standards.
"It is time the veil of secrecy shrouding this multi-billion dollar industry was lifted," said Oxfam chief executive Barbara Stocking. "Consumers have the right to know how their food has been produced and the impact this has on the world's poorest people who are growing the ingredients. The hundreds of brands lining supermarket shelves are predominantly owned by just 10 huge companies, which have combined revenues of more than $1bn a day while one in eight people go to bed hungry every night."
ABF disputes Oxfam's claims. "The idea that ABF would use a 'veil of secrecy' in order to hide the 'human cost' of its supply chain is simply ridiculous," said a spokesperson.
"We treat local producers, communities and the environment with the utmost respect. The company has worked hard for many years, over a wide geography, at all levels of the supply chain, to ensure its suppliers meet the highest ethical standards."