Wholesalers conference to debate Scottish independence
SWA Annual Conference, 14 – 16 June 2013, Crieff Hydro
AS Scotland gears up for the referendum on independence in 2014, the Scottish Wholesale Association is to explore the implications for business of a yes or no vote at its conference this summer.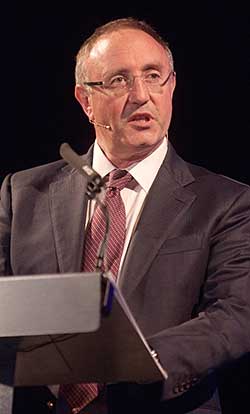 Bill Jamieson, executive editor of The Scotsman, will chair what the SWA expects to be a robust debate on the biggest question in current Scottish politics.
Among other aspects of the issue the debate is expected to cover what independence – or retaining the status quo – might mean for businesses based in Scotland and the UK, and the potential implications for southern-based companies supplying Scottish wholesalers.
The Big Debate, which launches the conference at Crieff Hydro, heralds a change in format for the annual event.
"It's about keeping our conference fresh and relevant," said George Benson, president of the SWA. "Once again we have secured an exceptional group of speakers and captains of industry for our business presentations, and the subject of our debate – independence – couldn't be more topical.
"Whatever your personal view on independence and whatever the outcome, there will undoubtedly be implications for Scottish businesses, UK businesses with divisions in Scotland and the suppliers with whom our wholesaler members do business.
"Would independence change the way we all do business? Or would it create opportunities? And if Scotland chooses not go down the independence route in 2014, what does that mean? These are some of issues we will be discussing in The Big Debate."
Other parts of the conference will feature major speakers including Dundee-born Chris van der Kuyl, an individual who the wholesale group says epitomises the new generation of entrepreneur in Scotland, and Simon Weston OBE, the Falklands War veteran who suffered 46% burns when the Sir Galahad was destroyed in Bluff Cove in 1982.
Rising to prominence in the late 1990s when he founded computer games firm VIS Entertainment, Chris van der Kuyl was later headhunted by publishing giant DC Thomson to take the helm at Brightsolid, its digital publishing and technology company which owns a portfolio of family history websites including Friends Reunited, ScotlandsPeople.gov.uk – which it manages for National Registers of Scotland – and findmypast.co.uk.
Weston, who endured years of reconstructive surgery, including 70 major operations or surgical procedures, is a prolific charity supporter and motivational speaker who has presented his inspiring story across the world. He has written three books and has been the subject of five TV documentaries.
Also speaking at the 2013 conference will be: James Withers, chief executive of industry body Scotland Food & Drink; Craig Lear, head of catering, cleaning and waste services at Glasgow 2014; Robert Sider, president of the Scottish Grocers' Federation; and Colin Blair, owner of the award-winning Buzzworks pub group, based in Ayrshire.
Wholesalers addressing the conference include: John Forteith, senior partner, Forteith Foodservice, Oban; and Michael McCrossan, a general manager with Booker who spent a year working for the wholesaler's developing Indian business in Mumbai.
Industry suppliers will also be represented and delegates will hear presentations from: Jonathan Kemp, commercial director at AG Barr; Jeremy Blackburn, communications manager of tobacco giant JTI; Richard Porter, director of national accounts with Carlsberg; Billy Bell, managing director of Wine Importers Edinburgh; Jayne Harvey, director of leadership development at Diageo; and Al Gunn, commercial director, of Boost Drinks.