While many soft drinks categories have done well in the recession – as consumers looked for affordable treats and entertaining moved to the home – juice drinks, juices and smoothies have shown up-and-down sales performances.
The 2012 Britvic Soft Drinks Report, which covered 2011 performance, found that pure juice was a very high value soft drinks sub-category – worth £1.1bn in UK retail sales – and had seen sales keep pace with general inflation with a year-on-year increase of 4%. Volume sales were down, however, by 5%.
Smoothies, after some tough years, had shown growth of 8% in value and 10% in volume, largely on the back of work, including the introduction of new pack sizes, to provide affordable options for consumers.
Juice drinks had been pretty stable, up 1% in sales value but down 1% in volume. However, the Britvic report said both value and volume sales of juice drinks had fallen by a greater degree in impulse outlets, such as c-stores.
How have juices and related products fared since? And what's the news on product development?
Scottish Grocer has been hearing from brands across the sector.
[hr_dotted]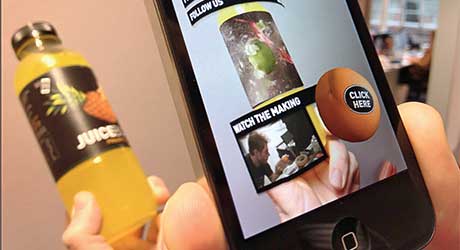 INTERACTIVE packaging, ethical sourcing, innovative flavours and calorie cutting are just some of the current strategies in place to wake up the sleepy juice and smoothie sector.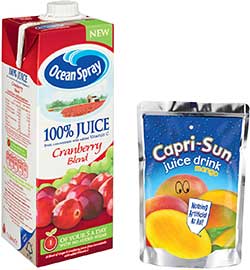 "An intensely price-conscious market isn't likely to be the best for juices and smoothies," said Jon Evans from Purity Soft Drinks, which makes JuiceBurst. "The category struggled some years ago. But work from a number of brands, especially on juices, seemed to help stabilise the situation.
"Current performance is pretty much in line with the market while future projections are encouraging. Euromonitor predicts growth of between 3 and 4% up until 2015 and our independent research suggests that 60% of consumers would like to see more juices available. The same research also showed that 15% of consumers actually expect to spend more on juices in the future."
Purity says it has worked hard to extend choice.
"Fairtrade is currently growing at 27%. We also believe that giving consumers more choice on-the-go and in meal deals is essential to growing the category. Our data shows that when JuiceBurst is stocked sales of total juice are 32% higher," Evans said.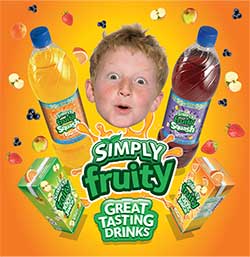 "Different flavour combinations have proved popular in the last year. JuiceBurst was first to launch with Orange and Carrot and now has 14 varieties. We have just re-launched our packaging with an interactive label using Blippar technology, making JuiceBurst the world's first digitally-interactive soft drink brand. Alongside this we will be launching three new varieties: Orange and Passionfruit, Still Lemonade and Apple and Rhubarb. Our standard bottle size is 500ml compared to other juices at 330ml, meaning JuiceBurst offers good value for money."
As consumers switch between retailers and brands, and promotions become a key weapon in the battle for share, Evans identifies value for money and convenience as two buttons to push.
"We have always been very competitively priced, selling a 500ml bottle of juice for a similar price to a fizzy drink. This is very good value when you consider the difference in the product cost."
By stressing the role a drink such as JuiceBurst can play in five a day, Evans hopes that the brand ticks all the boxes. "Some 22% of consumers say that health is their main criterion when choosing a soft drink or juice drink. JuiceBurst offers one of your five a day for the price of a fizzy drink."
For time-poor consumers, said Evans, it's key to stress that these health benefits are not hard to enjoy. "JuiceBurst aims to be the drink of choice on the go. It has proved popular in impulse and we see a huge opportunity in grocery convenience as well."
Euromonitor forecasts the category to grow at between 3 and 4%, until 2015 as health trends continue and brands continue to invest in growth. "We would expect this growth to be surpassed in on-the-go channels where there is a greater unmet need," Evans said.
• Pepsico has high hopes for a reduced-calorie version of its chilled juice brand Tropicana. Trop50, a juice drink with half the calories and half the sugar of regular juice, is said to have grown in the US. Launched in the UK in January, it's a mixture of Tropicana Pure Premium, not-from-concentrate juice, water and herbal sweetener stevia. One glass provides 100% of the recommended Vitamin C for the day. Trop50 is available in Orange Smooth and Orange and Mango in 330ml on–the-go packs, RRP £1.19. Orange with Juicy Bits, Apple and Pomegranate and Blueberry are also available in one-litre cartons, RRP £2.29.
Peter Charles, Tropicana marketing director, said: "Our experience in the US showed us that the category could see impressive incremental growth with the launch of Trop50. Through investment in consumer insights, we understand that there is a real demand in the UK for a lower-calorie juice. People drink juice for its taste as well as its health benefits but for some people, calories can limit how often they drink it."
• It's a message that's claimed to have already proved popular with consumers: Del-Monte's Naturally Light, which won Juice of the Year at the 2012 Product Awards, is a similar combination of fruit juice, water and stevia. Available in Mango and Papaya, Pineapple and Lime and Super Fruits, it contains 50 to 63 calories per 250ml glass, provides 100% of the recommended daily allowance of vitamin C as well as vitamins B and E and the mineral selenium.
• For Alan Halliday, field sales director for Coca-Cola Enterprises Scotland (CCE), the adult market offers room for growth. "Though 2012 wasn't the easiest year for juice and juice drinks, adult consumers continued to demand drinks without artificial colorants or preservatives. With a total market value share of 31% across the juice and juice drink category, the continued trend towards healthier diet and lifestyles offered real potential to boost genuine category growth, particularly in juices for snacking and to accompany food."
CCE's strategy is to bring in flavours which it reckons chime with consumer preferences. Ocean Spray, distributed by CCE and worth £36 million in retail sales value, now comes in Cranberry Blend, Raspberry & Blackberry with Cranberry, and Blueberry & Pomegranate with Cranberry. It has a strong health message: every 250ml serving contains one of the five a day and 100% of a person's recommended daily allowance of Vitamin C.
Appletiser carbonated juice now comes in a 350ml PET bottle. It's designed to appeal to the drink's core target female audience, increase its retail distribution and make it less of a special occasion purchase and more of an everyday drink. And the 1.25L PET take-home pack offers 66% more volume than the 750ml glass bottle for the same RRP.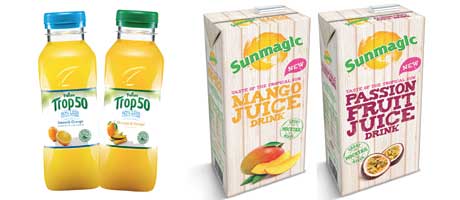 There is also a new flavour, Grapetiser, available in white and red. Grapetiser Red comes in 1.25L PET packs, 275ml glass bottles and 330ml can packs. Grapetiser White comes in 1.25L PET packs and 275ml glass bottles.
CCE has introduced a new 12-pack case of its Oasis juice drink in a bid, it says, to help retailers manage their stockrooms. The packs cover all five Oasis flavours and 99p price-marked packs of Summer Fruits, Citrus Punch and Blackcurrant Apple.
Capri-Sun, says CCE, remains a strong lunchbox brand with its "nothing artificial at all" on-pack message. Its 100% Pure Juice is packaged in a multipack with a crate box design, to associate it with fresh fruit. Capri-Sun Mango was launched last year and, with tropical juice and juice drinks the third most popular flavour currently in the market, CCE argues it's well on trend for 2013.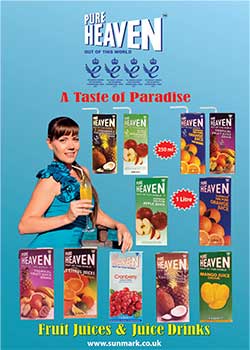 • Pure Heaven, Sun Mark's range of juice drinks is, the firm says, all about the value, offering a high percentage of fruit across seven flavours to give a real juice taste at a juice-drink price.
"Our mango juice is made from 23% juice, the juice content on our cranberry and tropical flavours is over 25% and the remaining variants have over 40%," Sun Mark spokesperson said. "The result is a near juice quality product at a price you can't believe."
• Sunmagic's new juice drinks, launched last month, take the brand in a tropical direction with summer-friendly flavours designed to be drunk alone or used as the basis for cocktails or mocktails. Mango Juice Drink, Passion Fruit Juice Drink, Pineapple and Coconut Juice Drink and Pomegranate Juice Drink come in one-litre recap packs, at RRP £1.59.
Brand manager Razin Ali said: "This is a natural brand extension from our core range into a more exotic arena, and follows both consumer and trade demand. Penetration of all exotic flavours has grown across all channels in the last two years, so it was important for us to be able to offer customers our new tropical range."
Sunmagic's other drinks ranges are said to have performed well last year: bottles sales were up 15% year-on-year, 330ml bottles were up by 22% and 500ml Fairtrade bottles up by 296% . The company's 200ml carton sales were up 6% thanks to soft drink category partnership with 20th Century Fox and Ice Age 4.
• AG Barr is building on the growth of its Simply Fruity brand with a new look and by bringing its Simply squashes and 100% juice ranges into the same family. The company claims Simply Fruity is the fastest-growing kids' brand in the impulse channel, growing at 49% year on year, and selling 25 million bottles a year.