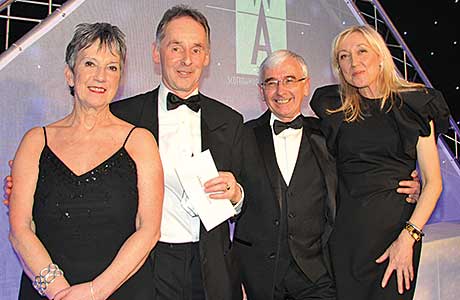 Three in a row for CJ Lang, and United Wholesale Grocers does a double as 2013's Achievers event sees Scotland's wholesale industry recognise its stars.
DUNDEE-Based food and drink wholesaler and Spar symbol store operator CJ Lang & Son, has been named the best wholesale business in Scotland at the 2013 Scottish Wholesale Achievers awards.
Achievers, which was developed and is organised annually by the Scottish Wholesale Association, the industry's representative group north of the border, is designed to recognise professionalism and excellence across all sectors of the wholesale business sector in Scotland and presents awards to wholesalers and suppliers each year. Almost 500 people attended the dinner and awards presentation, hosted by TV presenter Cathy Macdonald at the Sheraton Grand in Edinburgh last month.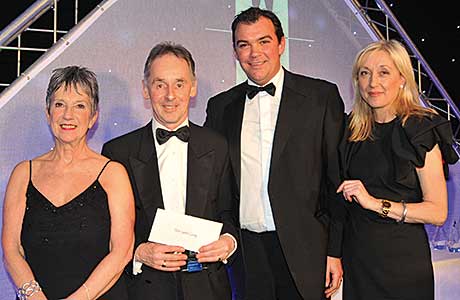 CJ Lang, which owns 114 Spar stores across Scotland and supplies 187 independent Spar outlets north of the border,
took a hat trick of titles including the evening's star prize, the Champion of Champions accolade, sponsored by Kraft Foods UK.
The company's other two titles were Best Retail Wholesaler (Delivered), sponsored by JTI, and a new award for 2012, Best Symbol Group, sponsored by AB InBev.
Judges praised CJ Lang's "outstanding performance" across all aspects of the business.
"This company's exceptional next-day, or even same-day, deliveries contribute greatly to giving customers a first-class service," said Peter Baird, field sales development manager at Kraft Foods, sponsor of the Champion of Champions award.
"Its one-stop-shop opportunity has the retailer and the consumer at the heart of all that it does and customer feedback also had a big part to play in the final outcome of this award," he added.
"Driving both efficiencies and business development by focusing on improving technology is also impressive – this focus provides cost savings and, importantly, gives CJ Lang's retail customers a greater understanding of how to engage with the consumer.
"Strong supplier relationships executed through joint business plans again focus on the end consumer and therefore ensure consistently impressive retail standards," he said.
Speaking after the awards were made, Bill Mair, CJ Lang's sales director, said: "We're very much a people-focused business and these awards reflect this. Our commitment to providing the best possible levels of customer service is at the very heart of everything we do at CJ Lang and every member of staff has a role to play in this.
"As our competitors will testify, our industry is tough at the moment but there are opportunities for growth if you are innovative and we will continue to invest in marketing, promotions and improving operating cost efficiencies through technology to seek out those opportunities."
Kate Salmon, executive director of the Edinburgh-based SWA, said: "We have seen extremely high levels of innovation from Scotland's wholesalers over the last year and a commitment to customer service that is extremely impressive.
"All of our winners are doing quite remarkable things to grow and develop their businesses, often taking risks but always embracing the partnership ethos that Achievers promotes. Achievers encourages best practice within Scottish wholesaling and challenges wholesalers – big and small – to think differently and engage more effectively with suppliers. That's why the initiative goes from strength to strength every year.
"As an association, we urge wholesalers and suppliers to use Achievers to enhance their business. It is a tremendous success story for our industry and I congratulate CJ Lang, our Champion of Champions for 2013 and, of course, each and every one of our winners."
Glasgow-based wholesaler United Wholesale Grocers took a double on the big awards night.
Its Springburn depot on the north side of the city was named Scotland's Best Cash & Carry Depot for 2013.
And at its Polmadie depot on Glasgow's south side judges found this year's Employee of the Year, Abhay Singh, floor supervisor at the site.
He joined the company eight years ago and worked his way up from car park attendant to his current position. Among many other achievements he planned how to deliver a major refit of the cash & carry, minimising cost and disruption by using the available space more effectively.
Abhay Singh was said to have an incredible art of building morale on the shop floor by involving his team.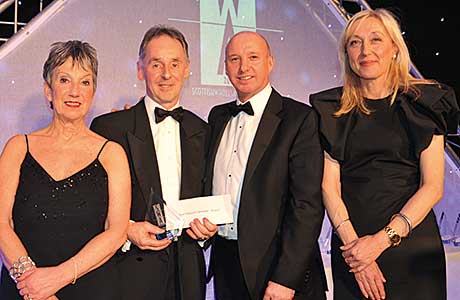 AG Barr returned a powerful performance in the supplier awards winning the Project Scotland Award and the Best Overall Service Award, taking a share of the Supplier Sales Executive of the Year Award and being named as the provider of the best advertising campaign with the Irn-Bru ad "Fanny".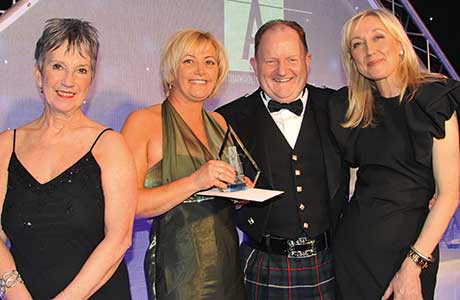 SCOTTISH WHOLESALE ACHIEVERS 2013
Champion of Champions,sponsored by Kraft Foods UK – CJ Lang
Great Place to Work, sponsored by SHS Sales & Marketing – JW Filshill
Best Cash & Carry Depot, sponsored by Britvic Soft Drinks – United Wholesale Grocers, Springburn
Best Delivered Operation – Retail, sponsored by JTI – CJ Lang
Best Symbol Group, sponsored by AB InBev – Spar, CJ Lang
Best Delivered Operation – Foodservice, sponsored by Taylors of Harrogate – 3663
Best Delivered Operation – On-Trade, sponsored by AG Barr – Sutherland Brothers
Corporate Responsibility Award, sponsored by Coca-Cola Enterprises – Forteith Foodservice
Best Marketing Initiative, sponsored by Mars Chocolate – United Wholesale (Scotland)
Employee of the Year, sponsored by Premier Foods – Abhay Singh, United Wholesale Grocers, Polmadie
Best Advertising Campaign – Irn-Bru 'Fanny'
Project Scotland – AG Barr
Best Overall Service – AG Barr
Supplier Sales Executive of the Year, sponsored by Batleys
– Laurence Findlay, Unilever and Keir Stewart, AG Barr