Drinks giant reckons festive parties and gifting provide opportunities to push brands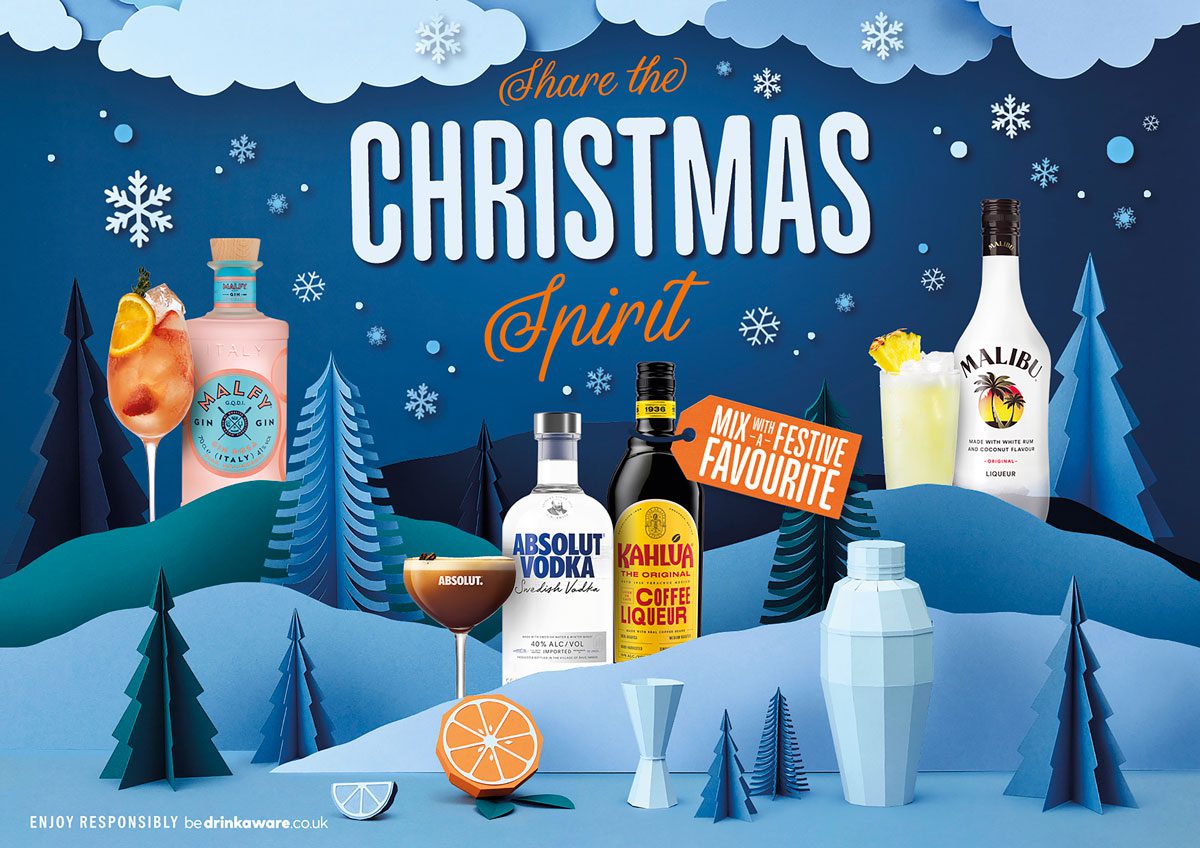 FOR consumers hosting the Christmas party this year, demand from the drinks cabinet couldn't be higher.
More complicated cocktail serves are becoming the household norm now as more shoppers look to elevate their events with a touch of inspiration from the bar.
This means that more customers will be looking for a greater array of options from behind the counter this year and Pernod Ricard reckons it stands ready to meet these demands.
The spirits giant has pushed retailers to stay ready to meet two different kinds of consumer demands this season, with the gifting opportunity and the inevitable hosting demands that come during the festivities.
As such, Pernod has highlighted five of its brands as key spirits during the season to cater to customers who are expecting a little more from the home bar this year.
These brands are Absolut vodka, Malfy gin, Malibu coconut rum, Altos tequila and Jameson Irish Whiskey.
The firm said these five brands present a premium+ spirits options for consumers to help level up the festivities for this year, whether that be for gifting or for the bar back in the house.
And with at-home cocktails' popularity constantly on the rise – internet searches for cocktail inspiration was up by 555%, according to Pinterest Predicts 2022 – Pernod believes these five could have consumers covered.
To aid in this, Pernod Ricard has put together a Top Five Festive Series list of cocktails that makes use of the five recommended brands.
The five have been based on popular cocktail recipe searches across the UK that Pernod believes will prove popular for this festive season.
The list includes the likes of the Absolut Espresso Martini, Malfy Gin Rosa Spritz, Malibu Piña Colada, Altos Classic Margarita and Jameson Old Fashioned, covering all five of the suggested spirits.
And accessing these cocktails has been made simple for consumers, too, with neck tags on bottles that include QR codes that will take consumers to a YouTube channel. This includes 'how to' videos as well as hosting cocktail inspiration, says Pernod.
This year, to encourage more consumers into the cocktail mindset as well, Pernod Ricard will be offering a gift with purchase of a cocktail jigger – a measuring tool used in cocktails – across its Absolut range, with 500 kits up for grabs.
For more information on this, retailers can contact nathalie.hall@pernod-ricard.com to stock these ahead of the Christmas season.
Chris Shead, off-trade channel director at Pernod Ricard UK, said: "We're hugely excited for Christmas 2023 as it's time for premium spirits to reclaim the occasion after beer dominated during last year's Football World Cup.
"In the current economic climate, we are anticipating a significant shift to the off-trade as consumers choose to host at home and manage budgets.
"This presents a huge opportunity for our customers and winning in cocktails remains the key to success.
"For the convenience channel, premium+ spirits offer a point of difference, as the larger supermarkets are increasingly challenged by discounters."