Diageo's largest packaging site marks 50 years of bottling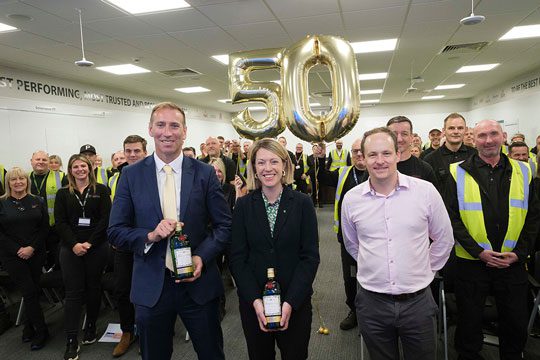 THE Diageo Leven plant in Fife has celebrated 50 years of bottling the firm's well known spirit brands.
Diageo's largest packaging plant in the entire world, the Leven site is responsible for handling the firm's most iconic brands including Tanqueray, Gordon's, Smirnoff and Johnnie Walker.
Stuart Galbraith, Diageo Leven site director, said: "We are proud of everything Diageo Leven has achieved in its 50 years of bottling some of the world's most famous and popular brands, and we want to thank everyone who works at the site today and who has worked there over the past 50 years for all they have contributed to our success.
"We continue to build for the future development of the site and its environmental sustainability, and we look forward to the next 50 years and beyond for Diageo Leven."
Jenny Gilruth, the cabinet secretary for education and skills and MSP for Leven, attended the site in celebration of its 50 years and was presented with a special 50th anniversary bottle of Tanquerary during the visit, the first bottles of which were filled at the site in September 1973.
Each employee on the site was also gifted one of the bottles as a memento of the 50th year.
The site has also been investing in its sustainability efforts as of late and finished construction of an 8,000 solar panel array earlier this year.
Gilruth said: "It was a pleasure to visit Diageo Leven and to meet employees, from the longest serving to those who have only recently started, and the site's apprentices.
"Diageo Leven is an important employer in my constituency and I was delighted to share in the celebration of this fantastic milestone.
"I wish everyone at Diageo Leven a happy anniversary and all the best for the future."