Spotlight on the top Scottish food and drink brands of 2022 (excluding alcohol) from 40-50
40. Lees of Scotland
Established in 1931, Lees of Scotland, a Coatbridge business, makes its own range of branded confectionery.
Its earliest products were macaroon bars and snowballs and, over the years, the portfolio has been expanded to include a range of confectionery bars, traditional jam teacakes, mint and jaffa teacakes, and a range of meringues.
Clive Miquel, chief executive at Lees of Scotland, expressed his own appreciation at making it into the top 50 brands this year, thanking consumers and his colleagues alike.
He said: "Our Scottish provenance sets us apart from other brands and we have stayed true to our roots since day one, gaining a significant customer base and loyal commercial partners along the way.
"We've always been committed to partnering with like-minded brands to support the local community and suppliers, while providing customers with new and tasty products, which we believe the consumer really appreciates."
Keeping one eye on the future, Miquel mentioned that Lees will be launching the brand's first-ever vegan-friendly meringues, coming in an eight-pack of Vegan-friendly Meringue Nests and 10 Vegan-friendly Meringue Shells.
Miquel said: "The business has gone from strength to strength, and overcome some challenges along the way and we hope our success continues."
41. Scottish Favourites
Strathmore Foods' Scottish Favourites range continues to offer consumers a selection of classic dishes in a convenient format.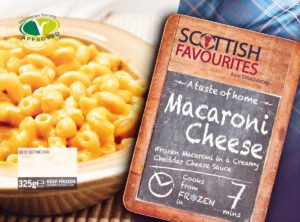 The Scottish Favourites range offers affordable, Scottish-inspired meals in minutes, with variants including Stovies, Scotch Pies, Black Pudding Slices, Haggis Neeps & Tatties, Stovies, Macaroni Cheese and Macaroni Pies.
Scottish Favourites offer consumers across the country a more convenient option for their mealtimes, with four meals in the range ready to eat from frozen in 10 minutes or less.
Strathmore Foods said it aims to keep its core values for the firm at the heart of all it does going forward as well.
So there is a priority on innovation across its brands, keeping its customers at the heart of the business while ensuring the ingredients used across its product lines are all sourced locally.
42. Stoats
Stoats, which started life as a porridge food truck business for festival goers, has made the Top 50 list for the fourth year in a row.
Having moved up five places from last year's number 47, things are definitely looking up at Stoats.
Now operating out of a bakery in Edinburgh, Stoats prides itself in the fact that all of its products are handmade using wholesome, natural ingredients. All of its goods are created with wholegrain Scottish oats. It uses British butter in its bars, or coconut oil in its plant-based range.
The bakery recycles 94% of its waste and the brand's bars are wrapped in biodegradable NatureFlex film, suitable for home composting.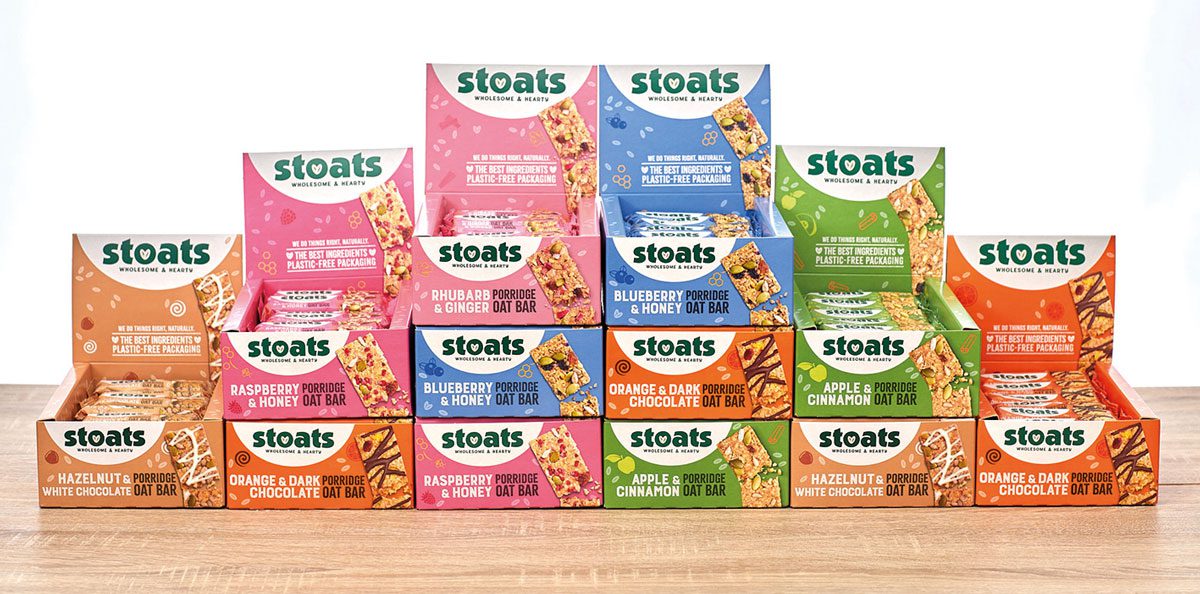 43. Calder Millerfield
Scottish classics are the name of the game at Calder Millerfield, with a portfolio that includes Scotch pies, mince rounds, bridies and more.
It has grown from a fairly modest operation into a quality meat product manufacturer supplying the retail and fast food trades.
A butcher to trade, Calder saw an opportunity to expand and develop the business he already ran though two shops in the south side of Glasgow.
By the 1980s, it had diversified into supplying the retail trade, striking its first deal with the Co-op. Today, the brand covers the majority of Scotland and the north of England thanks to its fleet of van sales, and its branded and own-label products can be found in Co-op, Sainsbury's and Scotmid stores.
44. Simmers
Coming in as a new entry this year, Scottish heritage brand Simmers shows that sometimes you just can't beat a classic.
Known for its Scotch Abernethy and Butter Biscuits, Simmers biscuits are still made from the brand's factory in Edinburgh.
This marks Simmers as one of the only four manufacturers to make the historic Abernethy biscuits in the whole of Scotland.
The Simmers range is available to buy across grocery channels including Tesco, Waitrose and Asda. Both the brand's Butter Biscuits and Scotch Abernethy are also available to buy from oatcake brand Nairn's website as individual packs or in cases.
45. Dean's
Founded in a kitchen in Huntly in 1975, Dean's has come a long way.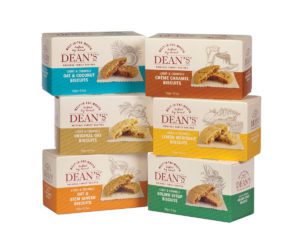 The firm moved into a purpose-built bakery in 1992 and the brand has since gone from strength to strength.
Dean's offers a range of premium shortbread boxes, tins and gluten-free SKUs, and has also diversified with the rollout of its cheese bites range.
Of course, the brand is also known for its variety of sweet biscuits, including its traditional selection of shortbread biscuits, which come in an assortment of shapes including Fingers, Rounds and Petticoat Tails.
New from the brand in 2022 is its Villager Jim range of buttered shortbread squares, which includes the Peak District photographer's images on pack.
The brand also offers a range of festive products, including hampers that are available to buy from its website.
46. Hamlyns
What started as a local mill in the north-east of Scotland in 1888, Hamlyns of Scotland has grown significantly over the last 134 years.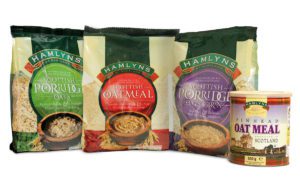 Hamlyns' consumer range consists of just three products, made up of its Hamlyns Scottish Porridge Oats, Hamlyns Scottish Oatmeal and its Pinhead Oatmeal.
Managing director Alan Meikle said: "Hamlyns Scottish Oatmeal, which comes in a distinctive red bag, is the best selling oatmeal in Scotland.
"Our Scottish Porridge Oats continue to gain market share in what is a very competitive and growing category, as more consumers understand the health benefits of eating oats.
And as one of the best-value breakfast cereals, we expect sales to increase as the cost of living crisis really starts to bite.
"Our Pinhead Oatmeal, which comes in an attractive resealable tin, is popular both for making porridge and for making traditional Scottish favourites such as oatcakes and herring in oatmeal."
47. Stockan's
Stockan's has been baking on the Orkney Islands for over 100 years, giving the brand a provenance and heritage that consumers love.
Tracing its origins back to the 1890s, the parents firm Tod's of Orkney acquired Stockan's in 1986, adding the oatcakes to the range.
This year, the brand launched its Orkney Heritage range of oatcakes, building on Stockan's own core values.
The new range has already picked up prizes including a 2022 Great Taste Award for the Spelt Wheat, Herb & Pepper and a bronze prize for the Bere Barley, Chilli & Cheese oatcakes at the SSFS 2022 Awards.
48. Grant's
Grant's Foods is a long-established and trusted manufacturer of ambient ready meals.
And it's this heritage for the tinned food brand that has kept it in good stead.
A spokesperson for Grant's said: "We have been around for over a century. Customers recognise the Grant's brand and associate it with excellent quality, budget friendly, fast and convenient canned foods.
"We're extremely proud of our brand's history and heritage, and that resonates with our customer."
While most consumers will be familiar with Grant's canned Haggis, the brand also offers a Stewed Steak, Chicken in White Sauce as well as the return of the brand's A&B Roll.
The past 12 months have certainly kept Grant's busy, too, as the firm launched its first ecommerce website and, in more recent months, has been running its 'Donation Drive', where its customers are encouraged to donate packs of Grant's canned meals to food banks on its website.
49. Macleans Highland Bakery
Rising up one place from last year, Macleans Highland Bakery remains on a roll.
Known for its range of baked goods, savoury range of pastries and Scottish hampers, Maclean's said it uses only locally sourced ingredients throughout its range from its bakery facility on the outskirts of Forres.
The bakery firm has remained a popular choice with Scottish consumers during the year, with critics also in agreement with them.
Over 2022, Macleans picked up Great Taste Awards across its range of pies, with a gold award for its Scotch Pie, silver for its Steak Fajita Pie and a bronze award for its Macaroni Pie.
50. Harbour Smokehouse
Last but certainly not least on the countdown comes another new entry, with Harbour Smokehouse.
Part of Harbour Salmon Co., the brand launched more than 10 years ago now and has been building up its salmon range since.
The salmon brand launched a range of marinated Salmon Infusions and claims to have helped start a trend that is now visible across retail stores all over the country.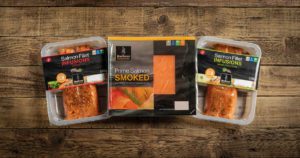 Harbour Smokehouse also noted the range is completely microwavable within the packaging, allowing for a more convenient solution for its consumers.
Harbour Salmon Co. said its worth now sits at over £15 million as well, claiming to be the biggest fresh fish brand in the UK, with over a million regular shoppers.
James Cowan, head of sales at Harbour Salmon Co., said: "Harbour Salmon is a versatile brand with opportunities for expansion in 2023.
"This great recognition from Scottish consumers stands proud alongside our past taste and innovation awards over the years."