Winner details
Symbol: Day-Today
Stores operated: Doonfoot Day-Today; Barassie Day-Today
Ross and Mandi opened their first store in Barassie, Troon in 2016. Since then both stores have enjoyed double-digit year-on-year growth.
Doonfoot Day-Today scooped two prizes at the Scottish Grocer Awards 2019. The store also secured the top spot in the Health Promoting Retailer of the Year category. Ross and Mandi enjoyed further success when sister store Barassie Day-Today was named Community Retailer of the Year.
Before setting up shop in Ayrshire, Ross built up an impressive wholesaling CV with more than a decade of experience, while Mandi was once employed as the Saturday girl at Barassie Day-Today in Troon before becoming the boss.
Drinks are big business across the board at Doonfoot Day-Today. In 2018, the store was named Soft Drinks Outlet of the Year at the Scottish Grocer Awards.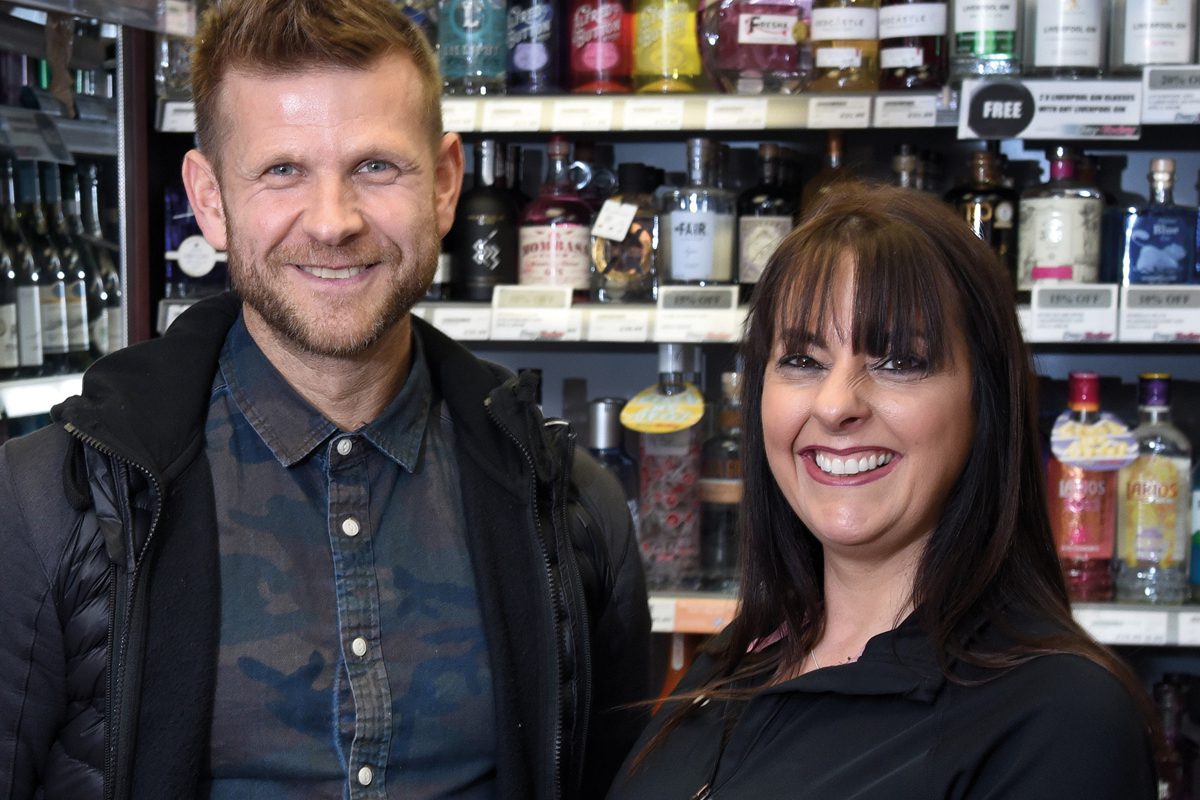 GO into a high-end cocktail bar in Edinburgh or London and you will be hard pressed to find a better spirits range than the one on display at Doonfoot Day-Today, near Ayr.
The numbers are big. Including bottles, miniatures and gift packs, retailers Ross Macpherson and Mandi Duncan have filled their off-sales area with 200 gin SKUs, 60 beers, around 30 ciders, 40 vodkas, 40 rums and 40 single malts – as well as a selection of blended whiskies.
It is a lot to take in, and it's taking in a lot – with off sales accounting for around 30% of store sales last Christmas.
The incredible range on display at Doonfoot Day-Today was definitely a key factor in the store being named Licensed Retailer of the Year at the Scottish Grocer Awards 2019, but there's more to licensed retail than ramming the shelves.
Gin has been the star spirits category for a while now, but with so many brands coming to market and increasing variations in flavour and style, there is a lot for retailers to learn.
Mandi and Ross put the effort in, with the pair seeking out category knowledge wherever it can be found.
"Mandi and I are both enthusiastic on Instagram," said Ross.
"We'll search on there for gin companies, folk that are trending, we look at Facebook and magazines, and attend events as well."
There's probably no better example of the pair's keen eye for a gin opportunity than when Glaswegin Gin hit the market last year.
Ross must surely have been one of the first retailers to find out about the Scottish gin – and he was quick to act.
"We launched it for them. No one else had it and I saw it online and just met the producer in a car park on Byres Road in Glasgow.
"I took 40 bottles off him and I put it on social media right away. I said, 'I'll probably need to phone you at the other end' and he kind of chuckled away and thought I was joking.
"We had sold all 40 bottles by the time I'd driven from Glasgow to Ayr," he said.
You can't buy customer engagement like that and Ross made it clear that at Doonfoot Day-Today, the team is always exploring new ways to communicate their offer.
"We've tried and tested things. We do social media, we've done a bit of sampling here and elsewhere, but we haven't got the perfect answer to getting the target audience.
"We've got people who still come in and can't believe that this range is here, they didn't know it was there and they were coming in for something else," he said.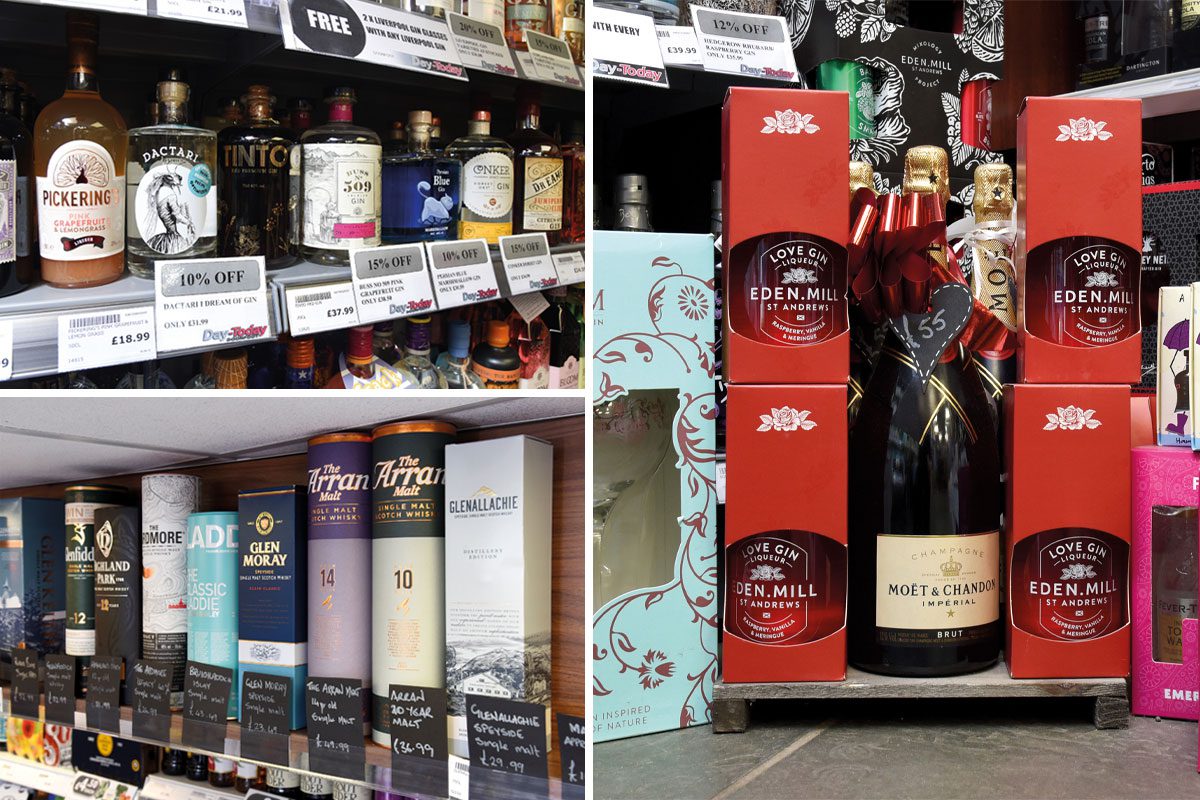 This year, Ross and Mandi reckon gin will be the big hitter yet again, with the trendy spirit accounting for 20% of store sales during the festive period last year.
And if 2019 is anything to go by, the Christmas shoppers will already be planning their purchases, as Ross explained.
"We had quite a lot of elderly folk coming in and looking at the alcohol from around October and November.
"They weren't purchasing, but they were coming in and I thought 'they will come back'. Sure enough, by the 23rd and 24th [of December] they were back in.
"It's now about trying to get them to stay within the business, not just keep us as a once a year situation. But we've seen an uplift since last Christmas."
Having a great spirits range might seem like a no-brainer, but it's also a significant investment in stock, particularly at the Doonfoot Day-Today levels.
Despite having five-figures worth of spirits on display in the store, rate of sale doesn't seem to be a concern for Ross and Mandi, who have a strategy in place for any slower stock.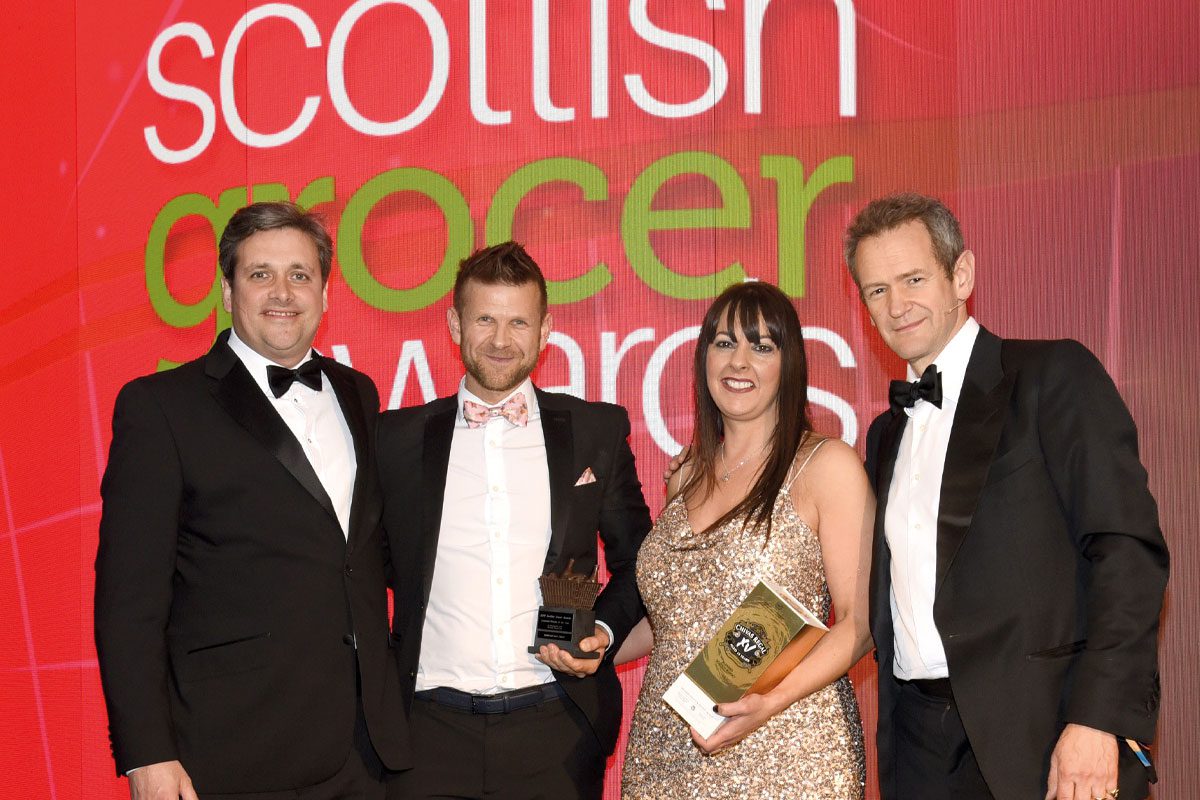 "We have no spare gin downstairs and the rate of sale is quite high on products that we're focusing on. The ones we aren't focusing on, we promote.
"Brockmans, Whitley Neill, Bloom, Edinburgh Gin, Martin Miller's, Boë Violet – we're going through over a case each per week easily.
"Our promotions change every three weeks with United Wholesale (Scotland), but our managers specials, we'll change or bring something in and put it on promotion, sell it through and then move on to something different," said Ross.
It's not just promotions either. Last festive season, Ross and Mandi managed to sell £10,000 worth of gin gift packs across Doonfoot Day-Today and its sister store Barassie Day-Today.
The pair make up their own gift packs, bundling together spirits, mixers and tasty treats to create hampers that wouldn't look too out of place in Fortnum & Mason.
It's not hard to see how Doonfoot Day-Today has managed to generate impressive gin sales with its solid core range, interesting promotions and – as Ross described it – blasting 80s music on a Friday night.
But while Ross admitted the store benefits from being in an area with affluent customers living nearby, the retailer seems convinced that there's a spirits opportunity out there for everyone.
"I think every store has a niche that they can do within gin. It's trending worldwide, people in deprived areas still drink gin, there's gin there for £17 and gin there for £50.
"A lot of retailers will put three or four facings of gin on their shelf, give it a month and then it's not worked and they want out.
"It doesn't work that way, you have to give it a full metre minimum so it can be seen."
• To see more of Doonfoot Day-Today's licensed section, head over to YouTube.com/scottishgrocer or check out our social media channels.