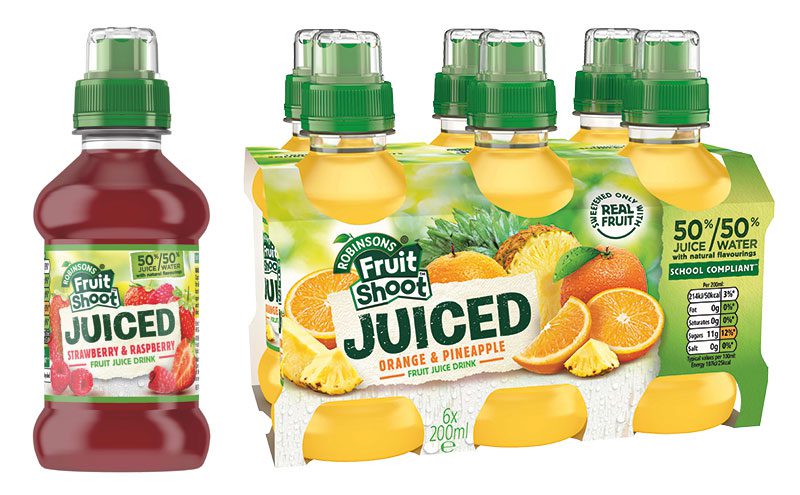 THINGS are shaking up for Fruit Shoot as its parent firm launches a new line under the brand's banner as well as revamping packaging across the range.
Launched late last month, the new 'Juiced' Fruit Shoot range comprises three flavours: Apple & Pear, Strawberry & Raspberry, and Orange & Pineapple.
All three variants are available in multipacks of six 200ml bottles with a transparent design allowing consumers to see the juice inside.
To coincide with the launch of Juiced, Britvic has also embarked on a packaging overhaul across the entire Fruit Shoot range.
The new design sees the range packaged in a semi-translucent bottle as well as an on-pack message highlighting the 'made with real fruit' and 'no added sugar' health claims.
Support for the new Fruit Shoot launches and the brand as a whole comes in the form of a £3.5m marketing campaign which gets started this month.
The 'It's My Thing' campaign will include TV advertising for Fruit Shoot Juiced and Hydro ranges.
Kevin McNair, GB marketing director for Britvic, said: "Found in more households than any other kids drinks brand, Fruit Shoot has led the kids segment, with category-growing innovations like Hydro and now Juiced.
"Made from 100% naturally sourced ingredients, Juiced provides parents with a great tasting drink that their kids will love.
"By stocking Fruit Shoot you can be sure you're offering your customers the right solution for their kids."