AG Barr sticks it to litter bugs through campaign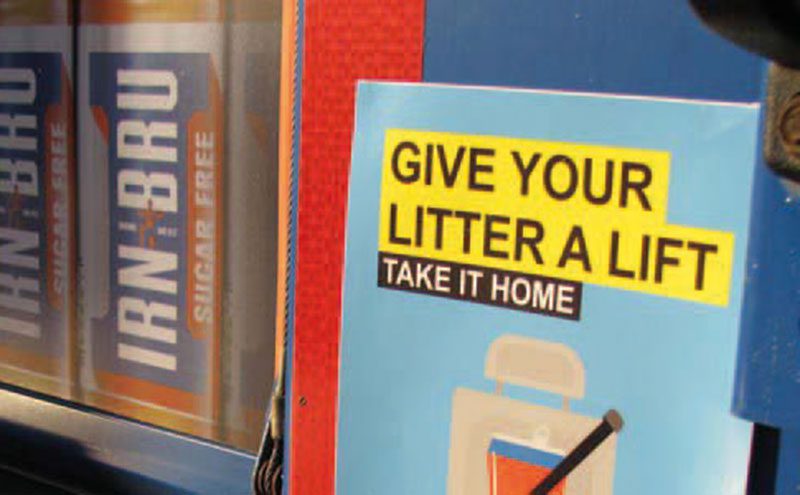 SCOTTISH soft drinks giant AG Barr has put the pedal to the metal in the fight against roadside litter, by backing an initiative from environmental charity Keep Scotland Beautiful.
Barrs has pledged to offer support for the Keep Scotland Beautiful campaign, which raises awareness of roadside litter in Scotland and the firm kicked-off its commitment by placing promotional 'Give Your Litter A Lift' stickers on its delivery trucks.
The move follows AG Barr's previous Keep Scotland Bru-tiful campaign produced in partnership with the Scottish Grocers Federation which encouraged more than 3,500 retailers to display POS material encouraging shoppers to bin their litter.
Commenting on AG Barr's renewed commitment, charity chief executive Derek Robertson said: "Keep Scotland Beautiful is delighted to welcome this most recent action by AG Barr to support our roadside litter campaign. The company has been consistent in its commitment to keeping Scotland beautiful.
"By working closely with businesses, road operators and the public sector across Scotland we will be taking direct action to reduce roadside litter and hope that by contributing to our respective expertise and resources we will be able to reach more people and have a greater impact."
AG Barr commercial director Jonathan Kemp said: "We are very proud to work closely with Keep Scotland Beautiful, supporting the charity's Clean Up Scotland campaign and now their roadside litter initiative.
"We take our environmental responsibilities seriously and hope that our involvement can help to encourage others to do the same."
Set up to tackle a wide range of environmental issues, the Keep Scotland Beautiful campaign is funded by a number of corporate partners including AG Barr, Wrigley, Coca-Cola Enterprises, EDF Energy and McDonalds.
As part of the roadside litter campaign, Keep Scotland Beautiful is offering a range of free graphics, posters, vehicle stickers and minibins which can be ordered through the charity's website.