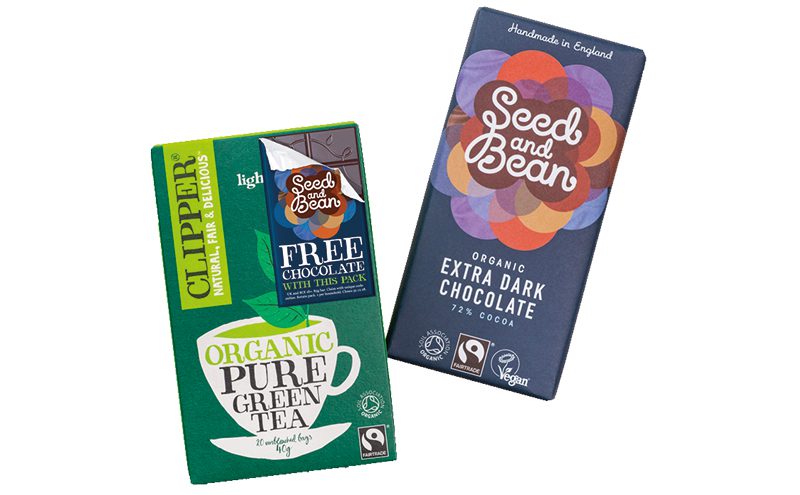 ORGANIC tea brand Clipper Teas has joined forces with chocolate producer Seed and Bean to launch a new large scale on-pack promotion.
As part of the promotion, over 300,000 packs of Clipper's green tea will carry a Seed and Bean branded sticker which will give consumers the opportunity to claim a free bar of Seed and Bean's 85g dark chocolate. Seed and Bean flavours on offer as part of the promotion are: Extra Dark, Cornish Sea Salt, Extra Dark 72% Cocoa, Extra Dark Mint and Fine Dark Lemon and Cardamom.
To claim their free chocolate, consumers are invited to visit a dedicated website and enter a code printed on the inside of Clipper Teas boxes.
Support for the on-pack promotion comes in the shape of social media activity, including a collaborative social competition to win a hamper of green tea and dark chocolate.

Adele Wart, brand controller for Clipper Teas at parent firm Wessanen UK, said of the promotion: "There is a great synergy between Clipper and Seed and Bean which has enabled us to put together a well aligned on-pack promotion and a generous offer that will attract ethical and conscious shoppers.
"Not only do we share the same natural, fair and organic principles, but we are also both produced in the UK and are committed to producing high quality products in beautiful packaging.
"Cleansing green tea and energising dark chocolate are the perfect match for a natural pick-me-up. Together, they're a deliciously decadent way to make your next tea break feel a bit more virtuous."