Wrigley rolls out more seasonal confectionery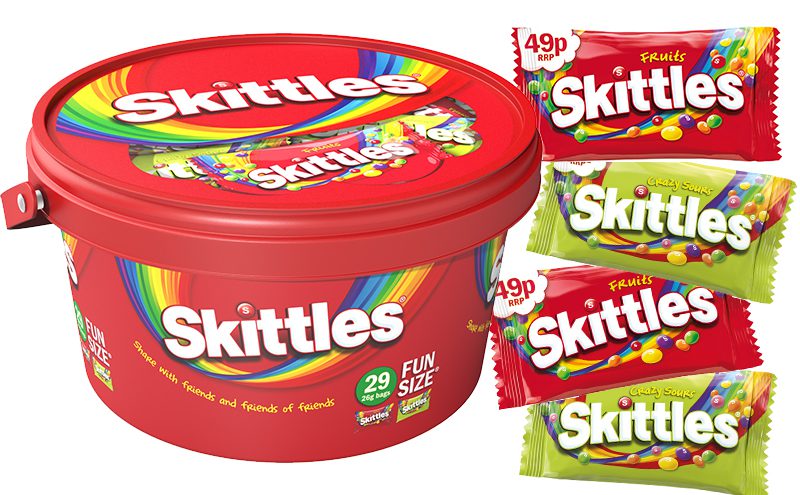 WRIGLEY is getting into the spooky spirit of Halloween by extending its seasonal range for 2017, boosting its Skittles offer and introducing new seasonal Starburst packs.
Following a trial in Tesco last year, Skittles Fruits and Sours Tubs will now be available across all grocery, independents, symbol groups and route-to-market customers.
The new tubs contain 29 individual 26g packs of Skittles Fruits and Skittles Crazy Sours, which Wrigley reckons makes the tub ideal for handing out on Halloween night. Skittles tubs are priced at an RRP of £5.
Further frightening releases from Skittles include the return of Skittles Darkside for the third year running. Each pack contains five flavours: Forbidden Fruit, Midnight Lime, Blood Orange, Pomegranate, and Dark Berry.
Skittles Darkside is available in 152g packs at an RRP of £1 and 11x18g bags, RRP £1.39.
Starburst will also get in on the Halloween action this year with the release of 'Trick or Treat' limited-edition sharing bags. The seasonal Starburst include sweet and sour flavours such as apple, orange and raspberry.
Support for Wrigley's seasonal range includes bespoke Halloween POS including dedicated cardboard units and clipstrips.
Dan Newell, of Wrigley, commented on the Halloween range: "It's so important that retailers get stocked up for Halloween.
"Skittles Fruits Funsize was the number one contributor to total confectionery funsize growth during 2016 and we are expecting to be even bigger this year.
"We are excited to have expanded our range this year and will be giving retailers everything they need to enhance in store theatre."