Can an employee refuse to work on a Sunday or ask to be excused from serving alcohol because of their religious beliefs? Individuals have established rights but there are also issues of balance.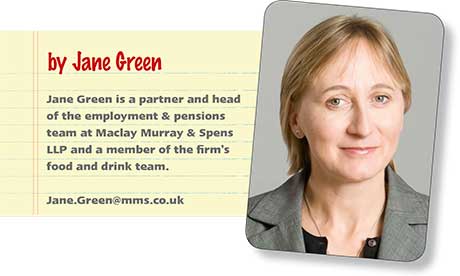 The question of whether there are alternative ways to achieve the employer's aims should be determined in light of the particular circumstances.
MARKS & Spencer has recently been forced to clarify its position on whether staff may, on religious grounds, refuse to serve customers who are purchasing alcohol or pork.
It followed a widely reported complaint, where a Muslim member of staff had turned away a customer attempting to purchase a bottle of champagne. Setting out its policy, the retailer confirmed it would "always make reasonable adjustments" to accommodate specific requests, by placing staff in a "suitable role, such as in our clothing department or bakery in foods". This decision raises interesting questions about the extent of the obligation on employers to implement policies that protect religious freedom.
In an increasingly multicultural society, most employers recognise the benefits of a diverse workforce. However, attempts to implement policies that interfere with the religious beliefs of employees can mean that employers fail to comply with equality and discrimination law. Not only can this lead to legal action but significant media attention and reputational damage.
Religious freedom is protected by the European Convention of Human Rights, which provides protection for freedom of thought, conscience and religion, alongside the Equality Act 2010, which prohibits discrimination, harassment and victimisation on the grounds of religion or belief. This means that employers need to tread carefully when dealing with employees whose beliefs mean that they have specific requirements.
There have been a string of recent cases which deal with such issues. One involved Nadia Eweida, a Christian employee of British Airways, whose rights were breached when her employer prevented her from wearing a visible cross in the workplace. The court found that her jewellery was discrete and that wearing it did not adversely affect her employer's corporate image. However, in a similar case, Ms Chaplin, a nurse, lost her case when the court concluded that the health and safety of patients outweighed her right to wear a visible crucifix around her neck.
In another case, Mrs Mba, a Christian employee, was employed by Merton Council as a care officer in a home for children with disabilities. Staff were required to work on a rota system seven days per week, including Sundays. An informal arrangement permitted Mrs Mba to take every Sunday off. When the employer ended this arrangement, Mrs Mba unsuccessfully brought a claim for religious discrimination, as the court found that there was no viable and practical alternative to requiring her to work Sundays.
These cases highlight that, while there is clearly an obligation on employers to protect the religious freedom of employees, it is possible to justify potentially discriminatory practice. The question of whether there are alternative ways to achieve the employer's aims should be determined in light of the particular circumstances and by finding a balance between the competing considerations of the employer and employee.
For employers, careful consideration must be paid to any workplace policies or practices which potentially discriminate against an employee's religious beliefs. They must ensure they understand the religious beliefs of their workforce, their practices and customs and which workplace policies could be problematic. Employers should also ensure that requests to accommodate religious practices are taken seriously and engage with staff, to ensure a balanced solution.
While Marks & Spencer was not required by law to allow staff to refuse to serve alcohol or pork to customers on religious grounds, it would be reasonable to consider whether staff could be relocated to alternative duties. Marks & Spencer's policy can, therefore, be seen as pragmatic in this particular case and an effective way to minimise the risk of costly and damaging allegations and claims.
Following in Marks & Spencer's footsteps may not be feasible for all employers. Smaller retailers, who only have only a few members of staff, may not be able to offer redeployment. Employers are not required to take measures detrimental to their business, nor overstaff to accommodate staff's religious beliefs, but are required to consider what can be reasonably done. Once the position and options are clear, the employee will decide if the job is for them. Genuine consideration of what can be done will go a very long way to avoid legal claims.