In the early days of the current big night in trend beers were seen as especially important, particularly for sports audiences. But wines, spirits ciders, RTDs and more have all been battling for the stay-at-home drinks pound and suppliers argue that retailers now have to take a wider view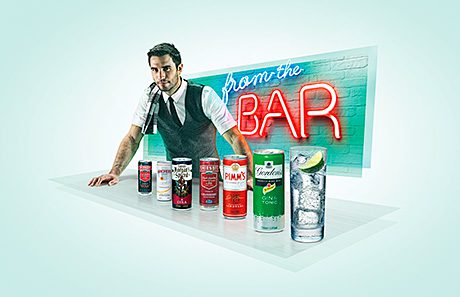 BEER, once the staple of many a carry out, is under big-night-in attack, from just about every other type of drink.
As people of all ages continue to socialise at home, a six-pack of lager is no longer all that's required to get the party started. Cider, wine, spirits and cocktails are all battling it out with lager.
According to Kantar's Alcovision, spirits come into their own at what it calls "party time", with up to a third of drinkers opting for a spirit, usually vodka. And drinks giant Diageo sees takes-home spirits as steadily advancing on several fronts. It reports that fractional-sized bottles of spirits are increasingly popular with at-home drinkers who want to mix their own cocktails – or just keep an eye on expenditure. Spirits drinkers are also said to be prepared to trade up for special occasions. The firm says Johnnie Walker and Ciroc vodka have both increased 10% by value over the last year, as measured by Nielsen.
And after developments on flavoured vokdas, gin has been next to get the Diageo flavour attention – with Gordon's Crisp Cucumber.
For those at-home consumers who enjoy spirits but can't be bothered fiddling about with large bottles and different mixers Diageo has been promoting its pre-mixed drinks as "From the Bar".
The firm's shopper marketing manager Natasha Chapman, quoting Nielsen figures, said: "Premix is the fastest growing alcohol segment in the UK, up 22% in value and 17% in volume year on year.
"The accessible price point encourages shoppers to trial different types of premixed drinks without having to commit to a full-sized spirit bottle."
Rival spirits company Pernod Ricard is another that stresses both that spirits are an increasingly popular choice for big-night-in drinkers and that consumers don't see it as an area to skimp or move to own-label options.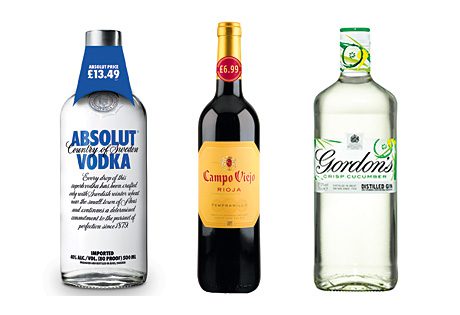 It says Nielsen research has shown that switching to a cheaper drinks brand is low down most consumers' priority list, even if controlling spending is important. Pernod Ricard has responded by increasing its range of fractional-sized spirits lines. It says the 35cl bottle is doing particularly well, adding £24.6m to spirits category sales. And it says Nielsen has found that less than 15% of 35cl bottles are sold on promotion, substantially less than other sizes.
Several drinks firms have been targeting convenience store sales with price-marked packs and Pernod Ricard sees PMPs as a very useful marketing tool in convenience outlets, arguing that price-marked, well-known products reassure cash-strapped drinks purchasers that they are getting value for money.
Fractional sizes aren't limited to spirits.
Big-selling wine brand Blossom Hill has introduced a 50cl bottle on three of its wines – Classic Red, Classic White and White Zinfandel Rosé. The company argues that the smaller bottle – containing just enough for two large glasses – will appeal to shoppers looking for 'something for tonight', and who want to keep watch on their alcohol consumption.
Aneta Tadeusiak, senior brand manager, said: "Creating wine choices that meet more needs and occasions for more consumers is a key focus for us and our new 50cl range does just that."
The 50cl bottles of Blossom Hill Classics Red and Classics White have an RRP of £3.99. Blossom Hill White Zinfandel Rosé 50cl is £4.99.
A demand for wines with a low ABV has increased interest in British wines, according to CWF, which has a couple of different brands. In its Straw Hat range, red, white and rosé are all 11% ABV. It says its Silver Bay Point brand, at 8% ABV is the best-selling British wine in the UK according to Nielsen, with a third of market share in the off-trade.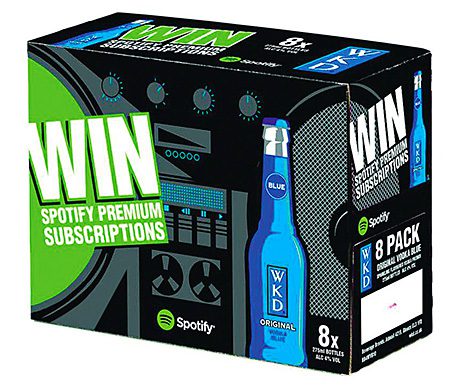 According to marketing manager Julie Ingham, the lower-in-alcohol wines are good for big days in as well as big nights: "The demand for such drinks, which are slightly lower than average in alcohol, is increased when consumers have planned all-day events at home and want to keep a watchful eye on consumption."
For younger drinkers, a big night in can be he first stage of a big night out. At the weekend, groups will gather for "pre-drinks" in someone's home before hitting the bars and clubs later in the evening.
"In many cases, the types of drinks consumed at home are the same as the ones consumed in the on-trade, as people look to replicate the in-bar experience," said Emma Heath, marketing controller at Sourz. "The majority of young adult consumers will pick up their supplies on the way to a friend's house or party, so c-stores will be a key purchasing point. Selling fresh, inspiring products that appeal to both males and females is key, as is capitalising on seasonal opportunities."
Heath reckons that the versatility of Sourz, which can be drunk as a shot, mixed into a pitcher of cocktails, or bought as an RTD, makes it attractive to young adult drinkers. New flavours such as Mango and the limited-edition Spirited Toffee Apple are designed to keep young consumers' attention.
And novelty is also identified as important to young adults by the best-selling RTD.
"Guys love to try out new offerings from brands they know and trust," said Debs Carter, marketing director for WKD. She has high hopes for two new varieties, Orange and Green. "Mates love to have something new to chat about and try when they meet up and we think they'll love these new flavours."
In another attempt to target young, sociable drinkers it's taking a digital route, The WKD RTD range has joined up with major computer, tablet and smartphone music-streaming service Spotify to offer its consumers the chance to win three months' worth of Spotify's advert-free premium service.